Choosing the best CPA review course that will help you pass the CPA exam and become a certified public accountant isn't easy. There's a few different test prep companies with great CPA study guides, so how are you supposed to decide which is the right one for you?
A good starting point is to think about how you learn and what course features match your learning style. For example, if you are a visual learner, you will most likely want to find a CPA study materials that focuses on engaging video lectures. This way you won't be bored reading the textbooks.
Everyone learns differently, so it's important that you look for a CPA prep course that works for you regardless of how well it's rated. After all, you are going to spend close to 400 hours studying for the CPA exam. You want to find a study guide that helps you focus and retain info, so you can reduce the amount of study time—not add to it.
That's why our team of experts made this helpful resource. We reviewed the top CPA review materials, so you can see which one matches your learning style and will help you pass the CPA exam. Let's compare each of the most popular courses and analyze their features, video lectures, test banks, pros, and cons.
---
Here are the Top 10

CPA Prep Courses Reviewed & Ranked

in August 2022: 
Here are the best CPA exam review courses and study materials to help you pass the exam and become a certified public accountant.
---
Top 5 CPA Review Course Study Materials
| | | | | | |
| --- | --- | --- | --- | --- | --- |
| Company | Surgent CPA Review | UWorld Roger CPA Review | Gleim CPA Review | Yaeger CPA Review | Becker CPA Review |
| Price | $1,799 | $2,999 | $1,999 | $1,399 | $2,299 |
| Video Lectures | 350 Lessons | 100 hours | 100 hours | 104 hours | 100 hours |
| Practice Questions | 7,700 | 6,000 | 10,000 | 4,300 | 9,200 |
| Task-based Simulations | 417 | 400 | 1,300 | 164 | 580 |
| Unlimited Access | Yes! | Yes! | Yes! | Yes! | Yes! |
| Final Review | Yes! | Yes! | Yes! | Yes! | Yes! |
| Get Started! | Get Started! | Get Started! | Get Started! | Get Started! | Get Started! |
---
Surgent CPA Review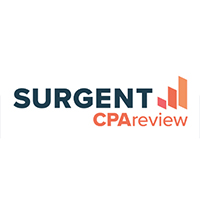 Surgent CPA Review is a newer course having been launched in 2013 by Surgent Professional Education. The program offers three 4-part review courses that include Essentials ($1,599), Premier ($2,399), as well as Ultimate ($2,999) which is expensive but there are financing options available.
The self-paced courses include video lectures but do not have a live teaching component. There are more than 7,500 multiple-choice questions. Surgent also offers a $1,100 discount on students who failed their CPA exam when using other providers.
The courses have an 88 percent pass rate thanks to the proprietary technology such as ReadySCORE, which is a tool that targets weak areas so that you can focus on them.
Pros:
The main advantages of this review course are that it focuses on very short lectures for efficient studying, adaptive learning tech predicts the weak study areas and the technology provides exam score predictions.
Cons:
When it comes to cons, there are only recorded lectures with no live classes, the course requires a lengthy initial diagnostic test and the trial period only extends to five days.
Who is Surgent CPA Ideal for?
The course works well for anyone who prefers to study at their own convenience and their own pace from guided video lectures. If you are also looking to pass the CPA exam fast by engaging in more efficient studies, the Surgent CPA review is a great choice.
The course provides learners with AI software to determine the exact topics that they need to concentrate on hence ideal for those who want to brush up on their knowledge before the actual exam.
---
UWorld Roger CPA Review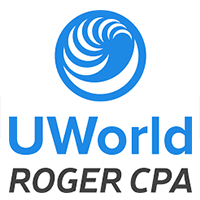 Roger CPA Review was created in 2001 by Roger Phillip. He was looking to make studying CPA more enjoyable. It involves two 4-part CPA review courses Premier for $1,899 and Elite for $2,999 although deals and discounts are offered from time to time.
Also offered is an Individual Review that goes for $649 that makes it easy for students who are looking to purchase one exam at a time and not to mention financing options are also available.
The courses tend to be self-paced containing both audio and video lectures that are designed to suit different learning styles. There are also more than 6,000 multiple choice questions and more than 100 hours of video lectures and not mention real live support through the chat software.
Pros:
When it comes to advantages the course contains engaging as well as funny lectures hence less likely to be boring, its more affordable compared to other courses, contains audio lectures, and the SmartPath technology that predicts learning needs is a plus.
Cons:
On the downside, the UWorld app that is used is not user friendly, the multiple-choice questions are less than in other courses and the lectures tend to cover high-level topics and are not detail-oriented.
Who is UWorld Roger CPA Ideal for?
The course is highly recommended for anyone who finds it hard to focus when they are studying. If you always find it hard to stay awake during accounting lectures, the Roger CPA review will prevent this thanks to the highly engaging and funny lectures.
If you also like asking questions as you study, the homework help center is available to you all the time. This course is best suited for audio as well as visual learners since there is an audio version of the course available but you will need to pay extra for it.
---
Gleim CPA Review Courses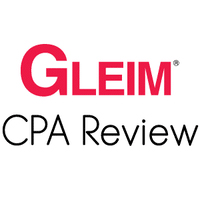 Gleim CPA Review courses offer study materials that are comprehensive enough to take you through every subject that may appear in a CPA exam. When Dr. Gleim published his first review book, the goal was to offer an affordable study guide for candidates who could not afford live review courses.
Gleim offers two 4-part CPA review courses from the Traditional that goes for $1,599, Premium for $1,999, and Mega Test Bank for $999 all suitable for students who want to purchase simulations and practice questions. Financing option is also available for the programs.
Pros:
In terms of advantages, the course tends to be self-paced with 1,300 simulations, 10,000 multiple-choice questions, and not to mention it is very affordable. There is also real person support that is available with a CPA coaching option.
Cons:
When it comes to disadvantages, the lack of offline lecture options is a turn off for most people and the video lectures could be a little bit more engaging.
Who is Gleim CPA Ideal for?
The course is perfect for anyone who is looking for detailed study materials and a large volume of practice questions. The goal of this approach is to help students who struggle with the concepts when they were learning them for the first time.
Ideally, Gleim is also perfect for anyone who is very focused and can process information efficiently. At the end of the day, the course is ideal for those who struggle with staying motivated as well as on track with their study schedules since the SmartAdapt takes the guesswork out.
---
Yaeger CPA Review
Yaeger CPA Review is proud of its long standing customer support since you can contact any presenter when you purchase the course. In addition, you can communicate with the lecturers whenever you need to. Aside from amazing CPA candidate support, Yaeger CPA offers a premium review course with simple to understand video lectures.
During the lectures, the instructors review tons of multiple-choice questions making it easy to follow through as you take notes. Yaeger courses like Roger CPA Review's courses will expire after sometimes upon purchase which is ideal if you are sure you will pass the exam on the first try.
The Yaeger review course takes a traditional approach and it's easy to get bored along the way but the fact that they include step by step instructions makes it easy to grasp the subject material.
Pros:
In terms of advantages, the course involves a simple teaching approach that makes it easy to grasp all content, there are also multiple-choice questions, and friendly support anytime and not to mention the course is also very flexible.
Cons:
When it comes to disadvantages, the course involves old school lectures that are no different from being in an accounting class in college hence you may get bored along the way.
Who is Yaeger CPA Ideal for?
Yaeger CPA review is best suited for anyone who is looking for customized studies without paying for the most expensive yet comprehensive options.
The additional support that is offered when you purchase the course makes it easy to get more out of the review. The course is also ideal for those who prefer a classroom setting when studying for the CPA exam since the lectures take a traditional- class like approach.
---
Becker CPA Review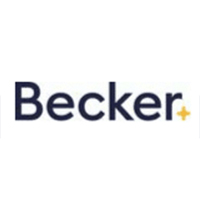 Becker CPA review is among the oldest as well as most respected companies when it comes to CPA exam prep. Since the company came into existence, it has helped thousands of candidates pass the CPA exam. Also, they are highly endorsed by every big CPA firm as well as major universities in the country.
For a long time, however, their CPA test prep course was not as great until they were endorsed by the Big 4 and made changes to become a highly rated course. Becker offers three tire courses that include Advantage that goes for $2,399, Premium that costs $2,999, and Pro that goes for $3,499.
Courses tend to be self-paced and consist of either live online lectures or recorded videos. There are over 8,000 multiple choice questions, 580 task-based simulations, and over 400 SkillMaster videos that take CPA candidates step-by-step through complex practice problems and solutions.
Pros:
The advantage with this course is that they have a smartphone app as well as video games hence you can access practice questions anywhere and not to mention the live class option makes it feel like you are attending a real class.
Cons:
On the downside, the lectures tend to be long and hence boring at times, the course is expensive and the lack of audio classes isn't appealing to anyone.
Who is Becker CPA Ideal for?
The Becker CPA review course is ideal for anyone who doesn't want to bother with deadlines but would rather work at their own pace. The course is a great choice thanks to the high quality as well as easy to use exam material.
If you are looking to become a certified accountant and want to train with the best, then this course is highly recommended if your budget allows it. The review course has a solid curriculum, instructors, and course materials that will come in handy in getting your certification.
---
Wiley CPAexcel Review
Wiley CPAexcel review was launched in 2013 on efficientlearning.com offering a destination for Wiley's accounting, finance, and business exam review courses. This launchpad providing students with a standardized one of a kind experience across several disciplines. Wiley Efficient learning combines high-quality content with proven learning methodology.
The courses are built around 30-minute bite-sized frameworks with lessons containing multimedia elements and text, and assessments. In addition, the content is tracked and reported back to students on a regular basis for self-assessments, which builds confidence as well as motivation which is key to passing the CPA exam.
Pros:
In terms of advantages, the course makes use of bite-sized content that features Adaptive Review to build your CPA exam prep based on your way of study. Additionally, the course is available from any device and there are also live online lessons that provide feedback from both peers and industry experts.
Cons:
On the downside, compared to other similar review courses Wiley Efficient Learning doesn't have the highest pass rate which is something that you need to consider when choosing a CPA course.
Who is CPAexcel Ideal for?
The course is ideal for anyone who is looking to learn at their own pace and with feedback from instructors and experts as the course progresses. The bite-sized content makes it easy to grasp content. It is also ideal for anyone who is looking for a refresher course since it allows you to focus on areas that you are weak in rather than everything.
---
Fast Forward Academy CPA Review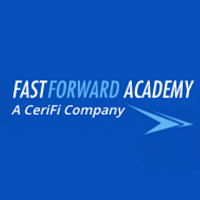 Fast Forward Academy is relatively new when it comes to CPA test prep. The company has pioneered individual learning ideas through an adaptive learning study course. As you advance, the course changes to focus on topics that you are weak in.
The idea is to target your weaker topics rather than concentrating on your strength ones time and time again. This concept makes it easy to grasp content faster and reduce your study time materially. The course includes over a hundred video lecture hours that explain every complicated topic.
They have redesigned the interface as well as software functionality such that all the features can be accessed directly in the study modules. As a result, you don't need to leave the lesson to get back to the dashboard.
Pros:
Some of the advantages of this course include unlimited course access, affordable study materials, email support, and a focus on individual learning needs.
Cons:
On the downside, there is no final review that is offered, no audio lectures or flashcards available. Additionally, the course can only be studied online since there is no offline option that is available, there is no mobile app and you only have 30 days to claim a refund if the course doesn't meet your expectations which is not enough time to decide on whether a course is worth what you are paying for.
Who is Fast Forward Academy CPA Ideal for?
The course is ideal for anyone who is looking to cut through the whole process and make it as efficient since the course has great tools that can make this possible.
If you also prefer to focus on topics that you are weak in, rather than learning everything, then this course will work for you. It will also work for those who are on a budget and can do without the other perks that other CPA review companies offer.
---
Ninja CPA Review
Ninja CPA Review is a great supplementary course developed by Jeff Elliot to be an affordable last minute cram course to accompany your full CPA exam study guide. Packed full of additional CPA exam study materials, it delivers on that goal.
The course includes study notes, an MCQ test bank of practice exam questions, flashcards, and a few other review materials. This course is constantly growing to include more features, but as it sits now, it doesn't include quite enough to be considered a full course in and of itself. It does make a great supplement to get along side a real course however.
Pros:
Ninja is a perfect last minute cram course that includes a ton of features that are helpful to push your score over the finish line.
Cons:
It doesn't have nearly the resources as a full course, so we wouldn't advise using this as your primary course. The video lessons and audio lectures are not very detailed and are pretty sparse. The study book doesn't cover all the topics that you'll need study and many of the features already come standard in bigger courses.
Who is Ninja CPA Ideal for?
Ninja is great for students who want an additional resource or study guide. It's a perfect complement for a bigger course. So if you want some additional practice questions or flashcards, it's a great deal. On the other hand, if you get the right full-length course, you won't need any additional materials.
---
Universal CPA Review
Universal CPA Review is one of the newest prep courses started by Joey Reeve and Matt Reinhold in 2018. After years of CPA tutoring in New York through MyGuru CPA Tutoring, Joey saw there was a better way to study for the CPA exam. He partnered with Matt, a PwC veteran, to start developing their vision of the perfect CPA review process.
The full course offers more than 3,000 practice questions, 100 hours of video lessons, and 115 task-based simulations. Plus, they've developed a unique take on CPA tutoring called "Ask Joey" where CPA candidates have unlimited access to Joey for any question they have about the exam or accounting topics they are struggling with.
Pros:
Universal is a great low cost course that includes a ton of study materials for the price. They also have more direct access to tutoring than other courses that cost more.
Cons:
The software and course layout is a bit outdated. The larger test prep companies have more sophisticated study planners, adaptive learning technology, and cross referenced study guides. The videos included in the course are helpful, but they aren't interconnected to the other study resources like other courses.
Who is Universal CPA Ideal for?
Universal CPA is a good option for candidates who are on a budget but still want access to lots of practice questions, helpful video lessons, and one-on-one CPA tutoring.
---
Lambers CPA Review
Lambers CPA Review is one of the oldest and most reputable test prep companies in existence. Started in 1966, Lambers has over 50 years of experience helping more than 250,000 CPA candidates navigate the CPA exam. Lambers prides itself creating courses that are "born in the classroom" while working with some of the most respected accounting educators and professionals.
The Lambers course offers a unique approach to studying. Instead of offering the biggest test bank, they focus on giving candidates only the questions that actually matter. After all, there's no point in practicing 10,000 questions if you can pass the exam by reviewing only 4,000. This philosophy rings true in every aspect of their study guide.
Pros:
Lambers is a time tested company that has helped tons of candidates pass the exam. They know what they are doing when it comes to exam prep. Also, their new adaptive testing mode software is extremely useful to build your custom course from.
Cons: 
Lambers doesn't offer as many study materials as other course providers. They say it's to not waste your time working superfluous problems, but some candidates need extra materials to really let the concepts sink in. It'd be nice to see more video lectures and practice problems.
Who is Lambers CPA Ideal for?
Lambers CPA is ideal for candidates who want to use a tested model. Lambers has been doing this forever and they do a good job. If you trust them and don't need extra study materials, this might be a good course for you.
---
Other CPA Exam Review Courses
Here are several other great prep courses that many CPA candidates have used to successfully prepare for the CPA exam.
---
Frequently Asked Questions
Here are the most common CPA review questions that candidates ask along with some helpful exam tips.
Do I need a CPA review course?
Most likely yes, you will need a review course to pass the CPA exam. According to NASBA, the CPA exam pass rate is around 50 percent. This means it's a tough exam. Almost half of people fail it even if they use a prep course. If you want to pass on your first try, you will need a proper study guide.
---
How much does a CPA review course cost?
The average CPA review course costs between $1,000 and $2,500. This price depends greatly on the features you select and the level of support you choose. The average CPA candidates typically spends $1,500 on their CPA study materials.
---
Will a CPA review course help me pass?
Without a doubt, a CPA study guide will help you pass the exam. Most CPA review providers publish pass rates of 88 percent, well above the national average NABSA reports each testing window.
---
What to look for when in this type of course?
If you are looking at becoming a Certified Public Accountant, then you need to pass the CPA exam and you can only do this if you choose the right course. There are so many review courses out there each claiming to be the best.
When it comes to choosing a course go for one that provides a demo of the product before you make a purchase.
Consider the price also and whether you will be getting value for your money and not to mention the number of questions as well as scenarios in the test bank. You also need to consider the pass rate for a given program and the experience level of the instructors.
---
What's the best course for beginners?
The Becker CPA review course is the best course for beginners and experienced professionals alike because it makes it easy to study at your own pace. The course also has high quality and easy exam material that will make it easy to pass your CPA exam.
On the other hand, Roger CPA Review is also perfect since the course has an 88 percent pass rate which is among the highest in the industry.
---
Why is the CPA exam important?
If you are in the accounting field, a CPA license is the most prestigious certification that you can earn. For you to earn your CPA credential, one of the requirements is passing your CPA exam. The CPA exam is not an easy one and it consists of four, 4-hour sections which is why most people are reluctant to take it. You are expected to pass each one of the four sections within the 18-month window, which earns you a minimum score of 75 on each section.
If you are looking to refresh your knowledge on different topics as you learn something new in the process, then it is highly recommended that you consider pursuing a CPA review course.
CPA review courses offer different strategies as well as tips for taking tests that help you get more comfortable in taking the actual CPA exam. If you happen to be more comfortable with the topics, material as well as different concepts that you will be tested on, chances are that you will receive high scores in the CPA exam.
A Certified Public Accountant license is the most sort after credential in the accounting field but as it stands only a few accountants have one. Why is this? The biggest obstacle in getting your CPA license is simply passing the CPA exam. Every exam section focuses on different accounting topics requiring students to demonstrate their knowledge of the subject area.
The sections are divided into AUD, BEC, FAR, and REG. Since there are only 18 months to grasp this content and pass the exam, then a CPA review course makes sense.