CPA Review For Free is one of a kind CPA Review course in that it is absolutely free! It was developed by Joe Hoyle, who is an award-winning accounting professor as well as a respected author. Joe leverages his more than 45 years of experience to help students not only pass the CPA exam but launch successful careers in the accounting field.
You can also benefit from the decades of experience he has had preparing accounting students for the CPA exam. Joe is one of the internationally recognized experts in the accounting field and is well known for his abilities and dedication as an instructor.
After almost a decade of running CPAReviewforFree.com, Joe Hoyle sold the website to Fast Forward Academy CPA review in 2015. FFA has successfully run the website since and continues to give away high quality CPA exam study guides for free!
Let's take a more in-depth look at the CPA Review for Free course materials, website features, pros and cons to see if this is the best CPA exam study guide for you.
---
CPA Review for FREE Course Overview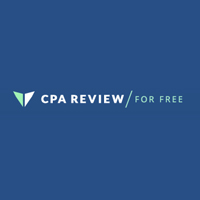 The majority of CPA exam preparation courses tend you use old questions that AICPA has already retired from past CPA exams. The problem with such courses is that the test questions included will never be included in future CPA exams. Additionally, the questions do not follow any structure that can teach you the concepts in a meaningful way.
The questions on their website, however, help you to master the core principles that are required to succeed in the actual CPA exam. Whether you have another CPA review course from another provider that you are using or have other study materials, the free exam questions are designed to help you better prepare for your exam.
Here are a few course features that are included for free:
Peer support in the CPA study groups
Free CPA questions (AUD, REG, BEC, FAR)
The course is absolutely free
---
CPA Review for FREE Packages
CPA Review for Free started out as a completely free resource for CPA candidates to learn from practice questions and exams. Now they offer two different courses. One is still the free course while the other is an upgraded course with more practice questions and simulations.
Their two course packages are:
CPA Review Free
CPA Review Plus
CPA review free only has 1,000 practice questions while CPA review plus has 4,500 and practice simulations and course analytics.
One of the features that sets the CPA Review course apart from other prep courses is the integrated community features. The study guide comes with a unique study group for all CPA students which makes it easy for students to discuss a wide range of topics that are related to the CPA exam.
The forum makes it easy for students to work together since it integrates directly into your study experience. As you answer the practice questions, you get to interact with posts that are related to those particular questions. As such, unlike other review courses, you don't have to jump around all over the site to find the content you are looking for. Besides, if you run into any problems, you always have the option of asking for help from the community on the same page.
---
Course Features
The CPA Review for free is a cheap alternative to the expensive study materials on the market today; but is it good enough to help you pass the exam? We will be discussing the features in-depth to determine if it's worth investing in.
Course Dashboard & Software
While a solid test bank is crucial t0 prepare for your CPA exam, it is also important that the process be as flawless and enjoyable as possible. This is what the CPA Review for free puts into consideration. They offer an comprehensive study platform so that students can create their own study sessions from any exam topic.
Thus, you get to choose what areas you want to study and the number of questions you want to answer. Once that is completed, you get to experience a seamless study experience whereby you can improve your performance based on the feedback you get.
---
CPA Video Lectures
Video lessons and audio lectures come in handy in grasping even complex concepts and it's something that a majority of review courses offer. The CPA Review for free however is different in that it offers multiple-choice questions with no video or audio lectures of any kind whatsoever.
As such, this is not the right review course for virtual learners. If you want a course that offers a traditional approach with lots of video and audio lectures, you might want to look at other study materials for the CPA exam.
---
Practice Exam Question Bank
CPA Review for free offers a good number of practice questions but not enough to prepare for the exam only using this resource. The free package which is what most people especially those on a budget go for offers only 1,000 practice questions.
If you want more questions, you need to upgrade your membership to the CPA REVIEW PLUS+ package for $37 a month. However, even if you do that, you are only looking at 4,500 CPA exam questions, 160+ CPA simulations, and 16 distinct CPA practice exams.
---
Course Analytics and Study Planner
Even if the CPA Review for free focuses mainly on practice questions, they offer no analytics to at least show you what you got right and what you got wrong when you take their quizzes. This is especially if you are subscribed to the free package.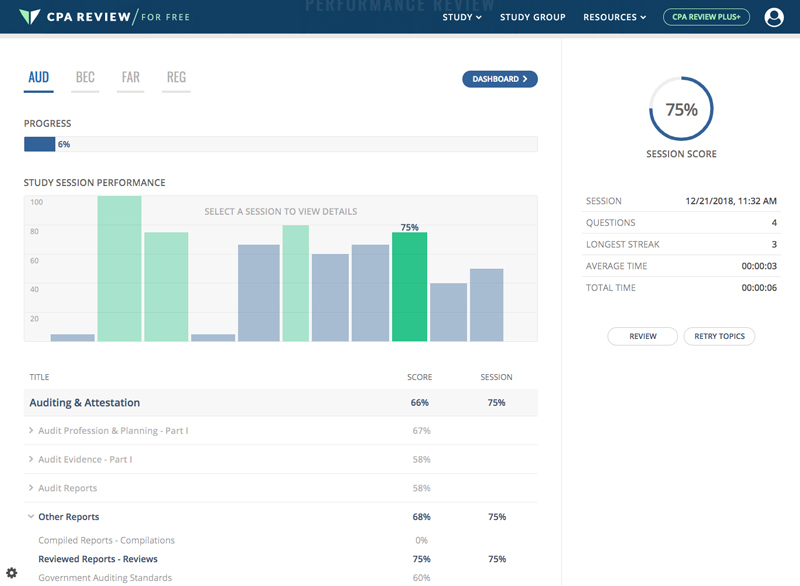 This makes it difficult to assess your readiness for the exam by knowing which topics you need to study more.
Again, if you want to track your progress you need to upgrade to the CPA REVIEW PLUS+ which makes no sense since the whole essence of the course is to provide a cheap alternative to more expensive CPA study guides.
---
Study Book and Materials
There are so many areas that the CPA Review for free falls short when compared to other review course providers. One such area is in the study materials and textbooks. Just like there are no video or audio lectures, don't expect to get any books or any other review materials.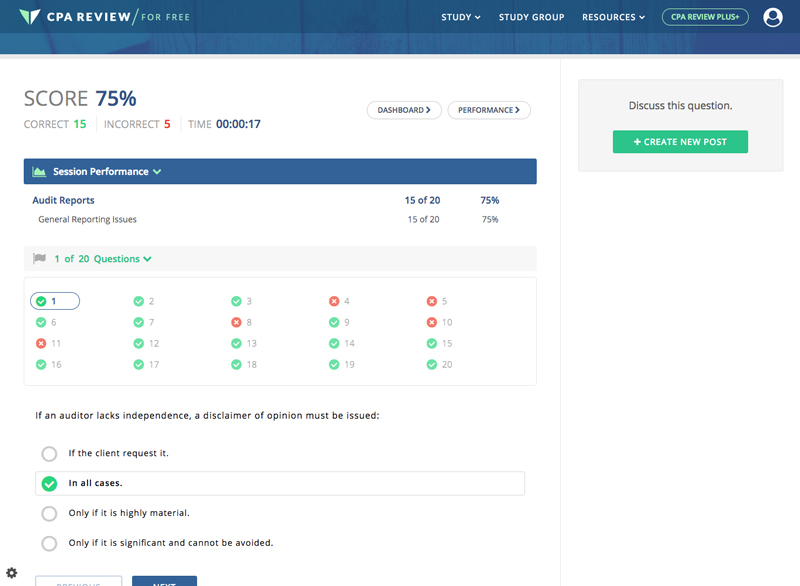 The only thing you will receive is a bunch of practice questions which you can always find in other comprehensive review courses. However, if you are really on a budget and can't afford the other alternatives, it's a great place to start but the experience will not be the same.
---
Free Flashcards
The CPA Review for free has no flashcard bank of any kind. Even if you upgraded to the CPA REVIEW PLUS+, you will still not get any flashcards. As such, if you have the money, you would rather invest in another review course that offers printed and digital flashcards that can be used on mobile devices.
Flashcards are nice to use as a study aid, but you are probably better off making them yourself. That way you will remember the concepts better since you hand wrote them.
---
Frequently Asked Questions
Here are the most popular questions CPA exam candidates have about the CPA review for free course.
Does CPA Review for Free have unlimited access?
Just like with Ninja CPA Review, this is a per month subscription program unless you opt for the free package. With just $37 you can get 4,500 CPA exam questions, and 160+ CPA simulations. The good news is that you can cancel your course subscription any time you want.
That means you have unlimited access to the free course materials until you pass your exam even if there aren't that many study materials. Even better, once you have canceled your subscription you will still have access to 1,000 practice questions.
---
Are there monthly payment options and fees?
CPA Review for free offers two kinds of packages; the CPA Free Review which is absolutely free and comes with 1,000 practice questions and the CPA REVIEW PLUS+ which has 4,500 practice questions and more than 160 CPA simulations.
When it comes to the CPA REVIEW PLUS+ package, you have two options in terms of payment. First, you either pay the regular $37 per month which allows you to cancel your subscription any time. The second option is to pay a one-time one-year subscription fee of $222 which helps you save 50%. However, beyond that, there are no other financing options.
I would recommend you go with the first option, however, seeing that this is not a very comprehensive course.
---
Does CPA Review for Free have CPA exam coaching?
CPA Review for free offers community support rather than one on one coaching. If you have any questions regarding the course, the only option is to post in the community forum where you get help from other CPA students as well as accounting professionals who have already been through the exam preparation journey.
This means that the review course lacks the personal experience that you get from other study courses where you have access to instructors or a self-assigned CPA coach.
---
How much does the CPA review for Free course cost?
The CPA Review Free course is indeed free, but the CPA Review Plus course costs $39/month. Although the name is a bit deceiving, at $39 this is still one of the most affordable CPA study guide supplement courses out there.
---
Is CPA Review for Free Plus worth the price?
Many CPA candidates like having an extra CPA exam study guide supplement, but it isn't really necessary if you have a proper review course. We would only recommend signing up for the Plus course for the final month before you exam date. Otherwise, it's probably not worth the money.
---
CPA Review for Free Plus vs Ninja CPA – Which is Better?
A lot of CPA candidates have to decide between CPA review for Free Plus vs Ninja CPA exam review, but most end up choosing Ninja because it has more study materials. Both are great supplement courses, but Ninja has a lot more video lessons and features for only a slightly higher price.
---
Is CPA Review for Free the best prep course for you?
CPA Review for free is a great study material if you are using it to supplement other courses but I wouldn't advise you to use it as the primary material if you are serious about passing the CPA exam. Since the course is absolutely free, it is best suited for anyone on a budget.
However, even when that is the case, there are other better courses out there that you can sign up for that offer flexible payment options that you can manage. The lack of video and audio lectures means that it's not ideal for virtual learners.
So is it a good course? Yes, but it depends on how you use it. Overall, there are better courses on the market that will help you prepare more. This is because even if you end up paying for the CPA REVIEW PLUS+ package, what they offer can't still match what other CPA prep course providers like Becker offer.