Fast Forward Academy is a newer CPA review course company with a vision to help candidates prepare for the exam faster. Started in 2010, FFA almost singlehandedly started the adaptive learning trend in the CPA prep industry.
They were the first company to market their unique approach to adaptive learning along with their innovative technology. Today, almost every CPA review company has some type of adaptive learning platform, but FFA was the first.
Their software track your progress as well as the results so that you only focus on areas that you need improvement in as you study for your CPA exam. Needless to say, it's a great way to prep for the exam.
Let's inspect Fast Forward Academy CPA review and check out its adaptive technology, course features, study materials, pros, and cons to see if FFA is the best CPA exam course for you.
---
Course Overview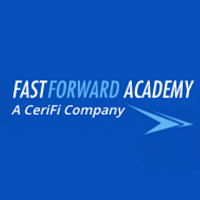 The Fast Forward Academy CPA review course has study materials for all four CPA exam sections.
Besides the core study materials that include video lectures, practice questions, and exam simulations, the program contains other advanced learning tools. Such include UI upgrades, device compatibility, split-screen view, instructor feedback, and community resources.
The main aim of FFA is to give candidates the study materials they need to learn as well as the mentoring they need to use their knowledge. The course comes with distinct features such as;
More than 80 hours of instructional video lectures
Over 6,800 practice questions and unlimited practice tests
Study book that covers every CPA exam section
A digital flashcard creator plus instructor and community support throughout
---
Fast Forward CPA Course Packages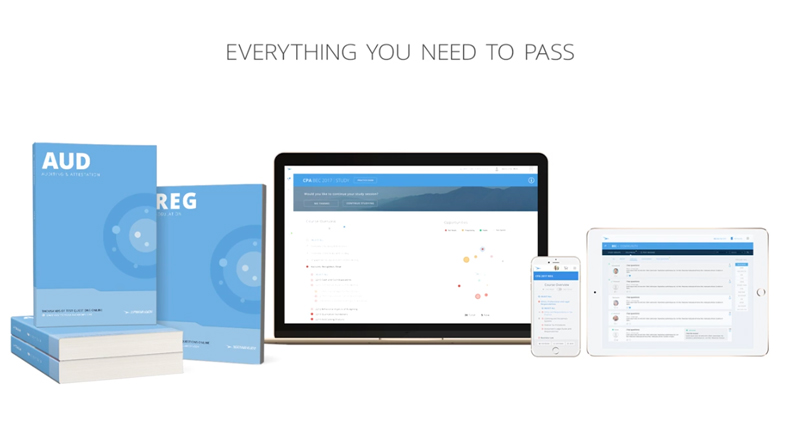 The Fast Forward CPA Review course is among the newest and most modern CPA prep study materials today. The course is however unique in that they have re-invented learning by introducing the concept of fast learning through the use of certain software.
The online course is designed to reduce your study time by helping you concentrate on the concepts that are most unfamiliar instead of reviewing everything including the topics you are currently know.
Most CPA prep courses and study guides are based on a linear learning platform whereby you work through each chapter sequentially. This is not only ineffective but you end up wasting time that you could have used to improve on topics that you're weak in. Fast Forward Academy CPA comes in three unique packages that are designed for different students:
CPA Smart Bundle
CPA Online Course
CPA Study Guide
---
Fast Forward CPA Course Features
The Fast Forward Academy CPA course platform is slightly different than many of the other study guide provides.
Let's look at some of its features and walk through the course outline, so you can get a better feel for it.
Course Dashboard & Software
The user interface and dashboard are very versatile and offer features such as a split-screen that makes it easy for you to juggle practice questions with text passages, lectures and community posts. When you log in for the first time, a clean and simple dashboard greets you.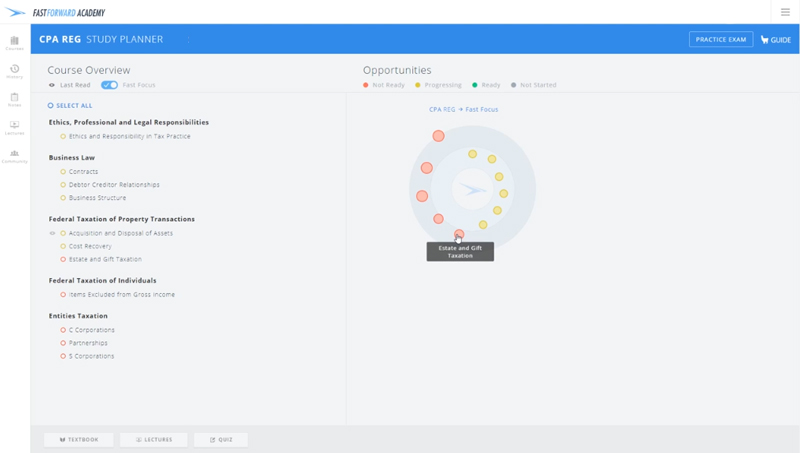 Your study modules as well as the progress are clearly laid out and the opportunities section provides an overview of the topics that you are doing well in and the areas that require improvement. On the dashboard, you are also provided with a "Fast Focus" option which filters the topics that you are struggling with so that they are easy to access.
---
Video Lectures
When Fast Forward Academy CPA Review started, there were no video lectures offered which made the course rather boring. Today that has changed with the introduction of video lectures. Rather than forcing you to watch a lesson on every topic and section like what you see in other courses, FFA incorporates video lessons in specific topics so as to speed up the learning process.
The latest update is the introduction of a full set of video lessons. The course comes with more than 80 hours of video lectures that cover the key topics. In addition, all the 470 lessons, try to explain the concepts using real-world examples so that you can better understand them.
---
Fast Forward Practice Exam Test Bank
Fast Forward Academy CPA Review course comes with more than 6,800 multiple choice questions that integrate into the adaptive study system. While you complete your quizzes and watch video lectures, the FFA test bank generates practice questions from your performance and knowledge of that specific topic.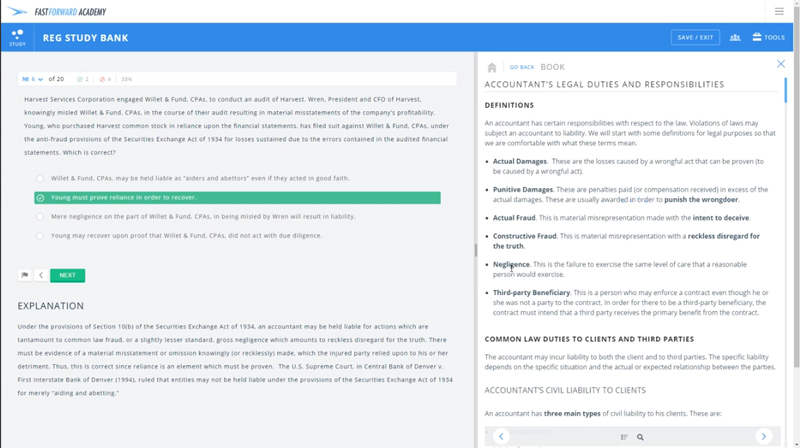 This ensures that you study the concepts you need more improvement instead being tested on everything. Also included in the course are 230 task-based simulations and an exam simulator.
---
CPA Course Analytics
Fast Forward Academy provides a way to track your progress once you enroll for the course. When you are answering the questions, you are required to mark whether you are "certain" or "unsure" with answers.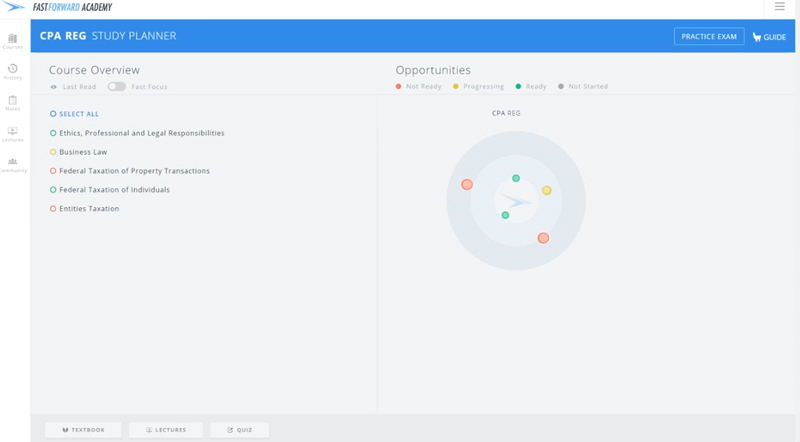 This makes it possible to determine your level of confidence in different topics which in turn eliminates guesswork when determining your performance metrics. This helps determine the sections that you need to be concentrating more on. In addition, you are provided with an "opportunities target" in form of a virtual visualization of your progress.
---
FFA Study Book and Course Materials
The dashboard usually contains a section meant for notes on lessons, questions, and study text. This feature makes it easy to review each study guide topics with the notes you took during your study sessions. The FFA study guide also contains reading materials and is more direct with little commentary on the subjects covered.
Rather, it's basically a bunch of bullet points that you can quickly scan and understand instead of reading detailed accounting textbook chapters. The goal is to ensure that students take as little time as possible to study for their CPA exam.
---
Flashcards
Fast Forward Academy has an extensive flashcard bank. With their newest feature, you can simply create your own flashcards within the software. Once created, the flashcard can be linked to sections in the video lectures or textbook.
The only downside is that unlike other prep course providers, Fast Forward Academy doesn't provide their own pre-made flashcards. This would help accounting students save time by offering a study tool that they can use for the important topics that need more of your attention.
---
Frequently Asked Questions
Many students have common questions about the Fast Forward review courses. Here are some of the most common ones.
Does Fast Forward Academy have unlimited access?
Compared to other prep courses that only come with a year or 18 months of access to the review course, FFA gives you unlimited access to your study materials. Thus, you don't need to worry about what happens if you don't pass the exam on your first try. There is no time limit. You don't have to pay extra to access your study guide.
The last thing you want especially when you are studying for the CPA exam is to go for a prep course that expires in a few months or a year.
---
Does Fast Forward Academy have financing plans?
FFA offers payment plans for both their CPA review packages that have 0% APR, so you won't need to pay the entire purchase price upfront.
Fast Forward Academy is definitely one of the most affordable CPA prep courses. Students can choose between a physical guide or online access to digital study materials. If you can't decide between the two, you can get both! Although the printed guide costs less, sometimes there are promotions that list both the online and physical packages for equivalent prices.
What makes the course affordable is the fact that you have unlimited access until you pass the exam, unlike review courses that give you six months to a year of access.
---
Does Fast Forward CPA offer mentoring?
One of the important things you have to think about when you are choosing a CPA exam course is ongoing support and coaching. Unlike other courses that rely on message boards and emails to offer support to students, Fast Forward Academy makes it possible for you to contact academic experts directly with any questions or concerns regarding the study material you may have.
This is great for anyone who needs a course that can provide more explanations that go beyond what is covered in the video lectures.
---
How much does the Fast Forward CPA review course cost?
Fast Forward CPA review is an affordable prep course that costs between $600 and $1,549. Their different course options give students with different budgets a way to get top tier CPA study materials no matter what they can afford.
---
What is the best feature of FFA CPA course?
The most popular feature of Fast Forward Academy is their innovative adaptive learning system. FFA takes a new approach to helping students prepare for the CPA exam. Instead of reading the textbook chronologically, FFA tests your knowledge at the beginning of the course and then creates a custom course for your unique knowledge set.
---
Is Fast Forward Academy CPA Review worth the price?
The Fast Forward CPA course is one of the best deals out of any CPA exam study guide. Between the amount of study materials you can access to the adaptive technology behind the course, the FFA course is worth the price. For sure!
---
Fast Forward CPA vs Becker CPA – Is FFA Better?
Some CPA candidates favor Fast Forward Academy vs Becker CPA review because of FFA's adaptive technology. Many students like using innovative new study methods to reduce their study time. That's exactly what Fast Forward Academy does.
---
Is Fast Forward Academy CPA the best course for me? 
Fast Forward Academy is great for students who are tech-savvy. They will find the course rather appealing. The tools that are contained in this particular education resource are powerful, and prior computer knowledge is necessary to make full use of them. Students who study best or are used to physical course books and live lectures may not benefit as much from this course. However, the physical study guide that is offered together with the online package may serve them best.
The course is also recommended to anybody who wants to explore an innovative learning method and doesn't care about watching video lessons. Additionally, if you are tired of going through long prep courses that don't consider your areas of weaknesses and strengths, then you can give Fast Forward Academy a chance. They have re-defined learning by making it possible to study fast and efficiently by factoring in areas that you need more help in.