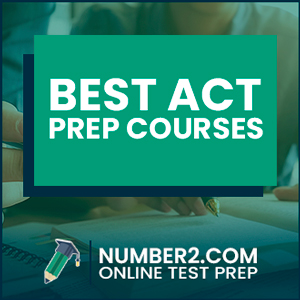 The ACT (American College Test) is the preferred college entrance exam in the US. Most colleges require students to submit their results as part of the admissions process. Thus, your score directly impacts whether you will be accepted into the college of your choice or you will have to settle for a different college or university program.
Choosing the best ACT prep course that will help improve your score is a crucial step to getting into the college of your dreams. With college acceptance becoming more competitive, you need a score that will make your application stand out. The only way to do this is to adequately prepare for the test.
ACT study guides come with many different features and options, so it can be difficult to figure out which one is right for you. The important thing is to look at which one fits your needs. Everyone learns differently and every ACT preparation course teaching the study materials slightly differently.
We review each of the top-rated ACT study materials online, so you can find the one that fits your learning style and will help you improve your ACT score. Let's look at each course and compare their pros and cons.
---
Here are the Top 7 ACT Exam Prep Courses Online in October 2022: 
Here are the best ACT prep courses and online study materials to help you improve your score and get into the college of your dreams.
---
Compare the Best Online ACT Prep Courses
| | | | | | |
| --- | --- | --- | --- | --- | --- |
| Company | Magoosh ACT Prep Course | The Princeton ACT Review | Kaplan ACT Review | Higher Scores ACT Online Course | Prep Expert ACT course |
| Price | $129 | $949 | $399 | $187 - 647 | $999 |
| Video Lessons | 30 lessons | 135 lessons | 30 lessons | | 30 hours |
| Live ACT Classes | No | 18 | 16 | No | 36 |
| Practice Questions | 1,300 | 1,200 | 2,000 | | 1,200 |
| Practice Tests | 4 | 10 | 5 | | 6 |
| Money Back Guarantee | Yes! | Yes! | No! | Yes! | Yes! |
| Get Started! | Get Started! | Get Started! | Get Started! | Get Started! | Get Started! |
---
Magoosh ACT Prep Course
Magoosh ACT is the best choice for students who want the best bang for the buck. They offer courses starting from just $99, don't get surprised because they have more in the store. If you pay $10 extra, you can avail of the three-month course!
The Magoosh courses are entirely online-based. You can get the classes as per your available time frame starting from one month, three months, and twelve-month plan. They offer a score guarantee, affordable price plans, and extremely flexible courses.
However, if you are looking for in-person classes, then this is not the course for you.
Features:
Complete four-week access to the study materials at no cost.
It is a completely self-paced course; hence it offers high flexibility.
Over 250 lessons and 1350 practice questions and full-length practice tests are available.
Pros:
Extremely affordable courses.
Additional 4 points increase in the score guarantee.
You can customize the practice sessions in terms of time, difficulty level, length, etc.
Cons:
No guidelines and accountability
No offline study materials.
---
The Princeton Review ACT Prep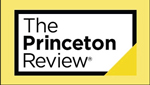 The Princeton Review has extensive experience in preparing the students for facing the ACT exams of 35 years. In this period, they have rightly identified the top reasons why students are unable to crack the exam or get low marks.
Once knowing the defect, it is easy to counter, isn't it? So they have designed the course considering the main reasons for drop out such as the incorrect method of learning, not understanding the question and trying to memorize all the things.
They are one of the reputed and highly established course providers with stellar quality materials, personalized courses, affordable prices, and a high score guarantee. They believe in getting high scores by investing less time. It is made possible by focusing more on student's grey areas rather than practicing more on secure areas and eliminating the process of memorizing the less essential things.
Features:
The innovative way of teaching by focusing on getting maximum scores by studying for fewer hours.
They guarantee a score of 31 and beyond with their coaching.
The live questions and answer sessions with the help of both desktop and smartphone platforms.
Pros:
Excellent study materials – It consists of over 140 high-quality video lessons covering every topic of the ACT exam, more than 137 drills, and 1200 practice questions.
Score Guarantee – They offer two courses with guaranteed scores. You can get ACT 31+ and ACT 26+ plans where you can get the guarantee if scoring 31 and 26, respectively. The best thing is if you are unable to understand that they will provide money back without any strings attached.
Pre-course access – None of the commentators provides the pre-course access to their study material, but Princeton gives access to all of their online sessions, SAT self -paced prep, 20 additional full-length practice tests.
The tutor- on-demand feature allows the students to get clarification for any doubts within a few minutes.
Cons:
Expensive – The package starts with $799, but if you are looking for a 31+ score, you need to shell out $1399 and private tutor with an additional $150 per hour. Hence it is an expensive course.
Stringent schedules – The most popular courses of Princeton are scheduled at a specific time, and it is not feasible for everyone to attend at that time.
---
Kaplan ACT Prep
Kaplan ACT is one of the top ACT course providers with professional teachers. They offer the standout feature of providing the courses in three different options. Hence as per your level of understanding, you can opt for any one of the courses.
They are self-paced, this course comes with teacher-led on-demand lessons to fit your schedule ($299), Live Online: this provides the option to get trained in the live interactive sessions ($399), Online Tutoring: a premium course which provides a personal guide to learn everything from the expert teachers($1999).
They provide the physical classroom level experience even in the online platform.
Features:
Three categories to choose from as per your understanding, budget, and time.
The attractive lean now and pay later option to facilitate the reading for those who are short of money.
Interactive sessions to clarify doubts.
Pros:
A customized study plan is made possible in this course. If you do not get some topics, it gives more attention to strengthen your weakness.
You can get the service of the knowledgeable professional who handles the students with empathy and care.
If you have some knowledge of the ACT syllabus, it is the best course to strengthen your weak points by paying less.
Cons:
Less study material. They provide only 18 hours of classes, which is way below the competitors.
---
Higher Scores ACT Online Course
Higher Scores ACT are operated and owned by a family. The founder of this family-owned company is a private prep tutor Lauren Gaggioli. She, with her knowledge in preparing the students for various exams she has designed and created an online course.
One-on-one tuition has made her understand the mentality and weakness of high school students. She has a podcast where she interviews the experts about many topics such as financial aid to students, the procedure of college admission, scholarship, preparation for the ACT and SAT, and career-oriented things.
The best thing about higher Scores is if you do well in studies you can not only pay for the course, but you can earn money!
Features:
Techniques to improve your ACT score in less time.
The clear and proven study plans for students from day 1.
You can customize the subject level strategies and also prepare as per your schedule.
Pros:
You have the opportunity of earning money through the scholarship if you clear the examination with good scores.
A quick and useful course if you have a limited time for preparing for exams. They offer the course for even one week.
Weekly personalized video content to give more insight about ACT, and you get the money-back guarantee too.
Cons:
The number of practice questions is less when compared to other courses.
---
Prep Expert ACT Course
Prep Expert ACT has been making some of the highest quality ACT study materials for the past decade. Their flagship 8 week prep course is only taught by instructors who have aced the ACT test. That means all of their instructors have score in the top 1% of test takers and they know what to show you to help you improve your score.
PrepExpert has created over 100 different strategies to increase your score. If you opt for this course, you will meet two times a week for three hours, followed by a full-length practice test on the weekends.
Features:
Flexible virtual classed with 60 hours of classes covered in 6 weeks.
Score improvement guarantee course, and if they fail to deliver the things promised, you will get your money back.
The teachers you can get in Prep Expert are those scored either perfect scores or at least 99%.
Pros:
High acceptance rate from reputed universities and also a chance to receive a massive amount of scholarship.
Easy to follow techniques and the set of six books with easy to read style narration.
Real classroom feel is possible with the help of live streams and interactive sessions.
Cons:
The limited number of in-person class locations.
---
Olive Book ACT Prep
Olive Book is focused on providing effective teaching techniques for all aspiring students. Each of the courses is created by the potent combination of substance and style to make the preparation course easy to understand. They teach you the hardest parts first; consequently, with the passing time, your problems will become easier.
It is quite the opposite of the traditional way of learning easiest to hardest topics. The high standard and professionally crafted learning videos will help to understand each topic clearly. In the highly reputed course providers such as Wiley are also providing paperback guides which are hard to understand and boring to read. In some of the courses, you can see the dry presentations.
But the only problem we see in this course is there is no option for you to read the materials in offline mode. If they had included both the method of learning, it would have been the best course for the ACT.
Features:
It consists of hundreds of practice question sets to get ready for the exam.
Three English and five reading passages with practice questions.
Professionally designed videos with high-quality animation.
Pros:
Professional teachers able to explain each topic in detail
YouTube content – Additional to animated videos, Olive Book, provides educational videos on YouTube. Which helps students a great supplement for students.
Blog – Olive Book blog periodically (once per week) posts blogs covering such as preparation topics, how to select classes, and so on.
Cons:
No extra study materials – All the study material available online, and you can't get any physical handouts or textbooks.
---
Wiley ACT Prep Review
Wiley is a leader in the education and test prep space. They are well known for providing top quality courses for college entrance exams and professional certification exams.
Like any other courses of Wiley, they designed the ACT course guide meticulously to help the students to crack their exams without facing many troubles. It is the complete guide since it will assist you from the registration to the results that help you.
As of today, they have six guides to assist the students. They cover the necessary details of the ACT exam, including new enhancements, exam patterns, scoring information, and related information. Then you can get the preparation guide. And they have published the four guides for each of the subjects.
Features:
The only guide which is prepared by the makers of the ACT test. Wiley's ACT course is designed from the same people who are preparing the test papers. So if you buy the guides from Wiley you will get the advantage from others.
Consists of ACT Official subject guides covering the four subjects, namely, English, Science, Mathematics, and Reading guide.
Learn about ACT from scratch with ACT Prep Guide and Act Beginner's Guide.

Pros:
They were written by the same people who are preparing the ACT exams question papers.
Guides, including the vast number of practice tests.
Updated and relevant test information as per the ACT syllabus.
Cons:
Only available in paperback, and it is the old-style learning—competitors providing online learning tools.
---
Recommendation
These are the top seven ACT courses you can get in 2022. I hope these seven courses will help to shortlist the course you want to select. Each course comes with its own benefits as well as drawbacks.
Now you can choose the courses that fit your learning pattern, budget, and time frame. Opt for your favorite one and crack the ACT!
---
Frequently Asked ACT Questions
Here are the most commonly asked questions about the ACT test and some ways to prepare for it.
Is an ACT prep course required to take the ACT test?
No, an ACT prep is not required to take the ACT test, but it is highly advised. An ACT exam prep course will help you prepare for the test and improve your score almost immediately.
You will have much better changes of being accepted into the college of your choice if you use an ACT course.
---
Should I take an ACT Prep course?
Yes, an online ACT course will help you prep for the test and improve your ACT score. It will also help reduce your test anxiety and stress levels because you will know what to expect on test day and will be more comfortable with the testing format.
Remember, a higher ACT score will increase your chances of being accepted into the college of your choice. You should do everything you can to improve your score, especially preparing with a prep course.
---
Is an ACT Prep Course worth it?
If you've tried to retake the ACT test to improve your score without much luck, an ACT prep course is definitely worth it. An exam review course will help you pin point the areas you need to focus on learning to improve your score.
It will also give you valuable testing tips and exam strategies to answer questions more effectively.
---
What is the ACT?
The ACT is a college entrance exam conducted by an organization called ACT. It is a multiple-choice based question examination where you need to sketch your future with a pencil and paper. Yes, there is a writing exam, but it is not mandatory.
---
Why is the ACT Important?
Education will decide the course (yes, even your educational course) of our life. Of course, it is not entirely true, but for the majority of people, it is. A college education is what decides the profession you will get in the future.
Consequently, you need to be placed in the right college and university to learn things in depth. As you know, getting into the highly reputed college is not a walk in the park. They will test you about your readiness, and then they decide.