Higher Scores Test Prep was founded by Lauren Gaggioli in 2015 with a goal to help prepare for the ACT and SAT tests in the shortest amount of time possible.
Higher Scores test prep strives for a personal and relatable approach to tutoring students. Higher scores focus is not only on coaching students but also on providing support to the students' full families. Gaggioli realized that study time and cost of private tutoring took a toll on the parents of students. That's why she made this course.
Let's jump into the Higher Scores ACT Test Prep course and review its tutoring & coaching services, course features, and study materials to see if Higher Scores is right for you to improve your ACT score.
---
Course Overview
Higher Scores test prep course is designed to give students all of the study materials they need to score higher on the ACT without breaking their parents' budget.
The expert instructors created the robust curriculum to trim study times and give students the knowledge they need to be confident on exam day.
Students also have unlimited email access to the prep tutors. This allows students to ask and receive answers to whatever questions they may have.
Higher Scores test prep offers two major ACT prep courses. Each course package includes slightly different resources at slightly different prices.
ACT Quick Prep package
First, there is the ACT Quick Prep package. This costs about $187. It is a 10-day study course to be completed within two weeks. It is ideal for students who cannot devote the recommended time of 6-12 weeks to prepare for the ACT.
It consists of video tutorials, a study guide, and a practice test. Students also receive a one-year subscription to the Cash for College newsletter.
ACT Complete Package
There is also the ACT Complete Package. This costs up to $647. The curriculum is divided into various segments of 24 days. According to Higher Scores policy, a day is considered 3 hours.
The goal is that students complete the course within 6-12 weeks, and ideally, the course is to end within one or two weeks of the actual ACT date. Students receive a study guide, prep books, video tutorials, and ACT practice tests.
They also have access to other bonus materials, such as the PSAT Quick Prep Course. This provides study materials and strategies for students taking the PSAT.
---
Course Features
Dashboard and Course Software
The dashboard for this course is quite simple and easy to operate. It does not include clustered icons or complicated operations. The layout of all the materials required by the student is quite clear, and the dashboard is responsive.
It is easy to navigate and control each study unit located on the dashboard. In addition, it has a virtual classroom designed to be conducive and user-friendly for learning.
---
Video Lectures
The course provides students with online and On-Demand videos for study purposes. However, the content, structure, and length vary according to the course chosen.
For example, the ACT Complete Package course offers students video tutorials containing over 80 scoring strategies to aid their knowledge and study. In addition, the course also provides students with video answers. These are videos that have answers to questions asked by students. Usually, the tutorial videos consist of a section where students can ask their instructors questions.
The instructors will then send a personalized video of answers to such questions. On the other hand, the ACT Quick Prep provides students with video tutorials that are 4 hours long, content strategies, and practice questions.
These help students have a deep insight into pertinent topics, which aids mastery in their preparation for the ACT.
---
Course Analytics and Tracking
The course technology enables students to track their performance by keeping track of their ACT study plan. The technology also gives students the chance to submit technical questions through the in-course Q&A portal.
Instructors will then respond with personalized videos or emails. This gives students a personal connection with the test program and a custom-made experience.
---
Study Materials
The ACT Complete Package provides students with a 24-day study guide. The study guide contains on-demand assignments each day. It also provides a step-by-step approach to taking the test, including different strategies and concepts students need to grasp for better understanding.
They also give additional study materials such as ACT Prep books and two full-length ACT practice tests. Another such study material is the PSAT Quick Prep Course. This course also provides strategies and techniques for acing the SAT.
The ACT Quick Prep provides a 10-day study guide with on-demand but optional assignments. It also includes video answers to students.
The Complete Package offers more study resources than Quick prep as it even offers study materials not only for the ACT but also for the SAT.
---
Flashcards
Higher Scores test prep does not provide flashcards to students for its ACT courses. Many students and users have criticized this for quite some time.
This is because flashcards enhance memorization and study the course program itself. This has made students use flashcards produced by other companies, and this is not always advised. These flashcards are designed for additional test prep courses and may not apply to the Higher Scores curriculum.
Quick Tip! Rather than buying flashcards from another test prep company, make your own based on the Higher Scores course. This way they will not only match the course, but you will learn while hand writing the cards. Win-win.
---
Support
The Cash for College Workshop has been an effective way for Higher Scores test prep to support their students over time. It is a 1-hour course designed to teach students and their families to monetize excellent test prep scores.
Students can also send emails and receive answers to their questions whenever they need to. Students can also reach out to the Head of testing for information regarding the ACT or SAT exams.
---
Cash for College Workshop
Another distinctive feature of the Higher Scores test prep institute is providing full family support for students. The goal is to teach students how to earn scholarships for excelling in the ACT exams.
In line with this, all test prep courses include the Cash for College Workshop. This workshop teaches students to turn their excellent test scores into free tuition funds through scholarships and grants.
They also provide bonus materials like the Cash for College newsletter that are designed to give students an edge in their college applications.
Students can see how they can monetize their test scores, get in-depth answers to critical questions, and more knowledge of test-taking strategies.
---
Money Back Guarantee
Higher Scores offers a money-back guarantee and no service fee is required upon a refund request. This is a crazy deal that most other ACT prep companies don't offer.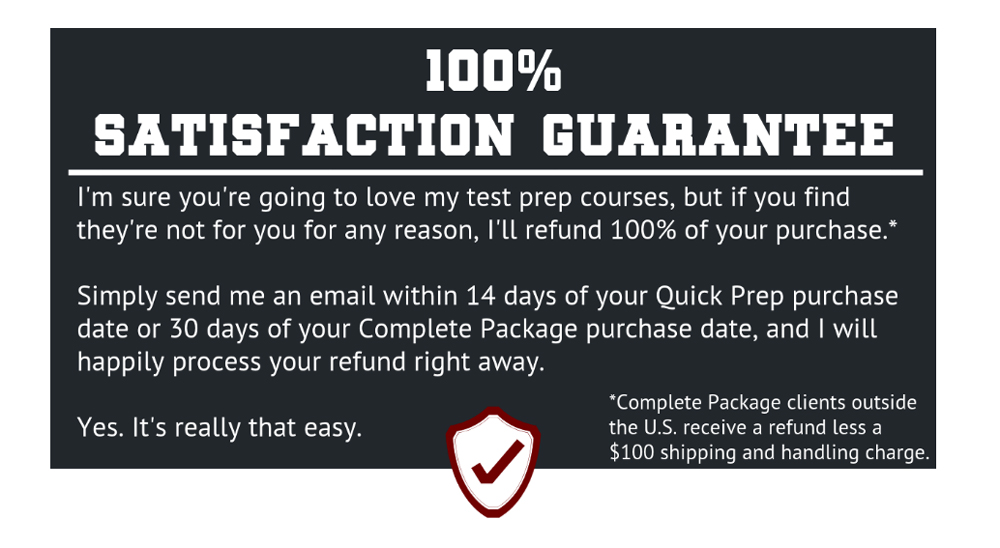 If you are satisfied with your course, they will give you your money back. No questions asked. No weird stipulations. You just email them and tell them why you weren't satisfied and you get a refund. No other course offers a refund policy like that!
---
Who is High Scores ACT right for?
Higher Scores ACT is perfect for students who are on a budget but still want individualized tutoring. With their On-demand video lessons and unlimited email access to ACT tutors, you still get a personalized review course without the cost of paying for private tutoring.
This course is also great for families who need advise and support for paying college expenses. Higher Scores has several great resources and tips that help students and families learn strategies of how to get scholarships and grants to make college more affordable.
No other course has such a comprehensive guide on raising money for college as Higher Scores.
---
Frequently Asked Questions
Here are some of the most commonly asked questions about Higher Score's ACT review course.
How much does Higher Scores ACT prep cost?
Higher Scores ACT courses ranges from $189 to $647, making it one of the most affordable ACT prep resources available today. The most popular course is the ACT complete package that includes a complete 24-day ACT study guide.
What is Higher Scores best feature?
A great feature of the Higher Scores course is the unlimited email access to expert ACT tutors. Not a lot of other prep courses give you direct access to their tutors without paying a huge private tutoring fee.
This comes standard with the Higher Scores course.
Is Higher Scores ACT prep worth it?
The Higher Scores ACT prep course is consistently ranking in the top 5 ACT reviews because it works. Their study materials are designed to help students understand the most important topics without wasting time.
Plus, if you don't like your course, Higher Scores will give you a complete refund. There's no reason not to give it a try.
Will Higher Scores improve my ACT score?
Yes, Higher Scores advertises that the average student increases their ACT test score by 3-5 points after completing their ACT prep course.