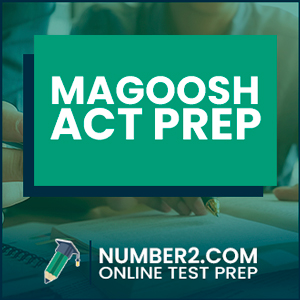 Magoosh Test Prep was founded by four Haas School of Business students at UC Berkley in 2009. They had a unique vision to help students prepare for standardize tests and get through this stressful process.
Although Magoosh is one of the newer test prep companies, they disrupted the industry and now offer some of the best ACT preparation courses out there at some of the most affordable prices.
Today Magoosh has students in over 185 countries. Their goal of making ACT preparation accessible, practical, and entertaining, is still the focus of the company.
Let's take a look at the Magoosh ACT Prep course and review all of its unique features, study materials, and course platforms to help you prepare for the ACT test and improve your ACT score.
---
Course Overview
The Magoosh ACT course have everything you'll need to prepare for the ACT test. The Magoosh tutors have designed their  course to not only help you improve your score but also reduce your study time.
With as low as $129 for a 12-month subscription, you would have access to more than 1,300 practice questions which enables you to train with every type of question, subject, and difficulty level repeatedly. Video and text explanations are also available for every question, which points out which answers are wrong and why.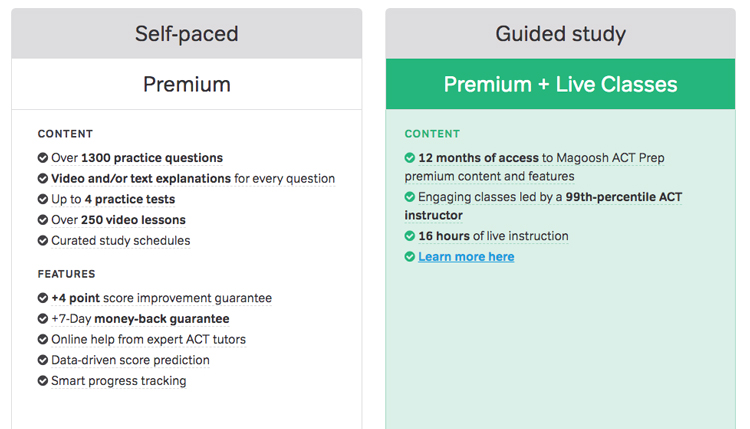 From the pool of over 1300 available questions, 4 full-length practice tests are generated. These practice tests are realistic as they simulate the questions you will face in the actual exam. This course also has over 250 video lessons that will teach you every keyword tested in the ACT.
Magoosh ACT prep course also covers 16 hours of live class access, led by an ACT instructor. In addition, it features a live chat functionality that enables you to ask questions in real-time.
You do not even need to have taken the ACT before you enroll for this course, as the lessons will teach you everything you need to know about the ACT. The tutors will go in-depth on topics you may not have fully covered in your previous lessons and make sure you are prepared for you test day.
---
Unique Characteristics
The Magoosh ACT Prep Test course provides a unique and user-friendly approach to test preparation, enabling the students to prioritize the specific items they need to focus on.
Free Trial
If you aren't fully committed using Magoosh, you can test their entire course out for free for seven days! Unlike other trial versions, Magoosh gives you access to all of the excellent premium features of their full length courses.
The free trial includes practice questions and lesson videos, so you can get a feel for what their teaching style is like. If you don't like it, you can just cancel the free trial before it renews the official course.
Mobile App
Magoosh ACT also has a mobile app that can be accessed on your mobile devices. This way you can practice your lessons and study on the go. With a simple and easy-to-navigate layout, you are sure to get by your lessons swiftly, without wasting any time.
Score Guarantee
Magoosh is so confident in their study materials that they guarantee that if you complete the premium Magoosh ACT Prep Course Program you will increase your score at least 4 points from the last time you took the ACT test or Magoosh will issue you a refund.
How can you go wrong with that?
Diagnostic Tests
The premium ACT course includes a short, online diagnostic assessment for you to identify and target your weaknesses. This diagnostic test can be done in bits, but the estimated test time would take about 75 minutes.
There are also exclusive practice tests that provide a timed score estimate and will help you with your performance under actual test-taking conditions.
---
Course Features
The Magoosh ACT course has a ton of innovative features to help you study faster and retain more information covered on the ACT test. Let's look at some of the key features and see how they will help you improve your ACT score.
Dashboard and Course Software Layout
One of Magoosh's best selling points is its intuitive dashboard with an incredible layout that lets you navigate the course and access all of its features.
The dashboard also features an intelligent review system that allows you to review your performance based on difficulty, time spent, and subject. You can also evaluate your performance using your metrics.
---
Video Lessons
This course features over 250 clear and concise video lessons that would teach you every concept that has been tested on the ACT. Each video is taught by a vetted instructor who has personally score in the 99th percentile on the ACT test.
There is nothing more helpful than an experienced instructor explaining the difficult concepts to you. Plus, these videos give you the chance to pause and rewind the topics that you need to understand better.
---
Practice and Exam Questions
There are over 1,300 ACT practice questions available in this prep course with 4 full-length practice tests. With each question formatted to look exactly like the ones on the test, you won't have any surprises on exam day.
The practice questions are evaluated and updated regularly based on feedback from thousands of test-takers, ensuring that you're obtaining the most relevant and up-to-date information possible.
Your test taking performance is tracked in the progress tracking tool, so you can see which types of questions you struggle with and which topics you need to review more.
---
Course Analytics and Progress Trackers
Magoosh has developed a unique study tracker accessible on your dashboard. This tracker helps you track your progress through the study materials and your understanding of the concepts on the practice tests.
This way you will know how much study materials you need to make it through before you test day. In addition, the intuitive dashboard will track your learning, estimate your score, and compare your pace with other students.
This is a great real-time feature that helps you assess your actual skills and knowledge as compared with other current test takers.
---
Study Textbook and Materials
Magoosh ACT study materials include digital textbooks, video explanations for questions, and tutoring materials.
Some of the most innovative study materials are the video explanations. Sometimes reading an explanation of why an answer is incorrect is simply too hard to understand. It's way easier to understand the questions and answers when someone explains them to you.
That's what these video explanations do. They walk you through the answers and show you which are correct and why.
---
FlashCards
Flashcards are a great way to study. Magoosh has created hundreds of flashcards for each of the main subjects: English, Math and Science.
The best part is these flashcards are available on the Magoosh app, so you can practice your vocab or math problems where ever you are.
---
Access limits
The Magoosh ACT course has online access for an industry leading 12 months. This is a long time compared to other prep companies that only offer access for 4 – 6 months.
You will also get free updates for your course while your access is live. This means that if there is an update to any videos or test bank, your account will be updated as well.
---
Payment Options
Arguably, Magoosh offers the most competitive pricing among others. With a one-time payment of $129, you will get all the fantastic features that they have to offer.
Not only will you get a good value for money, but they also have a money-back guarantee if you are not satisfied with the course. This hardly happens anyways.
---
Live Classes & Tutoring
The Magoosh ACT premium course offers 16 hours of live instruction by a 99th percentile instructor. They also offer engaging lessons led by the same group of instructors.
Although the live teaching is extremely helpful for students, it isn't as robust as some of the other courses out there.
---
Who is Magoosh ACT best for?
Magoosh ACT is great for students who want an affordable test prep option that covers all of the bases. This course is with a doubt the best value of any of the ACT prep companies.
It works especially well for busy students who don't want to be tied to a live lesson course structure. The self-paced course can be taken any time it is convenient.
As an added benefit, Magoosh does offer live instruction as well, so students who are visual learners and learn best by watching videos will be able to watch the video explanation teaching them how to solve it.
---
Frequently Asked Questions
How much does Magoosh ACT prep cost?
Magoosh ACT offers two separate prep courses costing $130 and $400 with the later including live instructor led classes.
Does Magoosh have live in-person classes?
Yes, Magoosh ACT offers 16 hours of live instruction in their premium course.
Will Magoosh ACT improve my score?
Most likely using a Magoosh course will improve your ACT score. In fact, Magoosh offers an ACT test score guarantee that your score will improve at least 4 points from your previous exam attempt after you use their course.
That's pretty solid!
Is Magoosh good for the ACT?
Magoosh consistently ranks among the top ACT prep courses because their course format is easy to follow and their instructors are highly rated. Because of this Magoosh students typically see their scores increase at least 4 points after completing their course.