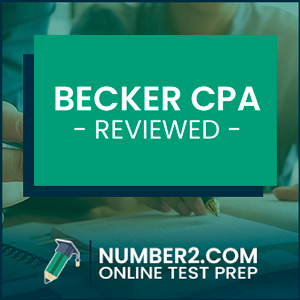 Becker CPA Review is one of the best choices for CPA candidate who needs a professional CPA prep course. Their rich history and track record span more than six decades with a global presence that includes over 29,000 partners.
Their CPA review courses have helped over a million CPA candidates prepare for their accounting exams. Their vision according to the official website is to empower people all around the globe to advance in their careers through professional education partnerships.
Becker serves the Big 4 accounting firms in the world and maintains other partnerships with top accounting firms in the USA.
Let's dive into Becker CPA review, check out its features, pros, and cons to see if it's a good CPA prep course for you.
---
Course Overview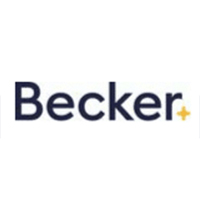 Becker's professional education courses are geared towards giving accounting professionals a competitive edge with the focus being on today's critical issues affecting businesses.
When it comes to CPA review courses, Becker offers three distinct packages with the highest tier being offered at a premium cost. Thanks to different financial options, the costs are usually affordable and there is value for money at the end of it all.
One thing that is impressive about the Becker CPA review is that they are one of the few companies that offer live classes. They offer three different study formats that include a self-study option, online classes, and the famous live in-person classes.
Because of this reason, you get to prepare for your CPA exam through a format that meets all your needs and gives you the most value for money. Some of the key features that we will be discussing in detail later on include;
More than 9,200 practice questions and tests
Over 580 task-based simulations (TBSs) to help you prepare for the exam with confidence
Video lessons from highly qualified instructors who explain each concept clearly.
Becker CPA review also offers flashcards in both online and print formats.
The Adapt2U feature helps generate customized study schedules for every student among other features.
---
Becker CPA Course Packages
One of the features that give the Becker CPA Review an edge over other similar providers is the fact that it is backed by the Big 4 accounting firms. While the course is fairly expensive, the unique packages and study modes give you value for your money in the end. When you enroll for the course, you get to choose between three packages;
One other major selling point of Becker CPA Review is the live in-person classes with their most recent update providing students with a personal experience thanks to the introduction of Success Coaches. The Success Coaches are there to offer perspectives on the ins and outs of being a CPA which is something very few prep courses offer.
---
Course Features
Becker CPA review is one of the best exam prep providers and their CPA course comes with a few unique features that you can't find in other courses.
Dashboard & Course Software/Layout
The Becker CPA Review course is designed in such a way that it's very easy to navigate the full course thanks to the Adapt2U learning technology. The technology uses short diagnostic tests that comprise of 4 to 8 questions in every unit to ensure that the practice questions adapt to your strengths as well as weaknesses.
Every unit includes skills practice, video lectures, multiple-choice questions, and task-based simulations at the end of every lesson. As you make progress throughout the course, you will be given progress reports so that you are aware of the areas you should be spending more time on.
---
Video Lectures
Video lessons are one of the best features of the Becker CPA Review course mainly because they are taught by experienced instructors who explain in detail each concept. One of the most popular features is the CPA SkillMaster Videos.
They are short video like the ones you would find on YouTube that break down the specific task-based simulation questions in easy to understand steps that show you how to solve the questions quickly and accurately.
The main aim of Becker is to have a video lesson for every task-based simulation. The only disadvantage with the videos is that some students have reported that some of the video lessons can get boring with some instructors not putting in any effort to make the videos interesting.
However, if you can overlook that, the course is worth every dime!
---
Practice and Exam Question Banks
Becker CPA review is one of the best not only because of the live classes but the fact that you have access to thousands of practice questions and tests. When you enroll for the course, you will have access to more than 9,200 multiple-choice questions.
In addition, the course comes pre-packaged with two mock exams for every section. Becker also has an adequate bank of task-based simulations or TBSs.
The test bank has over 580 TBSs that you can review daily to boost your confidence as you prepare for the exam.
---
Course Analytics and Progress Trackers
Like all the best review courses, Becker CPA Review makes it possible to review your progress as you continue preparing for the exam.
Their Adapt2U feature is a major selling point. This adaptive learning technology allows you to generate customized study schedules as well as track your progress through simple graphics.
Generally, all aspects of the Becker CPA course are combined into one highly effective and dynamic program that is centered around the needs of every student and Adapt2U is one such program.
---
Becker CPA Textbook and Study Materials
Becker offers excellent study materials as well as online notes for CPA students. One of the features that makes this course stand out is that the answers to all the practice questions are linked to relevant sections in the online textbooks provided.
This helps you study quickly by solving the complicated topics for you. The course also comes with two full practice exams for every section, more than 9,200 multiple-choice questions, and over 580 task-based simulations.
Most of the learning materials are interconnected with the answers providing direct links to sections of the lectures and e-books alike.
---
Flashcard Bank
If you are looking for a course that offers practice questions that go beyond the test bank, Becker offers complimentary digital flashcards. The flashcards however are also available in print form.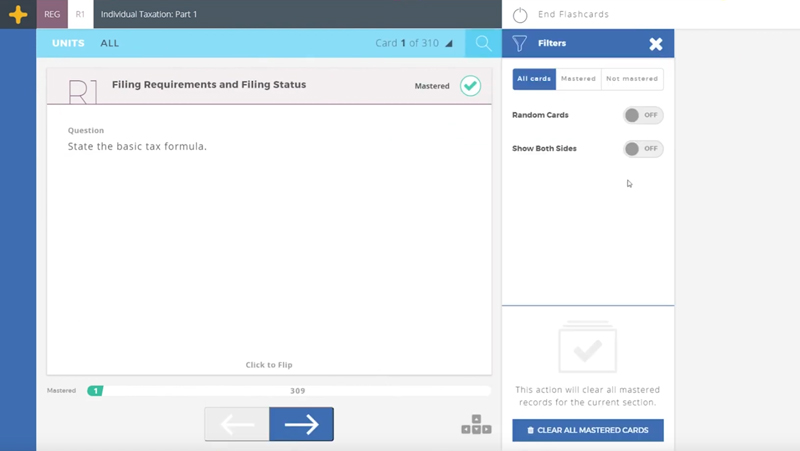 Flashcards offer a great way of learning and retaining critical information which is something you will really need when you are preparing for your CPA exam.
Coming in both print and online forms, Becker offers more than 1,000 flashcards at no extra cost when you sign up for the course.
---
Frequently Asked Questions
Here are several popular questions CPA candidates have about Becker CPA review.
Does Becker CPA have access limits?
Once you enroll for the Becker CPA Review course, you get unlimited access to the study materials. What this means is that should you fail to pass your CPA exam on the first try, you won't need to pay again for the Pro or Premium courses to study for the exam.
The downside with Becker's review course is that unlike other providers, they don't offer a money-back guarantee. However, the fact that you can repeat the course without incurring any more costs is enough guarantee.
---
Does Becker CPA offer payment options and financing?
Becker offers an excellent option for accounting students but the high quality means a steeper price. It is one of the most expensive CPA review courses but Becker has responded positively to the criticisms on their pricing.
They have done so by adjusting the pricing and adding supplemental study tools to the Premium courses at no extra cost. They also offer financing options that make it easy to pay for the course in affordable installments.
Their Flexpay CPA payment methods involve such things as bundled savings if you enroll in the four-part exam review and group pricing for those who are affiliated with certain firms, government agencies, and other associations.
---
Does Becker CPA exam review offer student support and coaching?
Becker CPA Review makes a point of going beyond and above to provide the best review course for accounting students. As such, they offer one on one support for all students.
Should you have any questions, you are free to reach out to their academic staff who provide personalized responses within 48 hours or less.
Becker also introduced the concept of Success Coaches whereby students have access to qualified mentors who help guide them through the journey to becoming a CPA.
---
How much does a Becker CPA review course cost?
Becker CPA has three different CPA prep courses that cost between $2,400 and $3,500. Becker is on the higher end of CPA courses and typically is more expensive than other study materials on the market.
---
What is the best feature of Becker CPA course?
Most CPA candidates state that Becker's textbooks and video lessons are their favorite feature of the course. Both of these course components are extremely thorough and well done. They are both engaging and informational.
---
Is Becker CPA Review worth the price?
Although expensive, Becker CPA is absolutely worth the price. Becker has been a leader in the CPA exam prep industry for over 30 years because they make high quality, in-depth study materials that help CPA candidates pass the exam.
---
Is Becker CPA the best course for you?
If you are looking for one of the best CPA review courses on the market, the Becker CPA Review is a good place to start. Being that Becker has been in the exam preparation industry for decades, they, therefore, are backed by years of experience that is evident in all aspects of their courses.
The textbooks and e-books that they provide are one of a kind and provide information on every section that you will need to cover when preparing for the exam.
The courses have so many advantages that go beyond video lectures and textbooks, however, in that there is an interactive game – Accounting for Empires that keeps you engaged whereby you get to build an empire by correctly answering accounting questions.
If you are looking for a course that offers different study modes also, then you can't do better than Becker CPA Review. You can either enroll for the self-study option, online classes, or the live in-person classes.