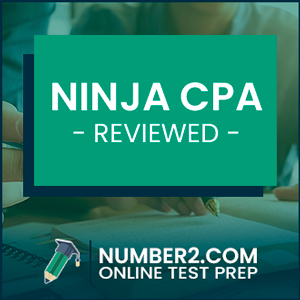 Ninja CPA Review takes a unique approach to studying for the CPA exam. The program was developed by Jeff Elliot of Another71.com. After years of running his popular CPA forum, Elliot decided to expand the site into more than just a forum where students could come and get support from other CPA candidates.
It was then that the Ninja CPA Review program was born! It is a CPA study guide that includes a large test bank of multiple-choice questions, audio lectures, digital textbooks, and adaptive learning software. Designed by Elliot to help candidates get over the last hurdle of the exam, it's an excellent supplementary course to a full CPA review guide that will give an extra boost to your CPA score that will fit into your budget.
Let's take a closer look at Ninja CPA Review and evaluate its course features, benefits, question test bank, and drawbacks to see if this is the best CPA exam study guide for you.
---
Course Overview
Unlike other review courses, the Ninja CPA Review takes a different approach when it comes to preparing for the CPA exam. The course comes with unique features that help you be as exam ready as possible.
It comes in four basic modules that can be purchased separately for a single CPA exam section. This is convenient because if you are struggling with your last CPA exam section, you can buy the supplement course for that section only. No need to buy the entire thing.
The review course includes the following features:
A large multiple-choice questions and simulated questions bank
Ninja notes that make it easy to add your own content
Flashcard app
Audio reviews
A comprehensive CPA review book
A cram course
Value-added features such as private social media groups for ongoing support
---
Ninja CPA Review Course Packages
Ninja CPA Review started first as a CPA exam blog before Elliot decided to add a library of multiple-choice questions in 2014. It is a $67 a month subscription program with zero upfront fees and time commitment. The best thing is that you can cancel the subscription anytime you want without any obligations for another payment.
What's unique about the program besides the pricing is that the monthly subscription comes with a test question bank, Ninja notes with enough room for your personalized notes, flashcard mobile app that you can get from Brainscape, study book, audio lectures, and final review/ cram course. The course is an excellent study tool that you can either use as the main course or as a supplement for other courses.
---
Course Features
Ninja CPA Review comes with so many features that make it an excellent study tool to boost your CPA exam score and pass the exam. Let's take a look at some of those features.
Ninja Dashboard & Course Software
In the past, Ninja CPA Review relied on a proprietary dashboard that was obsolete and difficult to use when compared to other review courses. Luckily, Elliot made several changes in a bid to create a 21st-century exam preparation experience like what other courses offer.
Today the interface is divided into four sections with each section dedicated to the different exam sections like FAR, BEC, AUD, and REG. Once you are logged in, you are given access to multiple-choice questions, video, and audio content as well as exam simulations.
---
Video Lectures
The Ninja CPA Review is an affordable option for anyone on a budget but the course lacks the main course features that you find in other high-quality courses. They have nothing new or better and most of what Ninja offers is what you'll get from any other course.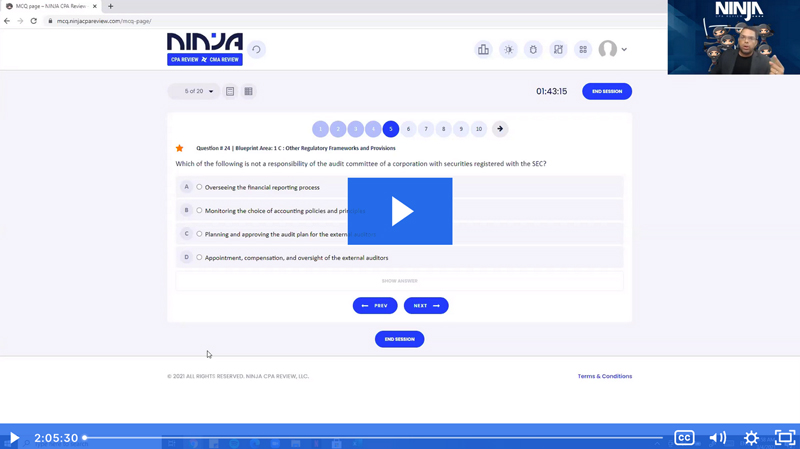 The video lectures for instance lack that classroom style that other established review courses provide. There is also a tendency to use outdated videos in the course which is a turn off as far as prep courses are concerned.
---
Ninja MCQ & Practice Question Test Bank
The Ninja multiple choice questions test bank is a professional exam simulator and software platform. The course does a good job when it comes to emulating the actual AICPA CPA exam interface. The test bank comes with more than 6,500 past CPA exam questions that contain detailed explanations to answers.
Also included are more than 250 task-based simulations. The best thing about Ninja CPA however is that their adaptive learning allows you to create your own quizzes.
---
Ninja Study Planner & Cram Course
The adaptive software makes it possible to target your weak areas rather than putting in the same effort on all sections and topics you already know. The software also let's you use the materials like a traditional course by sifting through the topics on the table of content.
Additionally, the Ninja Notes makes for a good cram course, so you can go over all the topics you need to master before you sit for the exam. While it doesn't include a lot of details, it is great for use as a final review since it summarizes everything you need to remember before the big day.
---
Study Textbook and Course Materials
There is a reason why the original Ninja notes were popular among CPA students. Elliot at that time was growing his family and a career when he was studying for the CPA exam. As such, he understood that time is the most important thing for candidates with busy schedules.
The notes, therefore, summarize the important information serving as a great cram course before the exam. The notes also go a step further to explain complex concepts in an easy to follow manner. They are available as either hard copy or downloadable PDA files.
---
Ninja Flashcards
The Ninja flashcards offer an intuitive platform designed for all monthly subscribers. The course comes preloaded with about 300 flashcards. The course allows you to rate your proficiency with each card so that you can focus only on the areas that you are not strong at.
You also have the choice to let the flashcards appear randomly so that you can focus exclusively on specific topics. In addition, the flashcards allow you to add your own cards as you throughout the study process which is one of the features that most people look for in a review course.
---
Frequently Asked Questions
These are the most popular questions CPA candidates have about the Ninja CPA prep course.
Does Ninja CPA have unlimited access?
How long you access the course materials after you sign up for Ninja CPA Review will depend on you. The course is usually a subscription kind of program where you pay $67 per month to access the course materials for as long as you want. And the good thing is that this covers each CPA exam section.
If you feel ready to take the exam, you can cancel your subscription anytime. And what's even better; Ninja CPA is that you don't need to pay any upfront fees to have your study materials.
---
Does Ninja CPA offer payment options?
Ninja CPA review is usually a pay as you go subscription kind of review course. To access the course all you need is to pay $67 every month for as long as you want access to the study materials. You can also go ahead and cancel the subscription at any time without any obligations to make more payments.
Ninja also doesn't force you to make any upfront payments and you also don't have to engage in financing or enter into any kind of contract with them. Besides, you get to pay the same amount every month to prepare for all the CPA sections.
If you feel a need to switch to another exam section, all you have to do is contact Ninja from within the course and you will receive access to the materials that you want.
---
Does Ninja CPA have student support or tutoring?
Ninja CPA Review comes with many features including the Ninja Sparring Sessions. These are sessions held every week and are usually live video teleconferences that last for one to two hours.
You also get a Ninja coach whose role is to guide you through a series of SIMs and MCQs while giving study as well as exam preparation tips as you dive deeper into the complex concepts. As a monthly subscriber, you also get access to the previously archived sparring sessions and live calls every week.
---
How much does the Ninja CPA review course cost?
The Ninja CPA prep course comes in two different packages that cost $67 per month. This budget price makes Ninja one of the most affordable CPA exam supplement study guides out there. At this price, it's a great addition to any full prep course you are already using.
---
What is the best feature of Ninja CPA course?
The most popular part of Ninja CPA the practice questions and Ninja Notes. Plus, its affordability! Any CPA candidate on a budget doesn't have to think twice about signing up for it and getting access to these great study tools because they won't break the bank.
---
Is Ninja CPA Review worth the price?
Yes, it is. Ninja is the best budget CPA prep course supplement that has helped thousands of CPA candidates boost their scores over the 75 point hurdle. Ninja is a deal at $67/month if you are looking for a little extra study materials to help with your last minute cram. We wouldn't recommend it for a full-length course or to be used as your sole study guide, however.
---
Ninja CPA vs Wiley CPAexcel – Is Ninja Better?
Many CPA candidates use Ninja CPA review vs Wiley CPAexcel together when they prepare for the CPA exam. This combination of study materials, notes, and professional video lessons have helped thousands of candidates pass the CPA exam. Plus, if you already have Wiley, you can pick up Ninja for a few months for an added cram course without blowing your budget.
---
Is Ninja CPA Review the best course for you?
The Ninja CPA course is just like any other course out there due to the absence of unique features. I would however recommend that you don't use it as your only study guide. The reason is that the review course doesn't contain enough materials to properly prepare you for the CPA exam. Rather, it should be used to supplement other more comprehensive review courses.
It might also be a good idea to purchase the test bank so that you have extra questions to use although this is not necessary if you purchase another review course like the Wiley CPAexcel. I would suggest that you go through other CPA exam courses to decide the ones that will work for you and then come back to the Ninja Review course to see if it's actually necessary to purchase as a supplement.