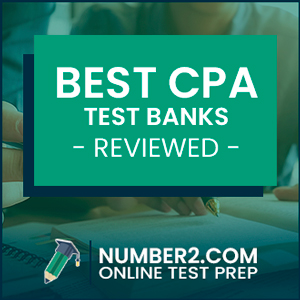 Picking the best CPA exam test bank that will help prepare you for difficult CPA exam questions isn't always straightforward. Every CPA study course has developed their own practice tests, so what makes one better than the other?
There are a bunch of mock exam features that you should look for in a review bank like number of questions and simulations, ability to create custom quizzes based on topics, detailed answer explanations, and performance analytics.
You also need to look at the style of the CPA exam study supplement. Some guides emphasize visual learning with illustrated explanations, while others focus on candidates who learn best by reading blocks of text. Each style can be a great tool, but it depends on if it works for you.
Let's walk through the top-rated CPA review test banks to see which will help you practice answering multiple-choice questions and task-based simulations on the the CPA exam.
---
Top 6 Best CPA Exam Test Banks & Practice Exams Below:
Here are the best CPA exam test banks and supplemental study tools that will help you prepare for the questions on the CPA exam.
---
Wiley CPA Test Bank
The Wiley CPA test bank is included in both the CPAexcel Platinum and Pro review courses, but unlike many other providers, Wiley also offers their practice CPA exam tool as a stand alone features. This means that you can purchase this no matter which course you go with.
The Wiley CPA test bank includes:
Complete CPA practice exams
6,000 CPA questions with explanations
200 task-based simulations
Written communications
The CPAexcel test banks are good because the test questions they contain closely resemble those on the CPA exam. They help students prepare for their exams by familiarizing themselves with the test styles and types, along with the level of difficulty of the questions.
Each testbank has 1,200+ exam revision questions for each CPA exam section AUD, BEC, FAR, and REG. Students can test themselves using exam questions to ensure that they know what will be tested in the final exam. The test questions are useful as a guide to help students identify their learning gaps.
The main advantage of the Wiley CPA's bank is that they help students test themselves with test questions that are relevant to those in the actual exam.
The Wiley CPA test bank is a great resource for any candidate who simply wants more questions to practice with. Wiley's bank is HUGE and includes way more questions than you need to prepare for the exam.
---
Becker CPA Test Bank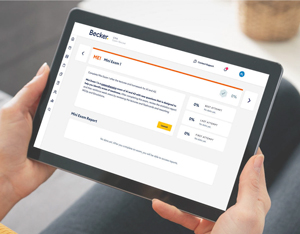 Becker CPA test bank is offered in their standard review course as well as a stand alone supplemental multiple-choice question package. This way you can use Becker's question bank even if you didn't purchase their full course.
The Becker CPA supplemental question bank includes:
7,000 Multiple-choice questions
400 Task-based simulation questions
8 Simulated Exams
2 Mini Simulated Exams
There are about 1,500 test questions with 2 question formats. The first one is multiple choice questions and the other is a case study format where you have to create your own answers or give arguments based on the case study provided in the question.
Becker's test questions cover all of the topics covered in the actual exams. This means that students get an approximate idea of what they will be tested for in the final exam.
The most unique thing about Becker's question bank is that all of the answer explanations are written by Becker's exam experts. They go into crazy detail about what answers are wrong and which ones are right, so you can understand the thought process behind the question.
In the stand alone course, you don't get as many software features as you do with the full course. You can make custom quizzes, but the adaptive software is lacking.
Becker CPA test banks are great for candidates who want detailed explanations and extra questions to practice before their exam day.
---
UWorld Roger CPA Test Bank
The UWorld Roger CPA QBank is one of the top-rated exam test banks because of Roger's unique teaching style and explanations. The Roger QBank question set is available with the full UWorld review course as well as a separate study tool. This is great because it gives candidates who used a different course access to Roger's teachings.
The Roger CPA QBank includes:
Custom exam simulator
Large volume of MCQs and TBSs
Detailed answer explanations
Answers include educational illustrations and diagrams to explain concepts
The most unique feature of Roger's testbank is the answer explanations. The Roger team has evolved simple answer explanations into full mini lessons. They include visual illustrations like flowcharts, diagrams, and tables to show you which answer is correct. Some even include a short video!
You can download it on your computer, laptop, or tablet to study anywhere you want.
The test bank is a very good test of whether you know how to look for an answer in a limited amount of time and it can help you focus on what information/knowledge is essential when looking up test answers.
The Roger QBank is perfect for visual learners who want to see the question and task-based simulation explanations instead of reading boring text.
---
Yaeger CPA Test Bank
Yaeger CPA has a great CPA test bank to help their students prepare for the CPA exams. This testbank uses real CPA test questions. This means you will be able to practice actual exam questions and get a feel for what it will be like on exam day. No surprises!
The Yaeger CPA question bank includes:
Over 5,000 AICPA licensed questions
Practice questions & simulations
Mobile app optimized
Online access
With over 5,000 practice questions, there's more than enough practice to help you test your skills and understanding of CPA concepts.
The main advantage of this testbank over others in the industry is that it is very comprehensive. It covers all the topics that are relevant and often included in the CPA examination and includes test questions from previous exams too. Yaeger is also notorious for being extremely detailed. After you read his answer explanation, you shouldn't have any questions about the topics.
Yaeger also includes the AdaptaPASS software in their custom CPA exam quiz generator. This adaptive software will analyze your performance and create custom quizzes to target the topics you perform worst in.
The Yaeger CPA test banks are great for candidates who want detailed explanations of practice questions and want to take advantage of the adaptive technology.
---
Gleim CPA Test Bank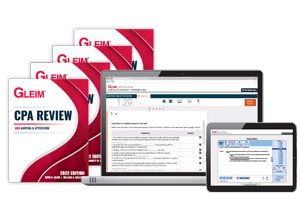 The Gleim CPA Mega Test Bank is the largest and most popular supplemental question set out of any CPA course provider. With over 10,000 test questions and answers, Gleim's testbank has become the industry standard. They've been providing a testbank separate from their review course longer than most other prep companies and there's a reason why. It's good!
The Gleim CPA Mega Test Bank includes:
560 Task-Based Simulations
10,000 Multiple-Choice Questions
2,000 MCQs per CPA exam section
Optional Printed books
With this amount of questions, you will never have to worry about seeing the same question twice. The multiple-choice tests are organized into testlets, so that candidates can easily identify areas they have mastered and those that they can further improve on to increase their chances of passing the final exam.
Many candidates who don't use Gleim's full review course get the Mega TestBank anyway. It's a good study resource to add to any course because it allows you to practice a new infinite amount of realistic questions. That's the key to passing the CPA exam. Practice, practice, practice questions.
The Gleim test banks are perfect for candidates who just want more questions to practice. With the largest test bank, Gleim is a great CPA exam study supplement that everyone should consider getting.
---
Surgent CPA Test Bank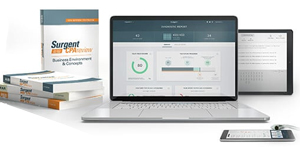 Surgent CPA offers a CPA test bank with their full-length review courses, but they don't have an option to purchase it separately. It's a shame because their adaptive quiz making software is really easy to use and helps build practice exams quickly. That's a big reason to buy their full course.
The Surgent CPA practice question bank includes:
7,700 multiple choice questions
400 simulations
350 short video lessons
1,000 extra MCQs
Surgent's testbank uses their ReadyScore technology to determine which topics you struggle with and which ones you are strongest with. Then they create custom quizzes to reinforce the topics you need help with. It's a pretty effective system.
They include answer explanations for each question along with a few other helpful resources to prepare you for the exam.
The Surgent CPA test bank is a good option for someone who wants an adaptive course. It works great and is integrated very well into their teaching system. This is definitely a reason to get the full Surgent course.
---
Recommendation
One of the most important parts of studying for the CPA exam is answering practice questions. You learn more by answering questions than by watching a lecture or reading a textbook because you are actively studying. You have to read the concept, think about it, and make a decision.
That's why a test bank is so important. Regardless of which CPA study guide you use, you might want to get an extra supplemental testbank to give you some extra questions to practice. More practice will never hurt!
---
Frequently Asked Questions
These are the most popular questions CPA candidates have about test banks and practice CPA exam questions.
What is a CPA exam test bank?
A CPA test bank is a supplemental study tool that allows you to generate practice quizzes from past CPA exam questions. A test bank is one of the most important features in a CPA prep course because a large part of studying for the CPA exam involves practicing questions.
Every course has a slightly different testbank, so you need to evaluate each one.
---
Will a CPA exam test bank increase by score?
Yes, a CPA exam testbank will increase your score more than any other supplemental study tool. Candidates who use a question bank to prepare for the exam increase their scores substantially over candidates who don't. A question bank is one of the best study resources there is.
---
How many CPA exam practice questions should I answer?
You should answer as many practice CPA exam questions as you can when preparing the for CPA exam. Answering practice exam questions is one of the best ways to study and will definitely increase your score.
Don't measure the number of questions you need to answer. Instead, measure the amount of time you have to study. You should answer as many as you can in that amount of time.