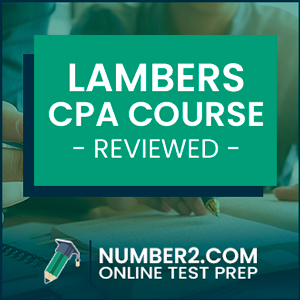 Lambers CPA Review has trained hundreds of thousands of CPA, CFM, CMA, EA, and CIA candidates since it was established in 1966. Over the years, Lambers has continued to refine their courses so that students have access to the most complete and updated courses.
Lambers CPA review features outstanding materials and instructions organized in a format that appeals to all students. The course provider aims at building the knowledge of students who enroll in the courses so that they understand the concepts necessary for both self-expression and problem-solving.
Lambers believes that for students to succeed in any certification exam, they must have a genuine understanding of the material tested. As a result, Lambers is relied on by even big organizations to create training programs for their workforce.
Let's check out Lambers CPA review and analyze its study guide features, course software, practice questions, pros, and cons to evaluate if this is the best CPA exam study course for you.
---
Lambers CPA Course Overview
Lambers focuses on self-paced courses that appeal to people with busy lives. The content is broken down into short bite-sized chunks that are easy to read and understand. Lambers CPA features over 5,000 practice questions mapped to the official AICPA objective for each exam.
The questions come with detailed explanations to let you how to answer them better when you are tested in the actual exam. The course is updated at no extra charge for as long as you need it to help you pass your exam. This way, you know that you are not wasting your time studying old content that may or may never be tested.
Lambers offers a 100% guarantee when you enroll in the course. Ideally, if you don't pass your exam after preparing with Lambers, you get a full no-questions-asked refund. What are the main features of the Lambers CPA review?
Over 90 hours of video lessons
Three testing modes to test your knowledge on the content to develop a more personalized approach to help you study for the CPA exam – a pre-test mode, adaptive mode, and simulated mode
Full refund if you don't pass on your 1st try
5,000 practice exam questions with detailed explanations
Fast customer support from a subject matter expert
---
Lambers CPA Course Packages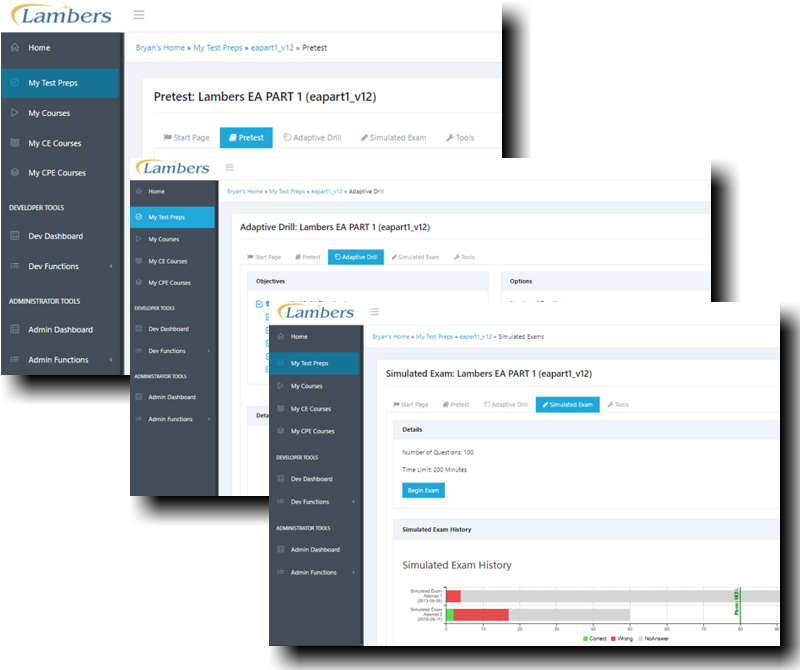 One of the features that makes Lambers stand out is their customer support. If you have a question about the content, just email customer support, and a subject matter expert will get back to you within 24 hours. Another feature is the Adaptive learning technology that Lambers makes use of.
There are three learning modes – pre-test mode, adaptive and simulated mode. The three modes are put in place to push your progress by pinpointing what you need to focus most on. Lambers CPA is a self-study course, and with such a course, most students either focus on the content they are already familiar with or content they find interesting and ignore the rest. Lambers's three modes are there to help you focus more on your weaknesses than your strengths. If you've already taken the pre-test questions, the adaptive mode helps you hone on your weaknesses.
Lambers offer a pass guarantee which is not something a lot of prep course providers offer. Their "No Pass No Pay Guarantee" states that you get a full refund if you don't pass the exam after studying with them. But like with other guarantees out there, there is a catch. You have to fail the exam twice for you to receive a refund. The good news is that there is no time limit on when you are supposed to take the two exams.
For a majority of CPA candidates who enroll for CPA prep courses, the main hurdle is learning how to tackle the actual exam. Each section takes 4 hours and it's important that you learn how to keep that time. Luckily, Lambers offers timed mock exams to help you practice the pace and timing of each question.
Another great feature that you get to enjoy when you enroll with Lambers is unlimited access. This way, you can take as much time as you want to go through the course materials without worrying about your access period running out and having to purchase the course again.
---
Course Features
When you enroll for the Lambers CPA review, here are a few features that you get to enjoy:
Course Layout and Dashboard
Lambers features a clean and easy-to-use dashboard. The testing software is divided into different modes that include the pre-test, adaptive and simulated mode. The pre-test mode determines what you've already mastered so that you don't spend time reviewing course materials that you're already good at.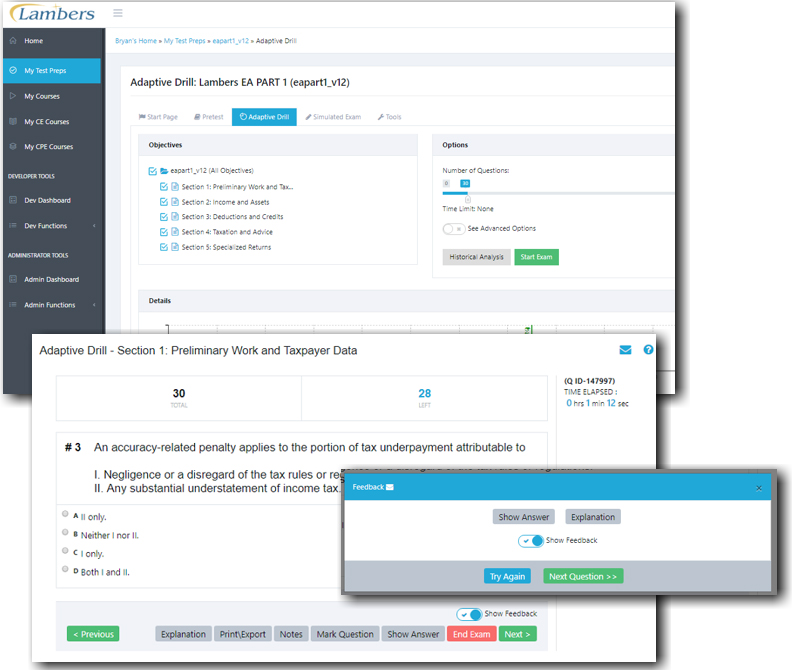 The adaptive mode uses the results from the pre-test mode to adapt your learning to focus on your weaknesses. The simulated mode puts you in an exam-like environment where you go through timed mock exams and tough questions just like the real exam.
While the course materials are constantly updated, the technology is somewhat outdated and not very mobile-friendly. The multiple-choice analytics are also limited such that it's sometimes a little difficult to identify your weaknesses.
---
Video Lecture Lessons
Lambers CPA features over 90 hours of video lectures and task-based simulations with video. The video lessons come with detailed explanations that break content into easy-to-understand chunks.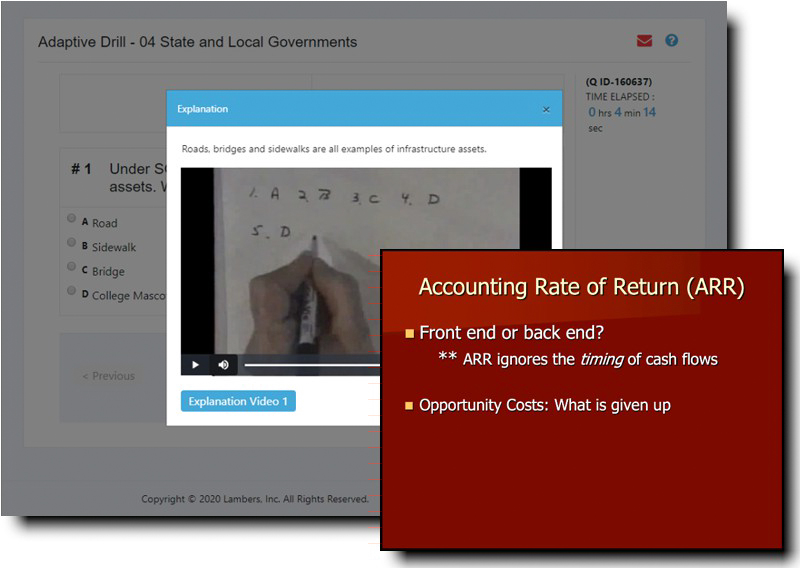 When you are in the adaptive mode, one thing you will notice is that the practice questions you have to cover are accompanied by detailed explanations so that you understand why your answer was wrong or correct.
With Lambers, a third of these explanations will contain links to videos that dive deeper into the problems. A majority of the time, the video tackles the most challenging parts of the questions in an easy-to-understand step-by-step guide.
---
Practice Exam Questions
Lambers CPA features over 4,778 multi-choice questions (MCQs) and 20 practice simulations.
Here are the number of questions for each CPA exam section included in the course:
AUD: 945 MCQs and 6 simulations with 301 links to videos
BEC: 749 MCQs and 2 simulations with 296 links to videos
FAR: 1,593 MCQs and 6 simulations with 655 links to videos
REG: 1,491 MCQs and 6 simulations with 572 links to videos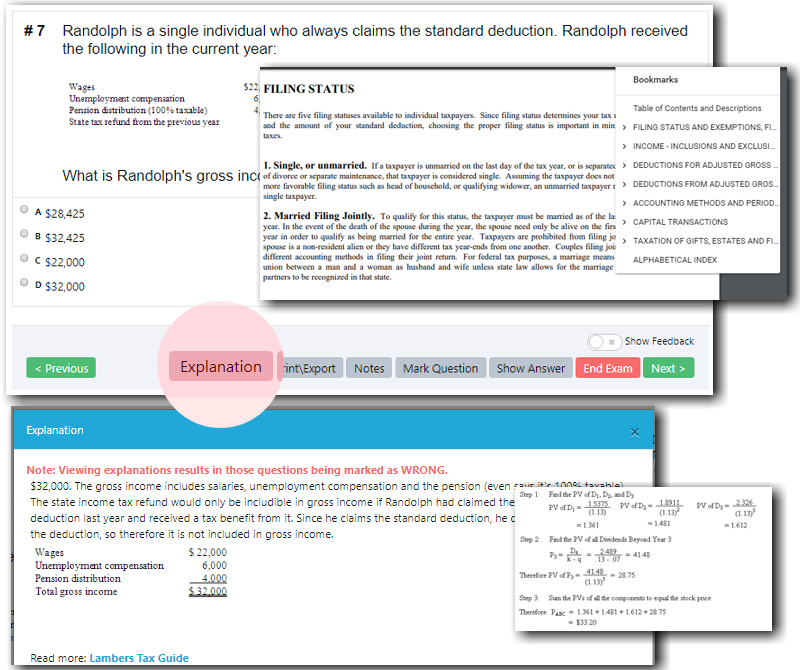 Most of the multi-choice questions are linked to 2 to 3-minute videos that break down the complex parts of the question. In general, the Lambers CPA review comes with more than 90 hours of video content.
---
Course Tracking Analytics Modes
Lambers offers course analytics and progress tracking through its three learning modes – pretest mode, adaptive and simulated mode. The pretest mode features practice questions that you take to pinpoint your strengths and weakness.
After you've taken the questions, the system then adapts your learning so that it focuses more on areas you are not doing so well at. The simulated mode is all about simulating an actual exam environment.
It features simulated mock exams that help you adapt your pace and timing so there aren't any unwanted surprises on your exam day. Lambers keeps tabs on topics you need to keep improving on as you work through the course to the end.
---
Textbooks and Review Materials
This is the one area where Lambers falls short of because they don't include CPA books with their prep course. However, the platform focuses on working out sample problems and explaining examples through video and text explanations.
You can, however, take notes when you are working through the MCQs, especially in the adaptive mode. From the Tools section, you can save the notes to your computer or print them off for offline referencing.
---
CPA Flashcards
Flashcards are meant to help you memorize content throughout the course. A majority of course providers include either printed or digital flashcards with their CPA prep courses. Lambers, however, doesn't include any flashcards in their course.
However, you can take notes, print, or save them as you go through the course. Lambers also makes it easy to understand the content when you are learning by breaking down the complex problems into easy-to-understand steps through video explanations.
---
Frequently Asked Questions
These are the most popular questions CPA candidates have about the Lambers CPA review course.
Does Lambers CPA have unlimited access?
There are no access time limits when you decide to prepare for your CPA exam with Lambers. Lambers offers lifetime access which means that you can take as much or as little time as you want on the course materials until you are confident that you can take the exam.
On top of that, Lambers offers a money-back guarantee if you fail your exam twice. Plus, there's no time limit for when you are supposed to take the two exams. Despite providing lifetime access, Lambers makes sure that they update their course materials now and then so that you don't study outdated content.
---
Does Lambers CPA have payment plans?
When you enroll with Lambers CPA review, you can expect to pay $249.95 for every section of the CPA exam. If you are using Lambers to study for all sections of the exam, the total amount you have to pay is $999.80.
The good news is that, while that amount seems high, Lambers offers exclusive discounts that you can take advantage of. Unlike other CPA prep course providers, Lambers doesn't have a comprehensive package. Instead, you have to pay for each exam section, which can be very expensive. Be sure to look for discounts before you enroll in the course.
---
Does Lambers CPA have expert CPA coaching?
Lambers CPA review provides customer support if you have any questions about the content. The only problem is you have to pay separately for customer support. Their "Ask the Expert" section costs a little under $300 if you want study tips or other specific content-related help as you through your CPA exam study process.
This amount is paid separately which is one of the drawbacks of using Lambers to study for your CPA exam. Most of the other providers include customer support as part of their course materials.
---
How much does the Lambers CPA review course cost?
The Lambers CPA course can be purchased in two different options costing between $249.95 to $999.95. CPA candidates can choose to buy the study materials for each individual exam section or they can buy the entire course at once. Unfortunately, there is no price break for buying the full course.
---
What is the best feature of Lambers CPA course?
One of most popular Lambers CPA features is their exam pass guarantee. If a CPA exam candidate doesn't pass a section of the exam two times in a row after using the Lambers review guide, they will get a full refund for the course. That says something about the company. They believe in their product!
---
Is Lambers CPA Review worth the price?
Lambers CPA is a bit overpriced for the review materials that it comes with. Similar CPA courses at the same price point have much more technology and study materials. It's definitely a high quality study guide, but it might not be worth the current price given the other options in the market.
---
Lambers CPA vs Becker CPA – Is Lambers Better?
Most CPA candidates don't choose Lambers CPA vs Becker CPA study materials because Lambers doesn't include as many features and resources as Becker does. Lambers makes a great course, but more candidates trust Becker with their studies and depend on them to help pass the CPA exam.
---
Is Lambers CPA the best review prep course for you?
The Lambers CPA is a great choice for anyone with a very busy schedule who wants a self-study option to help prepare for the CPA exam. It's an ideal choice for you who aspires to be a CPA and already has an accounting background.
However, you can still enroll for the prep course if you don't have an accounting background as a supplement for another review course. The course is ideal for those who study best through practice questions and simulated exams. Lambers features over 5,000 multi-choice questions with detailed video explanations and simulated mock exams.
It's also a great course for those who want to shorten their study time. The course features three modes of learning where you first go through practice questions that point out your weaker areas. The platform then adapts your learning to help you focus more on your weaknesses than areas you are already doing well in.