Founded by Steven Martin in 2000, MDS CPA Review has for more than three decades been helping aspiring CPAs prepare for their CPA exams. Drawing from a wealth of his professional knowledge and experience, Martin created a program that would help students from across the world master the universal CPA Exam.
Rather than buying course review materials and repackaging them like what other course providers do, MDS instructors design the course from the coursework to the practice questions. The course is offered in different options; online, in-person, and intensive Bootcamp sessions.
This way, you have the flexibility of choosing an option that works best for you so you can learn at your own pace. The course is thorough; with 98% of the practice questions appearing in the CPA exam every year being covered in their course materials.
MDS makes sure that the information is divided into short manageable segments so that students can have a deep understanding of the concepts tested in the exam rather than just memorizing the answers.
Let's look at MDS CPA review and check out the course platform, features, study materials, pros and cons to see if this is the best CPA exam study guide for you.
---
MDS CPA Course Overview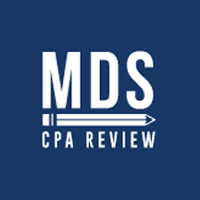 MDS CPA Review discourages memorization of answers by making sure that you understand the concepts and principles tested in the actual exam. On top of that, when you choose MDS, you don't get the overly charged add-ons you find in other courses, and neither are there hidden charges.
Moreover, the entire course plus the practice questions are authored by the founder Steve Martin and lead instructor Justin Linscott.
The course features instruction videos that are engaging and informative and streamlined alongside book videos to save you time. The software also uses analytic tools to create an efficient learning setting that keeps you motivated throughout.
Here are most important features of the MDS CPA Review course to help you prepare of the CPA exam:
Over 72 video lesson hours
6,000 multi-choice questions including detailed answer explanations
100 task-based simulations
Personalized support from actual CPA exam instructors
Four sets of flashcards
Supplementary books
Detailed analytics to help you keep up with your studies
---
MDS CPA Exam Tutoring Course Packages
MDS CPA Review comes in three packages – online classroom, live classroom, and the Bootcamp experience.
The online classroom package helps you review the course material at your own pace. It also adjusts to your schedule to create a study timetable.
The live classroom package provides a personalized learning experience just like an actual classroom setting.
The third package is the Bootcamp program that helps you get ready for the exam in 15 weeks.
All the packages can be accessed through either 6 or 12-month payment plans. MDS also provides an Extended Access option meant for college students with two more years of access after graduating. If you buy the course and are dissatisfied, you are entitled to a full refund.
---
Course Features
MDS CPA Review is one of the best courses if you want a course designed by actual CPA instructors. Here are the main features of this prep course that you should know about.
What makes the course stand out? For one, you have access to actual lectures and course authors who are ready to help if you have an issue or any questions. The entire course is designed by MDS instructors and their response time is second to none. If you have a question, you can expect an actual instructor to get back to you in less than an hour. MDS has a sweet return policy and access time limit.
If you are not happy with the course, you are entitled to a full refund if you take all parts of the CPA exam at least twice a year and do not pass the exam after 36 months. MDS also provides Free Repeat Privileges where you're allowed to extend access if you fail the exam between each attempt.
Additionally, rather than expiring after 18 months like other courses, with MDS CPA Review, you have access for two years.
Another great feature is that you have access to engaging and very experienced lecturers. Martin, for instance, is a Becker alum who also worked with Newt Becker before it was sold in 1996. He uses his wealth of experience to create a course that CPA students can find helpful when studying for their exams.
The lead lecturer, Justin Linscott has been an instructor at MDS since 2008 and has served in a management capacity since 2015. He is also a former adjunct accounting professor and a principal at a CPA firm.
---
Course Platform Layout
The dashboard is easy to use and contains the various tools you need to prepare for your CPA exam. The practice questions are formatted in the same manner the official CPA exam itself.
This helps students familiarize themselves with the various tools and computer modules that will be used at the testing center. Through the dashboard, you can also access Bootcamp sessions, live classrooms, and online classes.
---
Video Lectures
During a lesson, video lectures and books are shown side by side so that you can follow the book while listening to what the instructor is saying. With MDS CPA Review you have access to 60+ hours of video lessons as well as testing techniques videos.
The live classes are usually split into 4 CPA sections, with each topic presented at least three times a year. All the class sessions are streamed online to ensure that students don't miss anything. There are also live classes offered on Wednesday nights and Saturday mornings that you can choose if you have a busy schedule.
---
Practice Question & Task-Based Sims
MDS offers 6,000 multi-choice questions that come with detailed explanations. You also get 100 task-based simulations that mirror the structure of the actual CPA exam.
The platform is accessible on either mobile or computer.
---
Study Planner
MDS includes a feature that helps you identify areas of weaknesses to focus more on those and a random exam generator. The results of your homework, practice tests, and simulations are tracked across each of the exam sections.
This helps you identify your shortcomings so you can work on improving them. The software, however, lacks the analytic tools to help break down your scores into subsections. For instance, when you do a test at the end of the exam, there are no performance charts or statistics to break that down.
---
Study Book and Course Materials
MDS CPA Review boasts of four study books. The books are written in an outline format that emphasizes the key points rather than waste time reading through huge chunks of information.
With other review courses for the CPA exam, you have to go through loads of information in the books which can be overwhelming. During the classroom sessions, the books are played alongside the video lessons to keep up with what the lecturer is teaching.
---
CPA Study Flashcards
When you enroll for MDS CPA Review you will have access to four sets of flashcards. Whenever you want to study on the go, you can always take them with you.
The flashcards highlight the most important aspects of the CPA exam so that you can memorize them and recall them when you take the actual exam.
---
Frequently Asked Questions
Here are the main questions CPA exam candidates have about the MDS CPA review course.
Does MDS CPA have unlimited course access?
With MDS CPA Review, there are no access limits. When you pay for the course you have access for two years which is a long time to prepare for your CPA exam. College students get to enjoy an Extended Access Option that comes with more than two years of access after they have graduated.
If you fail between each attempt, there is an Earn Free Repeat Privilege that you can access. This means that you are guaranteed extended access if you fail.
---
Does MDS CPA offer payment option plans?
The course comes with a flexible payment option. All MDS courses including the CPA review are accessible through various payment plans. If you pass the exam before 12 months, you won't have to pay for the course anymore.
MDS offers a 12-month payment plan if you want to purchase a four-part online or in-person course. This payment plan enables you to pay for the course at your convenience without too much pressure.
The best part about all this is making sure you pass the exam before 12 months to stop paying. The course features a $160 monthly payment with a one-time optional registration fee of $150. If you are unsatisfied with the course, you get a full-no-questions asked refund.
---
Does MDS CPA have CPA tutoring or student support?
One of the best features and why most students prefer the MDS CPA Review is because of the personalized coaching and support you receive. The tutoring sessions cover all the information and resources to help answer any questions you may have.
The tutoring assistance is customized so that you can design a personalized study plan. When it comes to support and coaching, you get it from the actual course instructors who will get back to you within an hour.
---
Is MDS CPA the best prep course for you?
If you are looking for a course that is created by actual CPA instructors and key industry experts, MDS CPA Review is the right course for you. It's also a great option if you want access to real-time actual lectures.
The lectures are taught engagingly alongside book videos to help you keep up with what the lecturer is teaching.
If you are a busy professional who doesn't have the time to sit through an actual class, then you can choose from the many options MDS offers. You get to choose between live classrooms, online classes, and Bootcamp sessions.