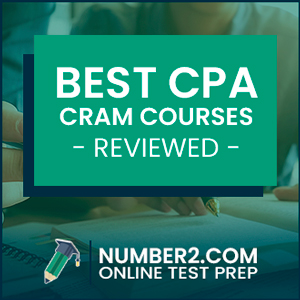 Picking the best CPA exam cram course that will help you boost your CPA exam score can be challenging. Most CPA review companies offer some type of final review course or last minute study guide, so how do you decide which course is the right one for you?
Before you look at the course features, think about your learning style and which study guide you used to prepare for the exam thus far. It's important to note that your final review isn't meant to be a complete review course. It's meant to help refresh your memory on key topics that you'll need to know on your exam date.
For example, FAR is filled with accounting concepts, formulas, and facts that you need to memorize. Some topics that were covered early on in your review course might be forgotten. That's why a last minute review is so helpful. It helps you focus on the key things to remember before your exam.
Remembering these facts could make the difference between answering a few key questions correctly and passing or forgetting the topics and failing.
Let's evaluate the most popular CPA review cram courses to see which will help you pass the CPA exam.
---
2022's Top 7 Best CPA Exam Final Review and Cram Courses Below:
Here are the best CPA exam cram courses and final reviews to help you boost your score and pass the CPA exam on your first try.
---
Wiley CPAexcel CPA Cram Course
The Wiley CPAexcel 11th hour review cram course offers an online study environment that is available on a 24/7 basis. Students can complete all the study material at their own pace without pressure to fully understand the concepts discussed. The courses are broken down into small units which makes it convenient for students to go over lessons again and again until they get their facts right.
The Wiley final review also provides a transcript for each last minute crash course lesson and gives review quizzes at the end of every unit. Wiley is very interactive and pretty entertaining. The concepts are explained using illustrations and case studies that make accounting easier to understand.
The CPAexcel 11th Hour Review includes:
Topical video lectures
Focus tips & test taking strategies from experts
Multiple-choice question bank
Task-based simulations
Written communications examples
Full length mock exams
The only disadvantage of using the Wiley CPA crash course is that it isn't available in printed form.
The Wiley CPA final review course can be a good alternative to online study programs if you want a more flexible and interactive learning experience.
---
Becker CPA Cram Course
The Becker CPA final review is the most thorough cram courses out there. Becker designed this course to condense all of the study materials in the full length CPA review into a jam packed last minute study guide to improve you comprehension on exam day.
Becker's final course includes:
Digital or printed textbooks
35 hours of video lessons
1,000 multiple-choice questions
100 task-based simulations
1 Exam for each CPA Exam section
Becker CPA provides cramming tips like the best time to study as well as flashcards for memorization. There are also practice exams to assess your knowledge before taking the actual exam. Real CPAs review the material to ensure that the information is a good reflection of the exam.
The Becker CPA exam cram course is one of the most comprehensive final reviews out of any crash course. They include more study materials and offer a full year of study access.
---
UWorld Roger CPA Cram Course
Uworld Roger CPA review offers one of the best cram courses out there. The main reason for this is Roger didn't simply take bits of his full course and call it a final review. He created a completely separate course that is designed to go over the last minute topics you need to refresh on and memorize before you take the exam.
The course comes with shorter lectures that let you quickly watch Roger explain the topics then jump into the multiple choice practice problems. You can get this course in either online or printed versions, but the most popular is online. Roger also has an app.
Roger CPA course includes:
10-15 minute quick Roger video lessons
CPA cram textbooks
Multiple-choice questions with explanations
Mock exams
Unfortunately, you will not have access to Uworld's live tutors with this course, but with a shortened CPA review like this, you don't really need private tutors or CPA mentors.
The Roger cram course is best CPA candidates who are visual learners who needs to have access to all the information possible. This final review course includes videos of lectures, review questions, and other articles relaying information in an easy-to-understand manner.
---
Yaeger CPA Cram Course Review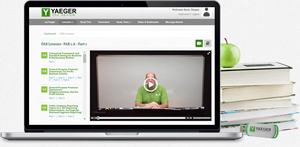 Yaeger CPA cram course is a final wrap up that you as a CPA candidate will find quite useful a few weeks before you sit for the actual exam. Whether you used Yaeger CPA review another CPA exam prep course, this final review is designed to help identify your strengths and weaknesses before you take the exam so that you are better prepared.
Yaeger CPA gives you access to sample questions and practice problems from previous exams. You also get immediate feedback when you answer the questions so that you are better aware of how and how not to answer such questions.
Yaeger explains things in an easy-to-understand manner and there is a money-back guarantee if you are not satisfied with this course.
Some students find Yaeger's lectures a bit boring, but they are very detailed, so they are a big help on the complex topics.
Yaeger's final review course is best for accounting students who need fewer resources to pass the exam. It is also ideal for anyone who is looking to receive immediate feedback after tackling the problems provided.
---
Gleim CPA Cram Course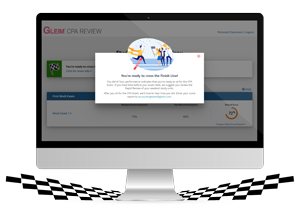 The Gleim CPA Finish Line cram course is great final review for the days leading up to your CPA exam date. Regardless if you are only a couple days away from your exam or a few weeks, the Gleim course will help you fill in the last few details you'll need remember to boost your score.
The Gleim crash course includes:
2 mock exams
Custom test generator
1,200 multiple-choice questions
80 task-based simulations
Detailed explanations for each exam MCQ
The Gleim final review is great for students who want to use a ton of practice exam questions. Gleim will not only teach you what you need to know about the exam, but it also gives you tips for taking the test.
---
Fast Forward CPA Cram Course
Fast Forward CPA cram course with fast focus study materials is a great crash course to help you re-review your weakest areas before your exam date. Unlike many of the other courses on this list, FFA doesn't offer a stand alone course. Instead, this is a feature on their full review course.
You can use their FastFocus tool to create a custom final review that targets all of the topics and concepts that the FFA course software has identified as your weakest areas. Do rather than going through a general review again just days before your exam, you can create a personalized review that will help in the areas you need the most.
The biggest disadvantage of the fast forward CPA cram course is it isn't available outside of buying their full CPA review course. It is a great feature if you are using their course to prepare for the CPA exam however. It's an awesome addition!
---
Surgent CPA Cram Course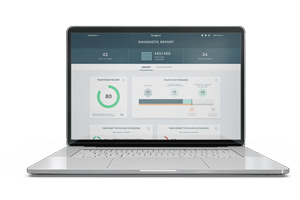 Surgent CPA review doesn't make a cram course to prepare for the CPA exam. Instead, they have several features on their Ultimate CPA Review that help you create your own final review study guide.
First, you can use Surgent's adaptive software to find the chapters and exam topics that you aren't testing well on. Look for your lowest scores. Then, you can watch the nano-sized videos to quickly review the topics.
After you refresh yourself with the topics, take the practice quizzes and mock exams in those chapters. You can also create custom quizzes only using those subjects.
The Surgent CPA final review works great if you already are using Surgent because there's no need to buy another course. Your final crash course is already included!
---
Best FAR Cram Course for the CPA exam
The FAR section of the CPA exam is not only the longest, it's also looked as the hardest. There's a reason why the FAR study guides are always twice the size of the other exam sections. With the most information to understand and memorize, it's no wonder why CPA candidates want a final review course specifically for the FAR exam.
There are a few different considerations to think about when you are looking at the best final review course for FAR.
First is the amount of study materials. FAR is a HUGE exam, so you'll want a comprehensive final study guide that covers all of the most important topics. Second, you'll need a course that presents the information in a way that you can understand and retain. Some people like watching videos while others like reading the textbook. Whatever works for you, go with it. Third, you NEED practice problems and mock exams. The best way to prep for FAR is by using mock exams.
With all that said, the best FAR cram course is the Becker CPA final review. It has every last minute study material in the crash course that you'll need to brush up on the most crucial exam topics.
---
Recommendation
If your are completely on top of your study game and have gone through your review course multiple times, you probably don't need one of these reviews. On the other hand, if you an average CPA candidate who barely made it through their full review course once, you might want to get final cram review. It's worth it.
You are way better off spending a little extra on a last minute cram course than failing the exam several times and paying extra fees. I know I'd rather pass the first time than study for the same section multiple times.
I'd recommend going with either Becker or Wiley CPAexcel. They both have great courses with slightly different features. It really depends on your learning style. If you want more features and study materials, you can go with Becker. Likewise, if you want a simpler review with less things to study, the CPAexcel course is a great simplified review.
If you are on a budget and want to spend a little less, you can always go with Yaeger CPA.
---
Frequently Asked Questions
Here are some of the most commonly asked questions about CPA exam cram courses and final reviews.
What is a CPA exam cram course or final review?
A CPA exam cram course final review course is a last minute study guide for the CPA exam. The CPA study materials are supposed to help you cram for the most important exam content a week or so before you exam date. This way you can refresh on the most important topics without having to go through your entire CPA course again.
---
Why is a CPA exam cram course important?
CPA final reviews are important because it gives you a chance to revisit some of the most tested topics and concepts right before you sit for the exam.
This means you can memorize the important formulas, re-read areas you need to remember, and practice some additional questions and keep it fresh in your memory before exam day. It's a great idea for any CPA candidate to use a final review.
---
Do I need a CPA review cram course to pass the CPA exam?
No, you don't need a final review course to pass the CPA exam. Many CPA candidates don't use a final crash course and have no problem passing. There are helpful, however.
Think of it this way. Your full length CPA course should do a good enough job preparing you for the exam if you go through it completely. But let's be honest, none of us complete the entire course. They are HUGE. That's why a cram course is helpful. It bridges the gaps.