Gleim CPA Review is among the oldest and most popular CPA study materials on the market. For over 45 years, they have helped millions of accounting professionals and students prepare for their CPA exams.
What's so great is that more students have used their various test prep products to supplement other study materials than any other course. Gleim is very organized and the perfect course if you want a course that will guide you through all the lectures explaining each concept in detail.
Let's examine Gleim CPA review and look at its test bank, study material features, lesson structure, pros and cons to see if this is the best CPA study guide for you.
---
Gleim Course Overview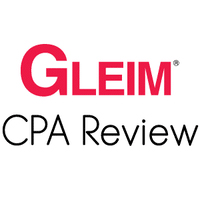 Gleim prides itself in offering comprehensive prep courses that cover all the possible sections that you are likely to encounter in the CPA exam. Their CPA review course is well organized and is great for CPA candidates who want a guided prep course that has micro lessons.
They also offer a one of a kind adaptive learning technology and an effective support system that provides personalized support to meet the needs of different students.
Their study materials include downloadable lectures, adaptable quizzes, and audio reviews. In addition, their premium study materials offer unlimited access as well as free content updates to ensure that you always have the most accurate information as you prepare for your CPA exam.
In overview some of the features that are worth noting include:
Digital and physical copies of the study materials
10,000 multiple choice questions and 1,300 task-based simulations
More than 100 hours of video lessons and downloadable audio lectures that you can access on the go
Students support from experienced accounting professionals every step of the way
---
Gleim CPA Course Packages
Gleim CPA Review is popular among accounting students and professionals for many reasons. However, the one thing that makes the course stand out from the rest is the pricing. Gleim gives you all the materials plus ongoing support so that you may pass your CPA exam without forcing you to break the bank.
Unlike other courses, the traditional review package goes for only $1599 and the all-inclusive premium package $1999.
Compared to other courses, Gleim CPA Review has more practice questions and features giving you value for your money. On the other side, you get a $400 discount when you use their discount code!
---
Gleim CPA Course Features 
Gleim CPA Review is one of the most comprehensive yet pocket-friendly CPA prep courses on the market. Here is a breakdown of the course features and what makes it unique.
Dashboard Layout & Course Software
When you log into your Gleim Review course an intuitive and simple dashboard greets you and gives you a personalized study plan based on when you will be taking the exam. The dashboard is very professional and not to mention easy to navigate.
When you have gone through the video and audio lectures, texts as well as quizzes, you can go ahead and do a final performance review that will show you the topics that you need to be spending more time on.
---
Gleim Video Lectures
For students who have passed through the course, the video as well as audio lectures are clear and professional and focus on real-world examples when answering the practice questions and going through the study material.
However, the video lessons are just like what you would find in any other prep course in that there is no additional text which some students finding it difficult to fully understand the topics.
Additionally, while the videos are short, they are not particularly engaging compared to review courses such as Roger.
---
Gleim Test Bank & Practice Question
When it comes to practice questions, Gleim wins in that section hands down. They have the largest practice bank containing more than 10,000 multiple choice questions which are more than enough to prepare for the CPA exam.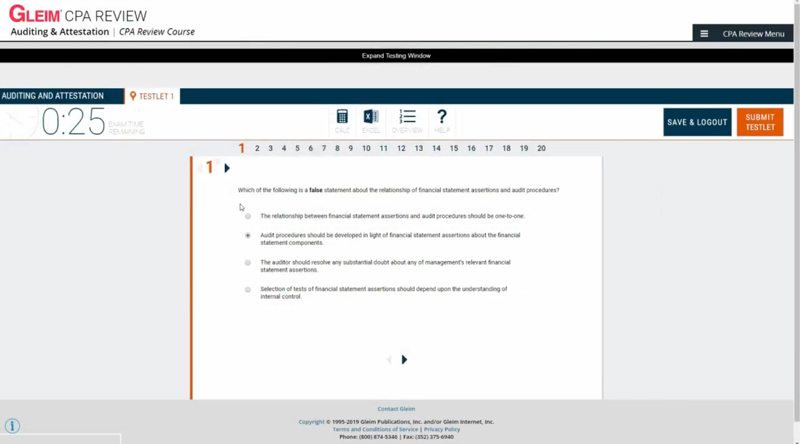 Just like with other courses, the quality rather than the quantity of practice questions matters, and Gleim have done a good job in that. The questions are challenging enough to ensure that there are no surprises on the exam day.
The test bank also comes with over 1,300 task-based simulations and an exam simulation that mirrors the actual exam.
---
Study Planner
The most recent update to the Gleim Review course is the Interactive Study Planner which is an adaptive technology study tool. It's a game-changer when you are preparing for the CPA exam. How does it work?
Unlike other courses where you just study lots of materials for the main exam without any clear plan on what you might encounter and what you might not, with Gleim CPA Review, the study guides help you focus on areas that you need the most help in.
Through the practice questions, you can track your study progress and in return, the system generates a study plan that fits your study needs.
---
Study Textbook and Materials
Gleam offers both print and online CPA exam study materials, regardless of the package you purchase. With all three packages, you get physical textbooks that are mailed to you if you prefer such traditional study techniques.
The good thing about Gleim is that they offer updates to all their study materials at no extra cost which is part of the "access until you pass" guarantee.
That means is that you will have access to updated materials until you pass the exam regardless of how long that will take.
---
Digital & Printed Flashcards
Flashcards are a great way of ensuring that you always have access to the study materials regardless of where you are. For a long time, Gleim CPA Review didn't provide flashcards once you purchased the course something that put them at a disadvantage with other course providers.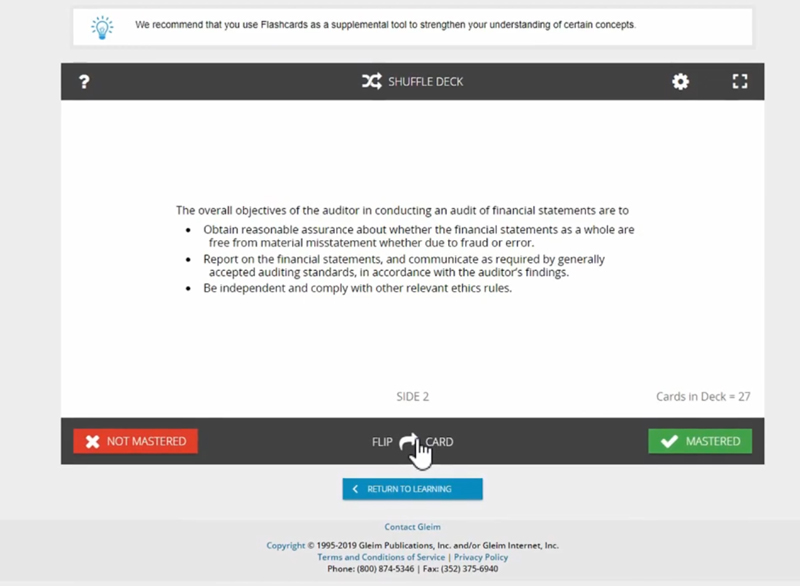 However, they positively responded to the critics and have added digital flashcards to all their 2020 study materials. Now as long as you have a mobile device or computer, you can study on the go.
A good recommendation is to create your own digital flashcards because this will help you personalize them based on your study needs and study schedule.
---
Frequently Asked Questions
These are the most popular questions CPA candidates have about Gleim CPA.
Does Gleim CPA have unlimited access?
Many CPA prep providers offer is 6 months to a year of access.
However, Gleim has an "Access Until You Pass" guarantee after you get their course. What this means is; should you not pass the exam the first time, you won't have to pay again to access the study materials which is a good deal for someone on a tight budget.
In addition to having full unlimited access, the study materials are updated automatically, so you'll always have the newest studying materials.
---
Does Gleim CPA offer course financing or payment programs?
Gleim CPA Review comes in three tire packages with the highest being the Premium course that goes for $1999. This is less than what other providers offer and includes materials on all four sections plus other extras making it one of the cheapest options out there.
The Traditional CPA review course package goes for $1599 and includes extra study materials minus accounting experts access as well as some video lectures.
CPA Mega Test Bank is the lowest package and it is priced at $1199 and contains only practice questions, textbooks, and a practice exam. Gleim CPA Review offers discounts now and then so be sure to look out for those.
---
Does Gleim CPA have student support or CPA mentoring/coaching?
One of the most frustrating things about some prep courses especially in CPA is the lack of extra support when you need it. With Gleim CPA Review you never have to worry about it since they provide additional customer support.
Should you have any questions or encounter any problems there are so many ways you can reach out for assistance. You can either ask questions directly in the midst of the course and get help from numerous accounting experts or you can reach out to your personal coach to guide and advise you.
Regardless of the complexity of the question, student support is always available and you are assured of getting help within 24 hours including during holidays.
---
How much does the Gleim CPA review course cost?
Gleim CPA offers three different review prep courses that cost between $1,000 and $1,999. The most popular Gleim course is the Premium course that includes access all of their study materials including textbooks, videos, flashcards, and more.
---
What is the best feature of Gleim CPA course?
Gleim CPA is most known for having the largest test bank of practice CPA exam questions out of any CPA review company. Gleim offers more than 10,000 multiple choice questions for candidates to prepare for the exam.
---
Is

Gleim CPA

Review worth the price?
In short, yes. Priced below $2,000, Gleim is considered by many CPA candidates to be the best deal when it comes to CPA review courses. With their extensive test bank and new SmartAdapt software, Gleim is a great value at this price.
---
Gleim CPA vs Becker CPA – Is Gleim Better?
A large number of students choose Gleim over Becker CPA prep simply because Gleim offers a larger test bank of practice exam question and task-based simulations. Candidates like a larger test bank because it helps them cover more topics without seeing the same multiple-choice questions over and over.
---
Is Gleim CPA the best course for you?
Gleim CPA Review is an excellent course that provides you with lots of study materials at a great price. If you want a course that can provide you with easy access to a higher level of support from personal coaches and a course that provides ways of asking questions directly, Gleim CPA Review might be the course for you.
The good thing about Gleim is that it is very comprehensive and covers so many areas something that will help you prepare fully for the exam and avoid any surprises on the big day.
If you don't mind going through thousands of practice questions, task-based simulations, and a tightly structured study plan, then Gleim CPA Review is the right course for you.
Their SmartAdapt technology will help you create a study schedule that is in line with your study needs and helps you concentrate more on areas you are weakest in. All in all, it's a great course for anyone looking to get value for their money!