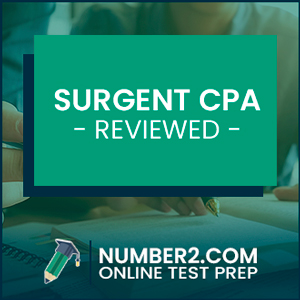 Surgent CPA Review is a newer study guide for the CPA exam that was developed by Surgent Education. They've been creating continuing professional education courses for enrolled agents, certified public accountants, and many financial professionals for 40 years.
Based on their knowledge and experience with CPE, they are now revolutionizing the way people study for their CPA exams. Their mission is to deliver excellent results to anyone preparing for the CPA exam by ensuring that you study in the shortest time possible.
Founded by Jack Surgent and Liz Kolar, the comprehensive Surgent CPA study materials cover every important topic on the CPA exam without bogging you down with too many unnecessary details. Their adaptive learning technology, ASAP, guides candidates through topics they need to learn instead of requiring them to read chapter chronologically. This method just works!
Let's take a look at the Surgent CPA review course and analyze its study materials, adaptive software, pros and cons to see if it's the right CPA exam course for you.
---
Course Overview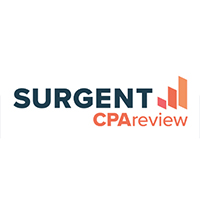 Surgent CPA Review makes studying for the CPA exam exciting and worth it! Students who enroll for the course are usually ready to sit for the CPA exam within a 3-week period with about 58 hours of study time to be fully exam ready.
The program targets only the most important topics you will encounter in the exam rather than studying for everything including what you won't be tested on.
The result is a program that helps you get closer to your goals something that you won't find in other competitor programs.
Some of the features that you should be expecting when you sign up for this course include;
More than 350 video lectures
Over 8,250 practice questions with an integrated test bank
375 task-based simulations
Customized study notes
Printed textbooks and flashcards for offline study
A.S.A.P. technology that is designed to target your weaker areas
1-on-1 sessions with an experienced CPA Exam Success Coach
Ultimate Customer Support that comes with a guaranteed one-day response time
---
Surgent CPA Course Packages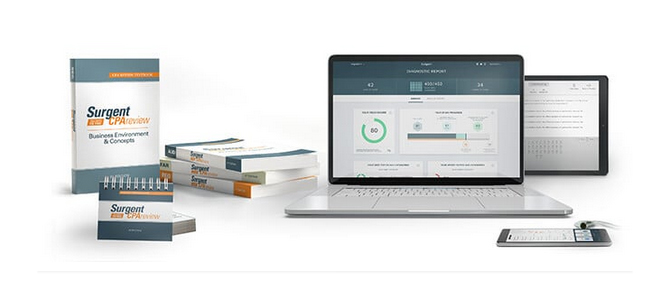 While Surgent is new in exam preparation, they've developed a great adaptive software package that reduces your study time drastically.
Surgent offers three distinct packages that include:
Essentials Pass for $1,899
Premier Pass for $2,399
Ultimate Pass for $2,999
According to the company, a majority of their clients spend less than 100 hours studying for each CPA exam part which is quite impressive. The software determines the areas that you need more help in and the topics you have already mastered.
What makes Surgent CPA Review stand out however is the ReadySCORE tool. The tool has 99% accuracy when it comes to determining a student's CPA exam score.
The program works by tracking your results once you have answered questions and generates constant score reports that determine your exam readiness.
---
Course Features
The Surgent CPA Review study materials have different components that make this course one of a kind and a top competitor when it comes to CPA exam preparation.
We will breakdown the components so that you can decide for yourself if the course is worth your time and money.
Dashboard & Course Software/Layout
When you first log into the Surgent CPA review dashboard the first thing you are expected to do is enter your exam date as well as the days you intend to dedicate to studying.
The software then calculates your study for each of your selected days so that you can complete studying the course in time for your exam. You can change all this whenever you want and the software will automatically re-do the calculations.
Once you are all set up, the next step is the assessment phase. This is an important phase since it allows the software to determine the areas that you need to be targeting more for more optimal study time.
---
Video Lectures
Surgent understands just how frustrating it can be to sit and listen to long hours of video lectures. As such, they have made sure that their video lectures are short with each lesson not exceeding 30 minutes.
The 350 bite-sized video lectures make it easy for you to understand even the complex concepts so that you can retain more in the long run.
Additionally, Surgent's main focus is to make your exam preparation journey as efficient as possible. As such, the program makes it possible for you to only watch video lectures that you need to.
---
Test Bank & Practice Exam Questions
The Surgent CPA Review test bank is not the biggest but includes over 7,700 multiple choice questions and over 8,250 exam questions with an integrated test bank. Despite not being the biggest the test bank is uniquely used.
The software tracks your answers which makes it easy to know which areas you need to put more effort in. For instance, should you happen to score low in one subject, it is added to your study schedule and the software will suggest that you concentrate on that area.
---
Course Analytics and Study Progress Trackers
Just like with other adaptive review courses the driving force is the analytics and Surgent makes that a priority. The course comes with a ReadySCORE feature that generates constant scores that evaluate just how ready you are to pass the actual CPA exam.
What's even better is that the software has 99% accuracy. Furthermore, their A.S.A.P. technology allows you to determine which areas you are weak in that are then added to your study schedule so that you can concentrate on them.
---
Surgent CPA Study Materials & Textbook
Surgent CPA Review comes with a study book that contains detailed information on all the topics that are covered in the video lectures as well as the practice questions.
The book is also integrated into the adaptive learning technology so that readings are suggested based on your current reads as well as your practice questions pace.
The main focus however is on the practice questions. The questions resemble what you will encounter in the actual exam. Besides, they are also timed to match the same timing of the CPA exam so that you are better prepared for the exam.
---
Surgent CPA Flashcards
Flashcards have become an important part of any review course and one of the reasons why students consider signing up for one course over another. Flashcards make it possible to study outside the class and retain as much information as possible.
A number of review companies don't offer flashcards as an option and those who do expect you to pay extra for such features. The Surgent CPA exam preparation course offers 2,000 digital flashcards at no extra cost once you enroll in the program.
The flashcards can be used either on your phone or any other mobile device to study as well as practice answering the questions on the go.
---
Frequently Asked Questions
Here are the most commonly asked questions about the Surgent CPA prep course.
Does Surgent CPA have unlimited access?
There are not many review courses out there that can match the access period as well as updates that Surgent CPA Review offers. When you pay for the course you are automatically granted unlimited access to all the study materials until you pass your exam.
What this means is that should you not pass the exam, you will still be able to study for the next one without incurring any extra cost.
In addition, Surgent always updates their study materials which means that you never have to pay extra for updated materials.
---
Does Surgent CPA offer financing or payment options?
Most students preparing for the CPA exams are always looking out for review courses that offer a flexible payment plan, discounts, and other financing options.
With Surgent CPA Review, you don't have to make a commitment right away as they allow you a 5-day trial period or an opportunity to first attend a live webinar to find out more about the review course.
The trial period is not encouraging though seeing that other review companies offer up to 30-days of free trial. In terms of payment options, Surgent offers a 0% interest, no-fee monthly tuition plan for those who enroll in the full 4-part program.
---
Does Surgent CPA Review have CPA tutoring or coaching?
Surgent offers unlimited access to CPA instruction depending on the package you sign up for. When you sign up for the Premier course, you get a dedicated coach who is able to offer personalized guidance as you continue studying for your CPA exam.
You are also entitled to one on one study help throughout the course. Should you happen to encounter any problems in your studies, they also offer email support.
You can email any questions you have to the support team and they will respond within a 24-hour period as long as you include your question's ID number and the exam section.
---
How much does a Surgent CPA review course cost?
Surgent CPA has three different CPA prep courses with costs ranging from $1,899 to $2,999. The Surgent course software comes at a premium because it helps CPA candidates pass the exam faster.
---
What is the best feature of Surgent CPA course?
Most CPA candidates enjoy the ASAP adaptive software. This feature helps candidates pin point the topics they struggle with the most, so they can improve their knowledge and skills faster.
---
Is Surgent CPA Review worth the price?
Surgent CPA is consistently ranked in the top review courses because it gets CPA candidates results. They publish a pass rate of 90% as compared with the national average of around 50 percent.
---
Surgent CPA vs Becker CPA – Is Surgent Better?
Many CPA candidates like Surgent better than Becker because the Surgent CPA course has a more adaptive approach. The trademark ASAP course software figures out what you know and what you don't, so you can focus on what matters.
---
Is Surgent CPA the best course for you?
Surgent CPA Review offers a great user experience and is an awesome CPA exam course. Their adaptive learning technology makes it easy to focus on your weakest subjects and test topics.
In addition, you get to prepare for the exam in the shortest time possible usually about 3 weeks. As such, the program only works effectively for students who want to use it as it is intended which is to take as little time preparing for your CPA exam as possible.
It is therefore best suited for students who have busy schedules and don't have the time to sift through hours of long video lectures just to prepare for the CPA exam.
If you are looking for a more traditional study program that allows you to take your time reviewing the materials, I would suggest you look elsewhere.