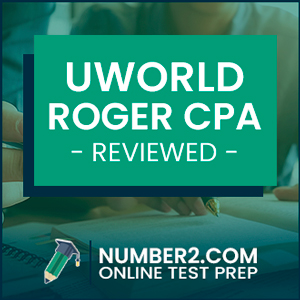 Roger CPA review has been a leader CPA exam study courses for decades. Founded by Roger Philip, this course is famous for his energetic and engaging lecture style. Then in 2019, UWorld purchased Roger CPA review to add to their test prep course catalog.
When it comes to online learning, UWorld is a world leader in exam preparation. It has been in existence since 2003 and over that period they have helped over a 100,000 graduates, undergraduates, and professional students prep for the CPA exam.
UWorld prides itself in offering quality so that as a student you only get the best learning resources when you enroll in the course. Whether you are preparing for the SAT, ACT, MCAT, or CPA exam, UWorld guarantees your success through the use of active learning methods.
Let's check out the Roger CPA review course study materials, SmartPath software features, and pros & cons to see if this is the best CPA exam prep course for you.
---
Course Overview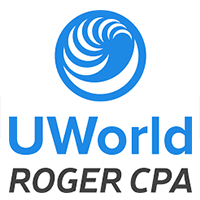 If you are looking to future-proof your accounting career, then you need to ensure that you enroll in a high-quality CPA review course. The Roger CPA Review is ideal for almost all candidates regardless of if you want to use the study guide or a section of it.
Roger also has a comprehensive cram course that CPA candidates can use for last minute cramming in the last few weeks before the exam to revisit crucial topics and ensure that you memorize all concepts you are likely to encounter in the exam.
The Roger study materials are divided into chapters that cover different topics. Each chapter covers different components as well as modules designed to meet the study needs of every student. The UWorld Roger CPA Review comes with features such as:
SmartPath Technology that allows you to pass the exam in the shortest time possible
Proven 91% CPA exam pass rate
Flexible course access time that ranges from 12 months, 18 months to lifetime access
Video plus audio lectures that grab the attention of students
---
Roger CPA Review Course Packages
Roger CPA prep is one of the most popular CPA review courses since it is designed to be interesting to retain the candidate's attention. What makes Roger so unique that it is built around the Roger learning method that incorporates lectures, practice questions and study text to help candidates not only learn but remember information even on complex topics.
The course comes in three different packages:
The single course that runs for 12 months with the ability to extend monthly
Premier Package that goes for 18 months but can be extended monthly
Elite Package that gives you unlimited access
The cram course that comes with the Elite-Unlimited version is also a unique feature. This feature helps CPA candidates prepare for the exam by ensuring that you remember all the topics as well as key concepts that are covered in the exam. If you can't buy the full study guide, you might want to consider getting the cram course.
---
Roger CPA Course Features
If you get sick of the boring and dry CPA lectures that you find in other courses and want something engaging enough to hold your attention, then you might want to consider the Roger CPA.
Here are the unique features that makes Roger's study materials so unique and helpful.
Roger CPA Course Dashboard Layout
So far the Roger CPA Review has helped over 2,000 accounting students prepare for their CPA exams. The course is unlike any other in that it is designed to help students grasp and retain important concepts including difficult topics.
The video and audio lectures are as interesting as they are engaging. Roger CPA also utilizes SmartPath Predictive Technology to help you study faster and stop wasting time.
The dashboard shows each section of the course and gives you easy access to each of it components. You can go chapter by chapter or start an assessment quiz that will create a SmartPath course for you to start.
---
Roger CPA Video Lectures
The video lectures are by far the most unique and interesting feature of Roger CPA. Roger Philip is a flamboyant lecture who has a great personality and sense of humor, things that he brings in every lecture. He incorporates jokes into his lectures.
He has also created test prep memorization devices such as the mnemonics that CPA students find helpful when it comes to recalling important topics. Roger covers every chapter in great detail in every one of his video lectures.
---
Roger CPA Exam QBank Practice Questions
The Roger CPA course doesn't have the largest practice question test bank when compared to other providers. However, their test bank includes features that other prep courses don't have. You'll have more than 6,000 multiple choice questions to study from. Each question includes detailed explanations of the answers.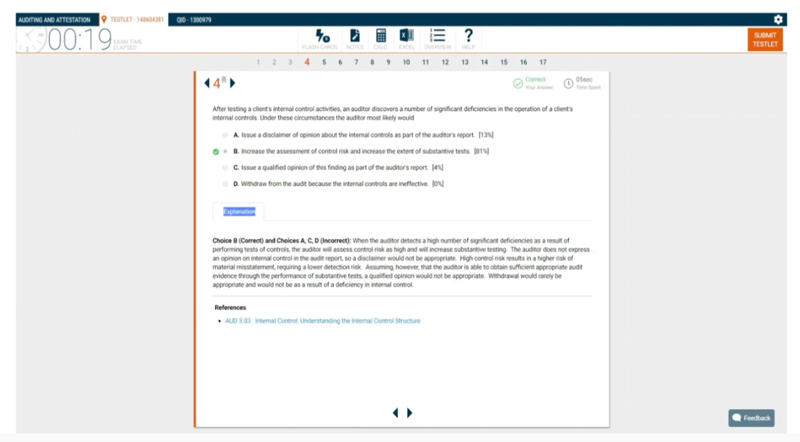 This helps you review the answer later to know why your answer was not correct. Also included is a custom quiz tool that makes it easy to create customized quizzes based on each topic and chapter in the course.
This means that you get to focus on answering questions in areas you are weak in rather than learning general topics.
---
Study Planner and Progress Tracker
Studying for the CPA exam comes down to consistency and trackable results. As such, one of the most important features to consider is whether the course offers any means of tracking your progress.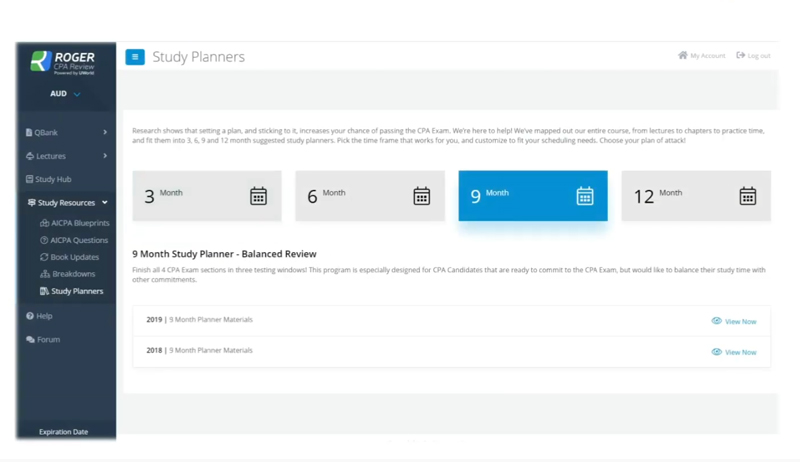 The Roger prep course comes with personalized study planners that are geared towards meeting the study needs of every student.
The study planners are used to help you keep track of what you are learning and not forget the things that you've learned earlier in the course. There is also performance as well as improvement tracking for every topic.
Roger also uses their proprietary SmartPath Predictive Technology adaptive learning software to help understand what topics you need to focus on.
---
Study Materials and Book
The course includes a customizable study planner that includes the information that is covered in the lectures making it possible to follow along during classes.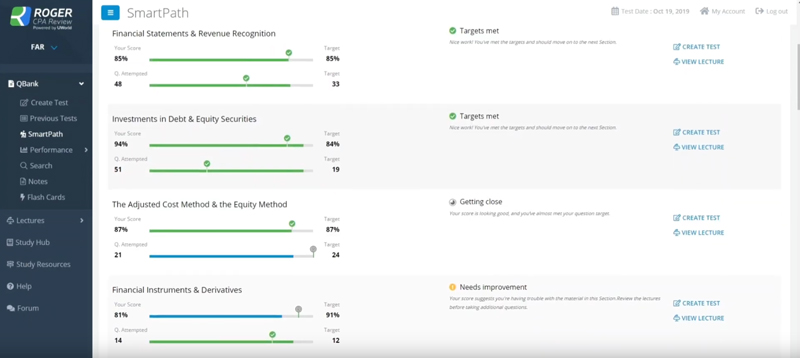 The study materials are created so you can pause any lecture and refer to the study book provided to learn more on that topic. Roger CPA prep revamped their courses after they were acquired by UWorld with the introduction of adaptive learning programs like SmartPath.
Also included in the Individual as well as Elite Unlimited packages are printed textbooks that include the same information as the e-Textbooks.
---
Flashcard Resources
Roger CPA provides flashcards to help you retain information as you go through the course and study for your CPA exam. The flashcards come in either digital or printed formats.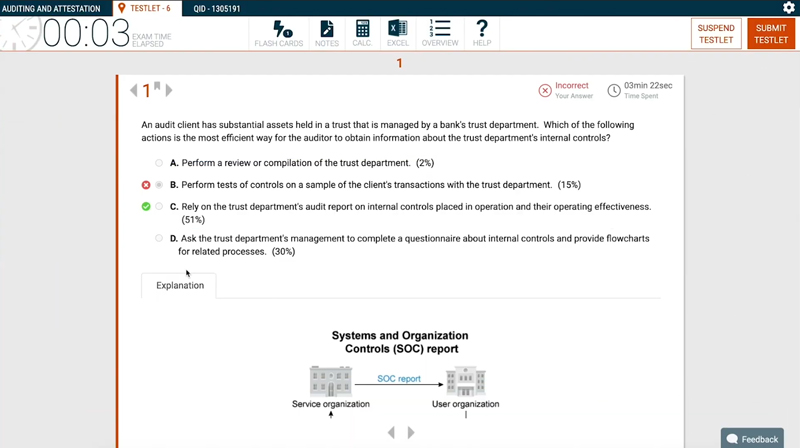 The printed flashcards are ideal for students who want physical note cards where you can jot down important notes and reminders. The digital flashcards on the other hand are ideal for anyone who wants to have access to the study materials on the go on a mobile device or a computer.
Both printed and digital flashcards contain the same material from key terms to practice questions.
---
Frequently Asked Questions
Below are many of the common questions CPA candidates have about UWorld Roger CPA exam prep courses.
Does Roger CPA have course access limits?
Roger CPA course comes in three packages that differ in terms of access periods. The Single Course allows you to choose between different review courses and gives you access for 12 months.
The Premier Package is usually a 4-part CPA review course that gives you access for 18 months. Both the premier and single course packages can be extended monthly something that might end up costing you more.
The final package and the most recommended is the Elite Package that comes with full unlimited access to their study materials. This kind of flexibility is unique to Roger.
---
Does Roger CPA have payment options and financing plans?
If you decide to enroll for the Roger CPA Review, you can choose between the single course, premier package, and elite package. For 12 months of access, the single course goes for $649 starting at $59 per month.
The Premier package gives you 18 months of access and goes for $1899. The most expensive package is the elite package that gives you unlimited access and goes for $2999.
Roger CPA offers flexible payment options where you can pay as little as $149 per month as well as discounts codes to save you money on your CPA course.
---
Does Roger CPA have CPA mentoring and student support?
Roger has gone on to incorporate a Study Hub that includes expert help on the different concepts that are on the exam.
If you have problems or questions with your course, the Roger team has dedicated people to help in the Study Hub section of the course.
The main aim of the Roger CPA is to help students study as fast as possible even with complex subjects. That's why the engaging video and audio lectures are are built into their SmartPath Technology system.
---
How much does the Roger CPA review course cost?
Roger CPA offers several different CPA exam review courses costing between $1,899 and $3,399. Their best selling course is the Elite-Unlimited package that includes all of their study materials and retails for $3,399.
---
What is the best feature of Roger CPA course?
The most popular feature of the UWorld Roger CPA course is the video lectures. Roger Philip has a unique and energetic presentation style that gives CPA candidates something to grab their attentions while learning complex CPA exam topics.
---
Is Roger CPA Review worth the price?
Of course, Roger CPA is worth the price. With the Roger CPA published pass rate of 91%, it's always ranked highly among other CPA prep courses and give candidates 100 hours of video lectures, 6,000+ multiple choice questions, and much more.
---
Roger CPA vs Becker CPA – Is Roger Better?
A large percentage of CPA candidates pick Roger CPA over Becker CPA exam review because Roger has better, more engaging video lectures. Candidates like Roger's style of presenting CPA exam information because it helps keep their attention and understand the topics.
---
Is Roger CPA review the best course for you?
Roger CPA Review is a good course for anyone tired of the ever boring accounting lectures and wants something that is engaging and interesting. Roger is a vibrant person who brings his personality and a great sense of humor to every lecture. As such, the lectures are always interesting which makes it easy to retain information.
The course comes with every study material you'll need to pass the CPA exam on the first try. It also includes unique features such as audiobooks as well as cram notes that you can utilize a few weeks to the exam to grasp important topics that you will encounter in the exam.
However, the disadvantage with the course is the latest software that many would agree has a long way to go. Still, the course is a great choice for visual learners who learn best through video lectures.