Finding the best CPA exam video lectures that will help you study as a visual learner can be tricky. Just about every CPA study guide comes with a set of video lessons that have different presentation styles, so which will work for you?
First, you should look what types of visual presentations help you concentrate and understand complex topics better. Some students like drawings and diagrams while others like lists and flow charts.
Each visual CPA course explains information in different levels of detail with unique presentations. The most important thing is that you find one that matches your learning style.
Video lessons are the next best thing to live classroom CPA lectures. They are powerful study tools that simplify complicated CPA topics to help you remember key facts for the exam.
Let's review the top-rated CPA exam video lessons and analyze their visual presentation pro and cons to see which will prepare you for the CPA exam the fastest.
---
Top 6 Best CPA Exam Video Lectures & Review Lessons Below:
Here are the best CPA exam video lectures and visual lessons to help you study for the CPA exam and pass on your first try.
---
Wiley CPAexcel Video Lectures
Wiley CPAexcel Review video lectures help students understand the CPA concepts better with their bite-sized approach. The videos are short and do not go beyond 20 minutes. They come in two forms:
10 minutes each (narrated)
20 minutes each (with discussion questions)
The videos are available in either low or high-definition format. High definition is high enough to get a clear and vivid representation of the slide contents.
The lectures are compiled in a series of 105 in-depth videos. Video course series are created after studying and identifying the main concepts of CPA. Each series is a comprehensive course for students to understand all topics thoroughly. The lessons are rich in content, which include information on MTM (Measurement-taken-at-the-market) financial statement analysis, income tax reporting, etc.
The Lectures also explain the relationships and differences between the concepts of general ledger, chart of accounts, subsidiary ledger, trial balance, etc. Wiley's video lectures are innovative where some topics include several short films to help students understand better like how machines calculate profit and loss.
The main advantage of the Wiley video lectures is that they contain abundant information on the topics that may confuse students when first being introduced in class. The video lessons are short and to the point. Their signature bite-sized learning approach helps give students clear explanations, which are easy to understand. They also have a practice exam to help you prepare better for the final exam.
The main disadvantage of Wiley's video lectures is that they do not provide professional instructors for every topic unlike other online courses and even classes at some universities. They also do not include interactive links that can be used as a study tool to familiarize with the course material.
Wiley video lectures are a good alternative choice for those with busy schedules, who cannot attend classes on time.
---
Becker CPA Video Lectures
Becker CPA Review video lectures are the best choice for those who learn better by listening and comprehending lectures. The course material is presented in a comprehensive manner, with great detail.
The main advantage of the Becker CPA video lectures is that they are structured in such a way that it enables the students to study at their own pace. The lectures are also easy to understand as they incorporate well-defined explanations and detailed examples.
Generally, online courses can be boring but Becker's video lectures do not fail to keep the student engaged throughout. However, be prepared to spend more time studying the videos as opposed to simply reading the textbook or reading notes on a particular topic. The videos can become boring when you are tired and want to feed your mind with an interesting copy from a physical book.
The Becker CPA video lectures are ideal for you if you like to go above and beyond since you will not be left satisfied without watching the video lessons. You might have to watch them twice or more if you want to learn everything in detail.
Remember to pause and take notes so that you benefit fully from the videos.
---
UWorld Roger CPA Video Lectures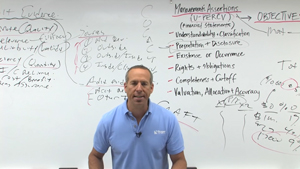 UWorld Roger CPA has some of the best video lectures that you will come across. The videos on UWorld CPA are shot in a manner where the lecturer is talking directly into your screen so it feels like he/she is explaining everything to you personally. This makes learning more enjoyable for students and they actually feel as if they are in the same room with this amazing teacher.
Some of the advantages of Roger video lectures are:
Roger's energetic personality. He brings the topics to life.
They are shot in HD. The lecture gives students a feeling that they are watching at home, or from the university itself.
They cover all the subjects listed in their syllabus (so say goodbye to additional reading resources which can be very expensive).
The main disadvantage of Roger's videos and teaching style is that he can taught pretty fast. This isn't a problem for most students, but ESL CPA candidates might have a hard time understanding him.
Roger CPA is great for visual learners who want fun and upbeat lessons that won't put you to sleep.
---
Yaeger CPA Video Lectures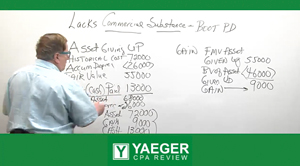 Yaeger CPA Review video lectures are taught by Phil Yaeger and are included with each of their review courses. You can also buy a video supplement course if you just want to get access the to lessons.
The main advantage of using Yaeger's CPA video lectures when studying for your CPA exam is that the video lessons and quiz questions cover more areas of the syllabus. The videos are longer than Kaplan video lectures, which means that they have covered more topics in an hour. In fact, most of Yaeger's CPA video lessons are 3 hours long but worth every minute.
The downside of the Yaeger CPA lectures is that the pace is slower than other courses. You may want to purchase additional resources that go into more detail at a faster pace if you're looking for that.
The lectures are available online for members only. Both videos have an internet membership option, which allows you to download the lessons and take them with you wherever you go.
Yeager CPA videos are perfect for candidates who want a better, more in-depth understanding of accounting and finance concepts. Yaeger goes into a ton of details and gives examples for everything.
---
Gleim CPA Video Lessons
Gleim CPA Review video lectures go into more detail at a faster pace if you're looking for that. The Gleim CPA videos are easier to follow and understand than their textbooks.
The video lessons have an internet membership option, which allows you to download the lectures and take them with you wherever you go on your mobile device. Gleim video lectures allow more downloads with their membership as well. The material covers almost all areas of the CPA syllabus and guarantees you full coverage of all concepts tested in the final exam.
The main advantage of using Gleim CPA videos is that they provide a good alternative to the textbook. The lectures offer different explanations and examples than CPA exam learning guide. They include videos of real candidates answering questions from past exams, which is especially helpful if you are more of a visual learner. They also allow you to pause and rewind whenever needed.
One disadvantage with them, however, is that they are not updated very often. The most recent videos are from November 2011 and therefore do not cover current events in the business world such as changes to new tax laws or economic crisis that has occurred in the past few years.
Gleim CPA lectures are ideal for you if you want to learn the CPA content but do not have time to read books or attend lectures. Also, watching video lessons will be easier if you use the Gleim Video Lecture Organizer software as it helps you plan out what you need to study and at what intervals.
---
Surgent CPA Video Lessons
Surgent CPA review video lectures focus on teaching the key topics you need to pass the exam and not inundating you with additional lesson. Some review provides simply keep adding more lessons each year to their courses thinking they are providing more benefit to their candidates.
In reality, they are just making their candidates go through more study materials. Surgent takes  a different approach and uses their adaptive technology to focus on only the key areas that need videos. That way you aren't wasting time watching excessive lectures that you don't need to.
Surgent CPA lectures are taught by Liz Kolar and the expert Surgent team to provide candidates with limited study time a great resource that doesn't follow a rigid study structure. They also come in handy for students who are retaking their exams and do not need detailed explanations of CPA concepts.
Surgent CPA is great for students who want to take a different path in their CPA exam prep and don't need video lessons on every single topic in their study materials.
---
Frequently Asked Questions
These are the most commonly asked questions about CPA review video lectures that CPA candidates have.
What are CPA exam review video lectures?
Video lectures are considered one of the most effective tools for teaching CPA online courses. Video lectures are basically recordings of live classrooms or audio conferencing. They help students to better understand and grasp the lessons being delivered in a video format.
---
Do I need video lessons to pass the CPA exam?
No, you don't need video lessons to pass the exam, but video lectures can be a powerful way of simplifying concepts. This is very important especially for beginners who are still struggling to learn CPA course essentials and get an overall learning idea on what they should study to pass the CPA exams.
---
What to look for in CPA review video lessons?
If video lectures are an important feature for you when it comes to choosing a review course, then you need to make sure that the course provider offers comprehensive video lectures that cover everything that you need to prepare for the exam.
The video lectures also need to be easily accessible and while at it, you might want to go for a course that makes it easy to download the lecture videos so that you can study on the go.
---
What are the best CPA video lectures for beginners?
If you are a beginner, you might want to consider the Surgent CPA since their videos are not only comprehensive but can be accessed offline.
Others include Yaeger CPA, Wiley CPA Review, and Uworld Roger CPA.