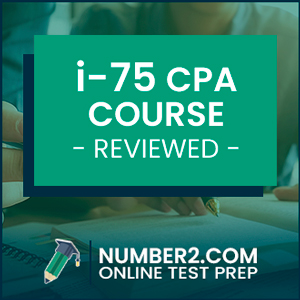 i-75 CPA review was created by Darius Clark to be an inexpensive CPA exam test prep supplement to a larger review course. It includes more than 5,000 multi-choice questions, test-based simulations, and a monthly or until you pass access.
The prices are low such that you can use the course as a supplement for other courses. They offer a tutoring bundle that lets you receive one-on-one tutoring from Darius Clark. i-75 CPA also boasts of a 91% passing rate for students who use this course.
Let's check out the i-75 CPA review course and study the course features, software platform, study materials, pros and cons to see if this is the best CPA exam study guide supplement for you.
---
i-75 CPA CPA Course Overview
i-75 CPA review is hosted on the BrainCert cloud-based training platform integrated with all the tools needed to deliver any form of training like self-paced blended courses, video conferencing, certification exams, skills development, compliance training, and customer training.
The platform is integrated with four platforms that offer a single solution. They include a courses platform, an online testing platform, a unified content management system, and a virtual classroom platform. This results in increased productivity, cost-saving, and a seamless and secure user experience across the different platforms.
BrainCert has been in the industry for more than 8 years and takes pride in being the one-stop solution for organizations looking to maximize production by delivering personalized and engaging online training.
i-75 CPA review includes all the CPA sections – FAR, REG, AUD, and BEC. i-75 CPA provides lifetime access until you pass the exam and updates the course regularly so that you have updated content every time. The course features:
Narrated video lectures
Final exam testlets
E-books that include the must-know questions for each CPA section
Chapter test banks
Narrated simulation videos that explain all the sims from start to finish
---
i-75 CPA CPA Course Packages
Rather than presenting lectures like other course providers, Darius Clark makes use of narrated questions videos. He teaches CPA material by taking exam questions and narrating a full explanation of the answers. This is a great option for students who find it difficult to understand certain topics in a typical classroom setting.
Another great feature of the i-75 CPA CPA review is the monthly access pass. Very few companies offer great options for such cheap and limited-time access to the course. If the only thing you need is a quick review before you pass the exam, this is a great option for you.
The price is also something to write home about. With other prep courses, you have to pay up to $3,000 to access the course materials. With i-75 CPA, that price only comes down to $749 for unlimited access. i-75 CPA even goes further and offers different lengths of access depending on each student's unique needs.
Another great feature that makes i-75 CPA stand out from the competition is the tutoring sessions. Darius Clark includes ten hour-long tutoring sessions. While these sessions raise the price, it's only by about $85 per hour for private tutoring.
---
Course Features
The i-75 CPA review has a bunch of helpful course features including:
A cloud-ready platform
Mobile or tablet ready
Role-based access control
Integrated virtual classrooms
Integrated testing platform
Integrated courses platform
Unified content management system
Let's take a look at each in more detail.
---
Course Platform Software
i-75 CPA features an easy to maneuver dashboard that makes it easy to create interactive courses. This is all thanks to the drag-and-drop course builder found on the platform. As a user, you can add various elements like live classrooms and adaptive tests even if you don't have any coding experience.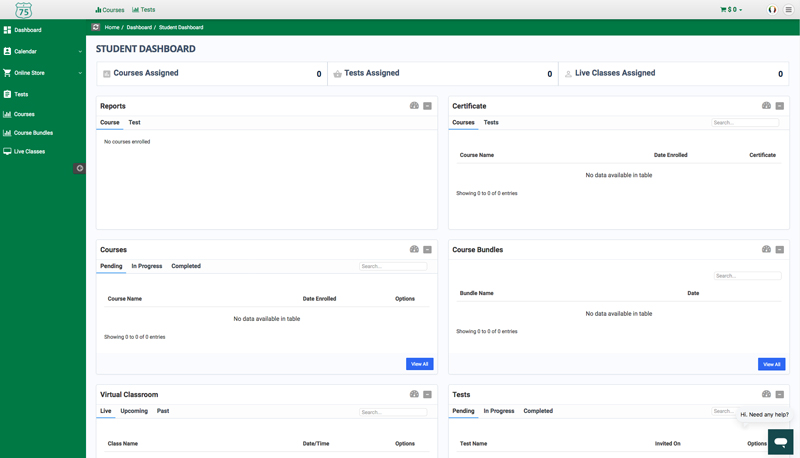 You can also customize the course through such features as action-based notifications, explainer videos, and prerequisite courses. As a mobile-first platform BrainCert features a modern interface that is responsive regardless of the device you're using.
You can access all the functionalities and features of i-75 CPA through a mobile browser without installing third-party applications.
---
Video Lectures
The biggest portion of the course material consists of video lectures created by Darius Clark. The videos range in length from 10 to 40 minutes. The videos are not your typical lecture videos since they mostly feature narrated questions. Darius Clark walks you through questions covering specific concepts and provides a comprehensive breakdown of the answers to each question.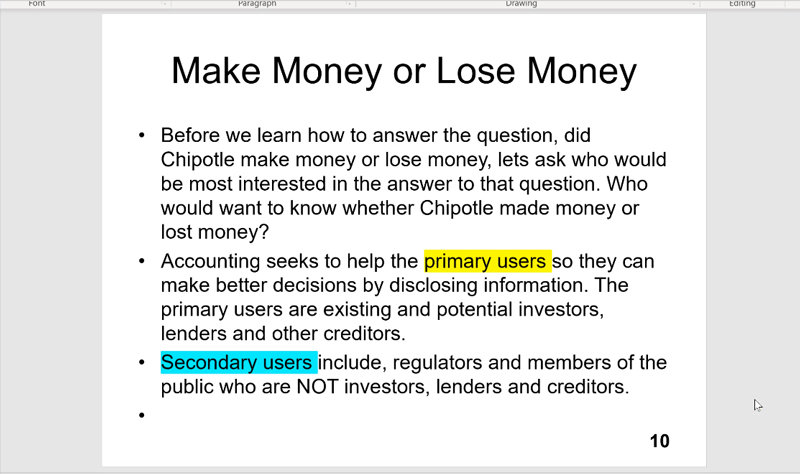 REG: About 60 hours of narrated questions
FAR: 77 hours of narrated video explanations
AUD: 50 hours of narrated video questions
BEC: About 50 hours of narrated questions
You can access all the lectures on either a computer, tablet, or any other mobile device. Darius Clark has also prepared several task-based simulations that feature videos as well. During the videos, he will walk you through each task while offering solutions through very detailed explanations.
---
Exam Practice Questions
i-75 CPA review comes with a huge test bank that contains more than 5,000 multi-choice questions. At the end of every course, you also get individual multi-choice testlets that you can choose to complete or not.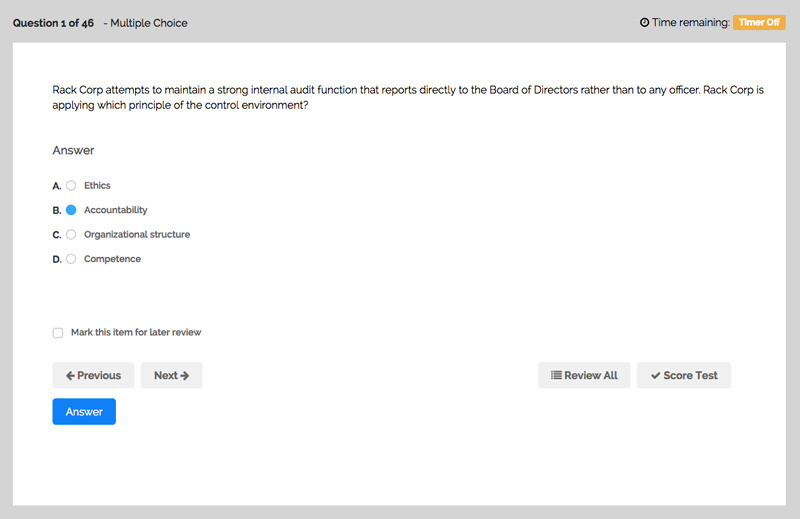 The testlets test your knowledge of each part of the CPA exam. The platform supports different question types and includes both close and open-ended questions.
The platform also includes essays and multiple-choice questions and enables remote proctoring with session recordings.
---
Exam & Study Planning Tools
There is no way to analyze your progress as you use the study course. BrainCert however has various features that you can use to test your knowledge of various concepts.
For instance, there are multi-choice testlets that you can take at the end of every course. Plus, you have access to 5,000+ multi-choice practice questions as well as essay questions to help you study for your CPA exam.
---
Study Materials & e-books
Along with each course, i-75 CPA also offers an e-book with about 75 Must-Know Questions for each part of the CPA exam.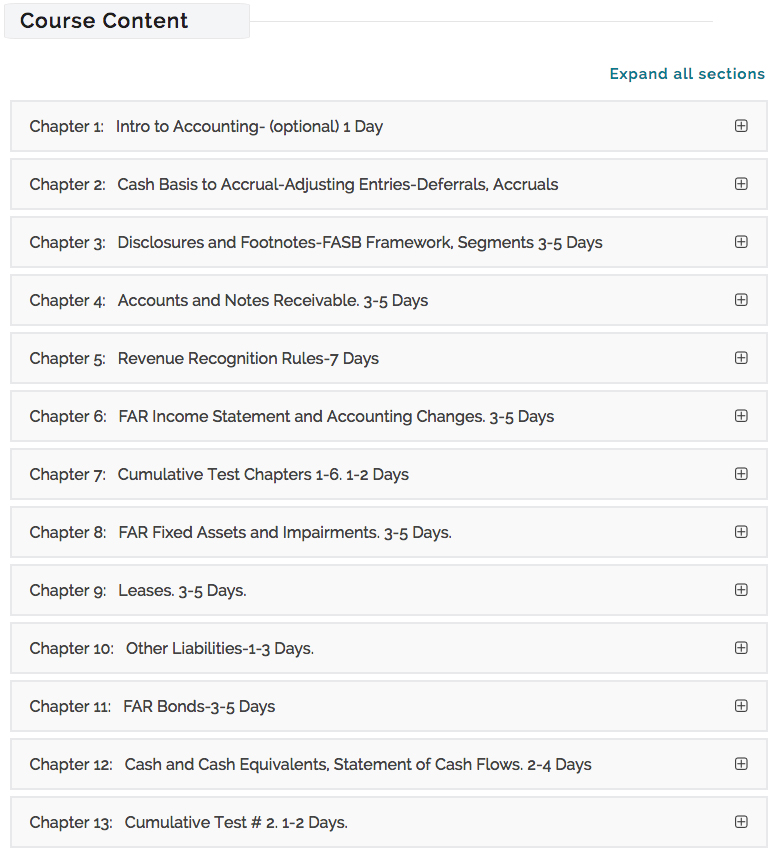 The books are written by Darius Clark himself and can be purchased on platforms like Amazon for $49.99.
The e-books are, however, included in every review package so you don't need to purchase them individually unless you are using i-75 CPA to supplement another review course.
---
CPA Exam Flashcards
i-75 CPA doesn't provide physical or digital flashcards. Flashcards are great since they help one memorize content. You may have to look elsewhere if you can't do without flashcards.
---
Frequently Asked Questions
Below is a list of the common questions CPA candidates tend to have about i-75 CPA review.
Does i-75 CPA course have access limits?
One of the reasons why people prefer using i-75 CPA to prepare for their CPA exam is because the platform offers inexpensive and limited-time access to all the courses. This is an ideal option for those who need a quick review before they sit for the exam rather than buying a course that gives you life access that you may not need once you've passed the exam.
However, i-75 CPA still offers an unlimited-time access option if you purchase the full bundle. Unlike the monthly and skinny bundles, the full bundle doesn't expire, and you may access it for as long as you need to keep studying.
---
Does i-75 CPA Review have payment options?
The prices for i-75 CPA review range from $109 for the monthly access pass to $1,599 for the full bundle with tutoring sessions. Sadly, there are no payment options for those who can't afford to pay the whole amount upfront.
The monthly access bundle is, however, the cheapest on the market. It's a good choice if you just want to go through CPA learning materials quickly before sitting for the exam. Most CPA review courses offer a some type of refund if you aren't happy with your course. With i-75 CPA, this is not an option.
If you don't like what you purchased, you won't get your money which is one of the downsides of choosing this particular provider. As such, most people who use i-75 CPA purchase the course to supplement other courses.
---
Does i-75 CPA have CPA exam tutoring?
Perhaps the most important feature of the i-75 CPA Review is their support and coaching. When you purchase their most exclusive package, you get to enjoy ten-hour long one-on-one support sessions with Darius Clark himself. Generally, with i-75 CPA you get different support options.
If you have any questions you can contact customer service through email or help desk, knowledge base platforms, phone support, chat, or 24/7 live support. There is also a FAQs session where you can find answers to general questions you may have.
---
How much does the i-75 CPA

review course cost?
i-75 CPA study guide is an extremely affordable CPA exam supplemental course that only cost $119. There's no other CPA exam study supplement that has the amount of features at this affordable of a price. It's a great deal.
---
What is the best feature of i-75 CPA

course?
By far, the best feature of i-75 CPA review is the CPA exam tutoring. Most review courses do not offer any type of personalized tutoring for the CPA exam. i-75 CPA publishes that the group tutoring with Clark could raise your score by 10 points or more!
---
i-75 CPA

vs Ninja CPA – Is i-75 CPA a better supplement?
Many candidates prefer i-75 CPA vs Ninja CPA review because i-75 has a much more detailed approach to CPA exam tutoring. Although both CPA study guide supplements, Ninja CPA does not offer any type of real exam tutoring or mentoring. That's what sets these two apart.
---
Is i-75 CPA the best CPA prep course supplement for you?
This is the right course for anyone who has already purchased a CPA exam study guide and is looking for something to supplement that.
The course comes with either limited monthly access or lifetime access with tutoring sessions. It's also a perfect supplement for busy candidates who need a course that offers a self-study option. If you want a course guarantee where you can get your money back if you aren't satisfied with any aspect of the study materials, you might want to look elsewhere.
i-75 CPA doesn't offer any money-back guarantees. Once you purchase the course, you have to live with that since you won't get your money. It's, however, a great course if you want a course that goes into detail covering every question you may encounter in the exam. Darius Clark goes through various questions in detail keeping the focus on questions tested in the actual exam.