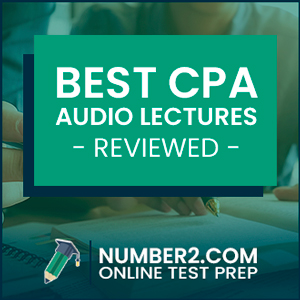 Picking the best CPA exam audio lecture courses that have even review materials to help you study for the CPA exam can be daunting. There are a few different CPA review guides that offer audio courses, but each has different features and costs. The important thing is that you get one that works for you.
CPA audio study materials are a great exam supplement that you can use on the go. If you have a long commute to work or try to stay fit in the gym, a CPA audio book is a great study tool. You don't need to be at your computer and can actively listen while doing something else.
It wasn't too long ago that only Roger CPA offered some type of CPA audio podcast. Now there are a few CPA exam prep companies that have audio features included in their courses and offered on the side.
Let's dive into the top-rated CPA exam audio courses and look at their features, lecture styles, pros and cons to see which will be best for you.
---
Top 4 Best CPA Exam Review Audio Lectures, Courses, & Books Below:
Here are the best CPA exam audio lectures and audio courses to help you study for the CPA exam and pass on your first attempt.
---
Yaeger CPA Audio Course
Yaeger CPA offers Listen-n-Learn CPA audio lectures with their full CPA exam course as well as a separate study supplement. This is a great option because it means you can use Yaeger's audio course even if you don't use their full study guide.
The Yaeger CPA audio course lessons are pretty detailed and easy to understand. Most of the lectures are given by Phil Yaeger and tend to be the exact audio version of the video lectures. This is great because you can pause the lessons and go to the video to see the visual example if you need to
Since the audio lectures are self-explanatory, you will be able to study at your most convenient time. You enjoy the flexibility of the lecturers without having to follow a fixed schedule. With the Yaeger audio course, any time is lecture time!
Yaeger CPA audio study guide includes a question bank with explanations and examples. The exam questions are well-articulated because the instructors take you through the thought process of answering them. Therefore, when the exam time comes, it will be easy to answer the questions since you have practiced already.
Yaeger CPA audio courses come in various packages based on the CPA learning materials required for each exam section. The Financial Accounting and Reporting section course has 18 hours worth of audio lectures while the Audit section is 3.5 hours long. Other exam sections like Regulation and Business Environment and Concepts are 13 hours and 11 hours long respectively.
The complete package of audio lessons is available as part of the Yaeger CPA exam course. However, you can opt to purchase the audio lessons only. One lecture goes for $125 and the entire package goes for $455.
Although audio lectures offer a flexible learning schedule, they tend to be boring. You will get valuable information but in a dry and boring manner.
Yaeger CPA audio courses are suitable for people who like to learn using a flexible schedule. If you purchase the full set of the CPA course, you will get the audio lectures as part of the package but you can still buy the audio lectures separately.
---
UWorld Roger CPA Audio Lectures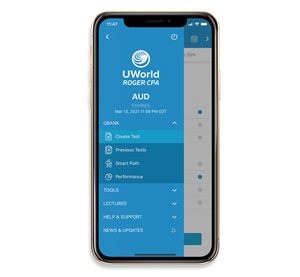 UWorld Roger CPA has one of the best CPA exam audio courses on the market. Every Roger CPA course package comes with a detailed audio study guide, so you do not have to buy them separately.
The Roger CPA lectures are entertaining and detailed. They will definitely give you a clear understanding of all the topics covered on the exam.
Lectures shouldn't always be blunt and boring. Roger CPA has been around for years and they have mastered the art of fun learning. All the audio lectures are presented in an energetic and entertaining manner. Therefore, you will want to listen to more audio because you will be motivated by the presentation style.
You do not need to worry about accessing your audio lectures because they are available in MP3 formats. All you need to do is upload the course to your mobile device for ease of access. You can use your phone to study even when you are not in class. The number of audio hours available differs depending on the exam section.
Since accounting concepts are complex, the audio lessons need to be through to ensure the students understand. The UWorld course uses predictive technology to recommend suitable questions for students depending on their level of knowledge. You can choose the premier or elite package to enjoy learning using the entertaining audio lectures.
The Roger CPA exam review audio course will be ideal if you are looking for entertaining audio lessons that motivate you to study. It doesn't matter which UWorld Roger package you get, you will get access to the audio packages.
---
Surgent CPA Audio Lectures
Surgent CPA review audio lectures make use of the AICPA Blueprint to organize their learning materials. The company also uses Smart Adapt technology to assess the learner's needs and prepare to study materials accordingly. Therefore, you will focus more on your weak areas instead of wasting time on topics you are already proficient in.
One of the advantages of the Surgent CPA audio lectures is the customer service. If you experience any problem during your lectures, you can contact the support team via email and expect a response within one business day. If you sign up for the Ultimate course subscription, you are entitled to a dedicated coach who guides you throughout the entire journey.
If you are strapped for cash, you can consider the financing options available. You do not need to worry about the interest rates because they remain at 0%. You can also benefit from the huge discounts available from the company.
One of the downsides of the Surgent CPA course is that the audio lectures are only available in the ultimate pass subscription. The other packages only offer the normal course without additional audio lectures. Also, there is no offline learning mode being offered by this company.
Surgent CPA exam review audio lectures will be the perfect fit for busy people who want to focus on the topics they do not understand. Adaptive technology uses phases to help you project your score by reviewing your knowledge and providing you with a ready score.
---
Gleim CPA Audio Course
Gleim CPA Review audio lectures offer a self-study option that is flexible for most of the learners that have a busy schedule.
The audio courses are prepared by skilled instructors who explain concepts in detail. Since the instructors are experienced, they teach the learners how to tackle the CPA exam questions adequately. Video lectures are also available with a feature of taking notes within the given course outlines.
Gleim boasts of more than 1300 task-based simulations offered with their course. Simulations are important because they offer a variety of tests to ensure you are well-versed with the various topics. When you use the Gleim task-based solutions to study, you will be well prepared for the exams which increases the chances of success.
Gleim uses an innovative study planner to help you stay on track. When you first use the study guide, the study planner prompts you to enter your exam date, days you want to study, and rest days. The planner then sets a calendar outlining the number of audio lectures you need to listen to in a day. When you miss one of the lectures, it adjusts the calendar to suit a favorable study time. This impressive feature is useful for learners who want to stay on track in readiness for the exam.
Unlike other companies, Gleim offers enrolled students unlimited access to all their study materials. When you sign up, you are eligible for the Access Until You Pass guarantee that ensures all your learning materials will be valid until you sit the test. You do not need to pay any extra fees when updating or reviewing the audio course. All you need to do is download the audio lectures and you are good to go!
Even though detailed information is useful, it can become disastrous when it goes overboard. Gleim CPA exam audio courses can sometimes have excess information that will not be tested in the exam. This makes candidates study a lot of information that might not be relevant in the tests they expect to sit. The Gleim audio course needs to be purchased with the main cram course.
Gleim CPA exam audio lectures will be perfect for students who like detailed explanations and like studying using practice questions. It is also suitable for international students who are not used to the GAAP and students who attended college a long time ago.
---
Becker CPA Audio Lessons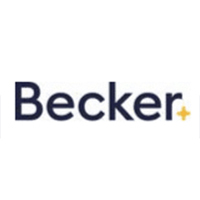 Currently, Becker CPA does not offer an audio lecture review course. If you have Becker or want to use it, your best bet for audio lessons is to play their video lectures through the mobile app and just don't watch the videos.
You could push play and put your phone back in your pocket and just listen to the audio. This isn't the most ideal solution, but it can work if you want to use the full Becker course to study with.
---
Frequently Asked Questions
Here are several of the most common questions CPA candidates have about CPA exam audio courses.
What to look for a CPA audio course?
When you are choosing a CPA audio course, you need to consider such things as who is teaching the course. Go for a course that is offered by someone who has the experience and has been tried and tested in the industry.
You also need to consider the length of the audio course and the content. The last thing you want is to listen to hours and hours of audio lessons with no relevant content.
---
Does Roger CPA have audio lectures?
Yes, Roger CPA has a full set of audio lectures. In fact, Roger was one of the first courses to provide audio lessons as a resource for CPA candidates. His energetic lectures are offered through the Roger CPA app, his full review course, or the podcasting app.
---
Do I need CPA audio lectures?
No, you don't need to use audio lectures to study for the exam, although many CPA candidates do find them helpful. Audio lessons just give you flexibility and allow you to study in the car or on your commute to work when you can't look at your flashcards, textbook, or computer screen.
---
How much does a CPA audio book cost?
Most CPA audio books cost around $150 when you purchased them as stand alone products. Other CPA audio lectures are included in full CPA exam courses.
---
Why are CPA audio lessons helpful?
If you are looking for a quick and flexible way to help you study for your CPA exam, you might need to consider one of the best CPA exam audio courses and lectures. Most of the CPA courses come with audio lectures that you can listen to while on the move. Also, you do not need to follow a fixed schedule because this is a self-study option.
Companies differ in all their learning approaches and audio courses are no exception. While some offer practice questions and explanations, others use detailed topics to pass information to learners.