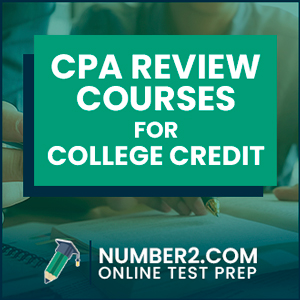 College is usually the starting point for accounting student who dreams of becoming a CPA. Since most states require at least 150 college credit hours in order to become licensed, many CPA candidates either have to finish their masters degree or start a double major in order to qualify.
Getting this many credits is challenging to say the least. It either means taking extra courses that you don't care about or taking courses that won't really help prepare you for the exam. Both ways you end up wasting time instead of prepping for the exam.
Luckily, there is a way to earn college credits while studying for the CPA exam. Let's look at several programs that allow you to complete CPA review courses for college credit and complete the 150-hour requirement.
---
3 Ways To Study For The CPA Exam And Earn College Credits Online
Earning college credit while studying for the exam is the best of both worlds. You get to prepare for the CPA exam while you are reaching your college credit hour requirements. It sounds too good to be true.
Well it is possible, but you have to sign up for the right programs and make sure you college accepts the credits.
Here are several different ways to earn college credit studying a CPA review course.
---
Becker CPA Review College Program
Accounting students have a lot on their hands, and not everyone's schedule, demands, and notices are the same as the next one. To cater to your schedule, the learning method that you prefer as well as your coursework for the semester or year, you get personalized CPA courses when you partner with Becker CPA Exam Review.
With the Becker CPA Review College Program, you gain access to a navigator tool that allows you, as well as your mentors, to track your progress and performance so far. This way, the program gets to become even more customized to address and improve the areas where your competency lacks.
You also get customized assignments that include an entire test bank of MCQs and task-based simulation tests. What makes them even more updated is the automatic, real-time assignment scoring system, where you can check your results and judge your progress as soon as the test is finished.
You can check more about the Becker CPA Review College Program by visiting their website, noting the much-needed information, and contacting them in case you have some unanswered questions and doubts you wish to clear out.
---
Surgent CPA Review College Program
Students have unique learning requirements, and Surgent's courses are designed to accommodate all of these situations, aiding in studying, assessing, and reviewing their material.
Within each phase, you get to experience and go through tests, readings, questions, and custom content that judges your exam readiness, provides you with a conclusive diagnostic report of your performance, and a broad ReadySCORE appears before you to let you know how much you are prepared for the same.
The practice phase comes at last. The A.S.A.P. program works in aiding candidates to qualify for the CPA Exam by reinforcing existing learning and knowledge during the preparation process.
To get to know more about the Surgent CPA Review College Program, you can head over to their website and decide for yourself if it suits your goals.
---
University Of West Florida CPA Courses
This course is a unique online college-credit CPA exam prep course for accounting students, allowing them to earn up to six graduate-level credit hours towards their Master of Accounting degree.
While selecting the review course partner, the college – University of West Florida (UWF), took into consideration both efficiency and effectiveness.
In this way, Becker's role is to give you a platform for learning that will enable you to keep on track towards passing the CPA exam. Furthermore, you'll also get study materials, sample problems, task-based simulations, and stimulated exams enabling you to prepare better and get a better idea of what the exam is like in real life.
You will have the following benefits if you enroll in the UWF master's degree Becker CPA review course:
Obtain graduate credit hours while studying for the CPA Exam.
Gain two of the most prestigious credentials in the accounting world with a UWF master's degree and a CPA certificate.
Many employers will reimburse students for graduate coursework.
Students who enroll in a graduate degree program may qualify for student loan deferment or financial aid.
If you would like to gain more information on the review course and partnering college, you can head over to the UWF website and get to know all about their CPA exam review courses to resolve your queries.
---
Can I Earn College Credits By Studying For The CPA Exam?
Yes, some CPA exam courses earn college credit towards your accounting degree and 150-credit hour CPA requirement. Thus, you can earn college credit by studying for the CPA exam.
---
Will All Colleges Accept These CPA Exam Credits?
Yes, most accredited colleges will accept CPA exam credits if they have an accompanying program.
You should check with the college admissions office to find out whether or not they accept the CPA exam credits acquired through the above CPA college programs. Online review courses are a popular option for busy students, but not every college has come around to accept the exam credits acquired through them.
The short answer is that not all colleges will grant CPA exam credit from these courses. To reduce the chances of any mistakes or accidents occurring, it'd be best if you inquired with your college first before picking the programs.
---
Will A CPA College Course Prepare You For The CPA Exam?
Yes, a college level CPA course will help prepare you for the CPA exam, but you should also think about getting a full review course.
With the CPA exam approaching, the above three methods have become increasingly popular for acquiring more college credits online. But the actual effort, of course, comes from your side. If you aren't dedicated to your goals and have the right study resources by your side, a CPA college won't be able to prepare you for the exam to the fullest extent.
Even though these CPA colleges and their materials will help you understand many subjects, it's not a comprehensive review courses.
You will need to fully prepare with a CPA prep course, flashcards, and past year question paper. These resources will help you to sharpen your knowledge in order to successfully pass the exam.
In these programs, a college partners with a company that offers CPA review courses. You can see them from the viewpoint of a compromise. They are half and a half – college course in one part and a review course in the other.
In addition to taking advantage of these programs to earn additional college credits while studying and preparing for the examination, it is strongly recommended that you also enroll yourself in a review course.
---
Bottom Line
Earning more college credits improves your chances of landing a high-paying job immediately after passing the exam.
Plus, you get a solid education before you start working as a CPA, so you have an advantage in the race. You will save time and money and pass the exam faster and easier if you begin your preparation in college.
Check with you State Board and College to make sure you meet all of the CPA exam requirements before applying for a program. Then start studying and earning credit at the same time. What a way to double up.