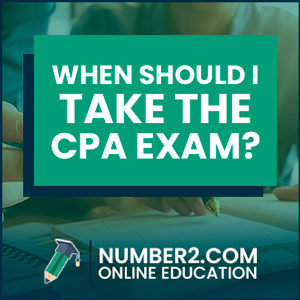 One of the most common concerns among candidates looking to take CPA is worrying about when they should start studying for the exam and when they should take it. The most obvious answer is as soon as you can!
The CPA exam is a challenging test that doesn't have many real-world applications. This implies that for those who have been out of school for a long time, the exam will be more difficult and preparing for it will be that much more demanding.
After college, your life can become much more hectic and demanding. Your career, family, and other commitments will leave you with less time to study, but don't get discouraged. There's still hope. Even with the busiest schedule, you will be able to make enough time to study for the CPA exam if you do it right.
Let's look at a couple different example CPA exam paths, so you can figure out when is the best time to take the CPA exam.
---
When is the Best Time to Take the CPA Exam?
The AICPA, along with most CPA course providers, recommends that candidates study between 80-100 hours for each CPA exam section. Thus, the best time to start studying to take the CPA exam is about 8-10 weeks before your CPA exam date.
Surprisingly there is no "best" time to take the CPA exam, as it depends on your schedule and planning. Taking the exam depends on how busy your life is and when you can make time to study.
Many candidates think that there is an easier or harder testing window to take the CPA exam, but that isn't true. There are fluctuations in the pass rates among testing windows, but those typically correlate to calendar year events. For example, the first quarter can have lower pass rates because accountants are working during tax season and not devoting enough time to studying.
Most CPA candidates are at three main stages in their lives:
College students
New college graduates
Accounting professionals
Candidates in each stage of life will probably want to take the CPA exam at different times. Let's examine each to see when to start studying to take the CPA exam.
---
CPA Exam Dates for Current College Students
When should current college students sit for the CPA exam?
Many college students think that they should wait until they graduate before starting studying for the exam. This couldn't be further from the truth. Your life is busy in college, but it will get even busier after you graduate.
Can you start studying for the CPA before graduation?
Yes, you can start studying and take the CPA exam before you graduate college in most states.
Check with your State Board of Accountancy where you want to live/work after college to see if you can register for the exam before graduating. Remember, most states require a bachelor's degree with 150 credit hours before sitting the exam, but many states allow candidates to sit for one section of the exam once they are in their senior year.
Taking this step is a good way of staying ahead and demonstrating to future employers that you are serious about your career. Therefore for college students in states where they permit you to sit the CPA exam while in college, you should try to sit for your first CPA exam section in your senior year.
If you decide to wait until after graduation, ensure you take the exam as soon as possible. If you have a job immediately after graduation, you could take some weeks to settle in your new role before committing to studying.
---
CPA Exam Dates for Recent College Graduates
When should college graduates sit for the CPA exam?
For recent graduates, it's crucial to start studying for the CPA exam within 2-3 years from graduation. Remember, the CPA exam is an academic test. The longer you wait after you finish college to start studying, the more you will forget.
Don't wait until you have a job. You can start studying immediately and take the exam. This will show potential employers that you are serious. For instance, public firms are more likely to consider someone pursuing their CPA certification than someone who is not.
If you get a job immediately after graduating, it is advisable to consider your schedule and plan appropriately to study when you are free. Put a target of completing the exam within your first year. Interestingly some employers might give bonuses for individuals that have passed the exam within a given time. Plus, having your CPA certification can make you eligible for promotions and bonuses.
Sometimes individuals may wait until they are employed to start studying since employers will help pay for the cost of CPA review courses and CPA exam fees. Don't be afraid to ask if your employer will reimburse after you begin working. They might pay for your exam costs even if you took the exam before you were hired.
Hey, it's worth a shot.
---
CPA Exam Dates for Accounting Professionals
When should full-time accountants and career professionals take the CPA exam?
If you are a professional with a developed career, it might be challenging to find time to study because of work commitment or family life. That's why it's so important that you start your exam prep and take the CPA exam as soon as possible.
Once again, the longer you wait to take the exam, the more you will most likely forget from your college courses and areas of accounting that you don't practice regularly.
A good CPA study schedule for candidates who are working full time jobs is around the busy business seasons. Identify the least chaotic period when you can accommodate the CPA exam prep in your schedule.
For instance, if you are a public accountant, the busy season is from around mid-January up to April, and during this time, it will be hard to schedule the exam. However, fall and summers are more chill, so you might want to sit for the exam during this period.
---
What Time of Year is The Best Time To Take the CPA Exam?
When can you take the CPA exam?
The CPA exam is offered during the first 8 weeks of each quarter through the year. Thus, the CPA exam testing window schedule runs the entire year with 2 months of testing followed by one month of no testing.
There is no best time of year or testing window to take the exam since the CPA exam is the same regardless of the time you take. So, it is up to the candidate to plan their schedule in a way making sense to them.
It's a common myth that some testing windows can be easier than others based on the CPA exam pass rates, but that is not true. All CPA exam windows are the same. The pass rates fluctuate because of candidate schedules, updates, and exam changes throughout the year.
However, for public accountants, it will be nice to take REG around late May to early June since you are coming off the tax season. For those in audit, it will be better if you take AUD and BEC in the fall.
---
When Should I Start Studying for the CPA Exam?
How long should I study for the CPA exam?
It's recommended that you study for at least 100 hours for each CPA section (AUD, BEC, FAR, REG) in order to properly prepare to pass the exam. That means that you should start studying for the CPA exam about 6-8 weeks before your scheduled CPA exam date.
Thus, after you get your NTS and log on to Prometric to schedule your exam date, check your schedule to ensure you have at least 8 weeks to study for the CPA exam before you schedule your exam date.
Obviously, you can spend more time each week studying, but this is the best schedule to pass the exam without going crazy.
---
When Should I Study for the CPA Exam?
Although different for many CPA candidates, the best time to study for the CPA exam tends to be in the Summer and Fall months because this is during summer break for students and in between busy seasons for accounting professionals.
A recent poll showed that most CPA candidates prefer to study on weekday mornings and weekends as opposed to nights. This largely depends on your preference and whether you are morning or night person. I always preferred to study at night.
---
How Long Does it Take to Prepare for the CPA Exam?
Most CPA prep course companies recommend that candidates study for 80-100 hours (6-8 weeks) for each of the four CPA exam sections. Thus, it typically takes the average CPA candidates approximately 320-400 hours over 24-32 weeks to successfully pass the entire CPA exam.
There are plenty of study hacks that can reduce your study time, but this is national average as reported by a few different companies. Unfortunately, the AICPA does not publish statistics and figures on study times.
---
How do I Start Studying for the CPA Exam?
The best way to start studying for the CPA exam is to use a CPA prep course. Their guides and study aids will help you focus on the exam topics and set a study schedule, so you will be prepared on your exam date.
The CPA is so big and covers so many different topics. It would be impossible to adequately prepare for it without a proper study guide.
So what are you waiting for? Passing the CPA exam is never going to be easier than it is right now. The longer you wait, the busier you will get and the less you will have the motivation to study.
Start studying today and achieve the highest credential in our profession. Trust me. You won't regret the CPA journey after you pass the exam.