What is the Audit (AUD) CPA Exam Section?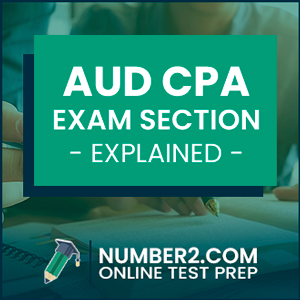 The Auditing and attestation (AUD) CPA exam section tests candidates' knowledge and understanding of auditing processes, internal controls, and company financial compliance issues. Many candidates struggle with AUD because of the topics tested on the exam and the relevance to the other CPA exam sections.
Most candidates consider the FAR exam section to be the most similar to AUD because some of the financial accounting and reporting topics are tested on both exams. There's a slight connection between the two exams, but not that much to consider these exams similar.
Let's take a detailed look at the AUD exam section to see what topics are covered, how it is graded, and how to pass the AUD exam.
---
How Long is the AUD Exam Duration?
The AUD exam takes four hours with a 15-minute break allowed after the first task-based simulation testlet plus two optional breaks after the first and second multiple-choice questions testlets.
Even though candidates are not penalized for completing the exam in less than the allocated time, it is highly discouraged.
Instead, use the extra time to improve on your answers as opposed to rushing through them. Prior to the real exam, candidates are granted 10 minutes to go through the pre-tests.
---
AUD Section Exam Topics & Materials Tested
There are four main content areas of AUD examinations: ethics, professional responsibilities, and general principles, assessing risks and preparing responses, professional procedures and responses, and drawing conclusions and reporting.
Below is a comprehensive breakdown of the topics covered on the AUD exam.
Ethics, Professional Responsibilities, And General Principles: These content areas covers between 15% and 25% of the exam. You will be assessed on the nature and scope of auditing, ethics, independence and professionalism, external communication, requirements for engagements and documentation, terms of engagements, and quality controls.
Assessing Risk And Planning Response: Here, expect between 20% and 30% of the questions. Most questions will cover topics such as how to develop engagement strategies and plans, internal organization controls and procedures, creditor and debtor relationships, risk assessment, materiality, and compliance,
Procedures And Evidence: Candidates should expect between 30% and 40% of questions from this area. The topics may include assets acquisition and disposition, techniques for sampling, how to execute some procedures and gain evidence, unique auditing scenarios that may need specialized attention, internal control deficiencies and misstatements, and written presentations of evidence.
Drawing Conclusions And Reporting: 15% to 25% of questions in an AUD will be borrowed from here with topics such as auditing engagement reports, attestation engagement reports, review services, accounting engagements, compliance reporting, and an assortment of other auditing requirements you might encounter.
For each content area, the abilities of the candidate to remember and understand concepts (25-35%), apply concepts (30-40%), analytical skills (20-30%), and evaluation (5-15%) are tested.
---
Audit (AUD) CPA Exam Structure & Format
The AUD exam section consists of two multiple-choice testlets followed by three task-based simulation testlets. The first MCQ testlet is designed to measure who well you know the topics with questions of moderate difficulty. If you perform well on the first MCQ set, your exam will change the second set to difficult. Likewise, if you do poorly on the first set, your test will change the second set to easy.
One thing to keep in mind is that harder questions are good. They are weighted more. Thus, you need to get fewer difficult questions correct in order to pass as compared with easier questions.
After you complete the two sets of MCQs, you will move on to the three testlets of task-based simulations. The first testlet contains two TBSs with an optional break that you can take or continue to finish the exam. The last two testlets contain 3 TBSs each.
Here's a breakdown of the AUD exam question format and structure of multiple-choice questions (MCQs) and test-based simulations.
AUD Section Exam Structure
| AUD CPA Exam Section | 2022 CPA Exam | 2021 CPA Exam |
| --- | --- | --- |
| Multiple-choice Questions | 72 | 72 |
| Task-based Simulations | 8 | 8 |
| Written Communications | 0 | 0 |
AUD Section Exam Format
| AUD Exam Testlets | Question Types | Time / Duration |
| --- | --- | --- |
| Testlet #1 | 36 Multiple-choice Questions | 60 minutes |
| Testlet #2 | 36 Multiple-choice Questions | 60 minutes |
| Testlet #3 | 2 Task-based Simulations | 30 minutes |
| Testlet #4 | 3 Task-based Simulations | 45 minutes |
| Testlet #5 | 3 Task-based Simulations | 45 minutes |
AUD CPA exam Study Tip: You don't have to answer the MCQs in order. If you get stumped on one, you can mark it and move on. Then you can review the marked questions before you move on to the next testlet. After you submit a testlet, there is no going back.
---
Multiple Choice Questions
Most candidates prefer these questions because they give them the freedom to choose the right answer from the four alternatives provided (if they know it) or the most appropriate one (if they are in doubt). It usually has 72 questions, 12 of which are pre-test questions not scored.
The questions come in two testlets, with the first one being of medium complexity. The second testlet may be more complex or simpler, depending on how a candidate performs in the first testlet. MCQs account for 50% of the overall score.
AUD CPA exam Study Tip: Don't be afraid to move on. If you get stuck on a question and can't figure out the answer, just guess, mark it, and move on. Don't spend too much time second guessing yourself or you will run out of time in the end.
---
Task-Based Simulations
Some candidates dislike this section because they are required to type in the answers, unlike MCQs, where they simply choose.
This section has eight questions in three testlets covering entries into journals, research, account reconciliations, and reporting. One of the TBSs is a pre-test question that is not scored.
---
AUD Exam Testlet & Simulation Time Length/Duration
It's important to note that the AUD exam is only 4 hours. None of the testlets have set time durations. You can take as much or as little time on each testlet as you want. That means you have to be able to budget your time accordingly.
How to manage your AUD test time
If you spend too much time on one testlet, you might not have enough time to finish another testlet. A good rule of thumb is to spend 60 minutes on each MCQ testlet. That means you'll have about 40 minutes to answer the questions and about 20 minutes to go back and review any marked questions.
Since the task-based simulations are often more difficult than the MCQs and require more calculations and thought, you should plan on spending a full 120 minutes on the TBS testlets. Break this 2 hour time block up, so you have enough time answer the questions and review any ones you don't feel confident with.
---
How Is AUD Graded & Weighted?
The AUD exam grades multiple-choice questions (MCQs) and task-based simulations (TBSs) equally giving each an equal weight of 50% towards your overall score.
It is important to remember that while you gain points by answering questions right, you will not be penalized for answering any question incorrectly. Thus, you should never be afraid to guess an answer and simply move on. Wrong answers are better than blank answers.
Since the difficulty of MCQs factors into the grading, it hard to give an exact number of questions you need to answer correctly. Just know that harder questions count more than easier ones.
Here are the AICPA content area allocations and skill allocations along with their graded weights for the AUD exam section. This AICPA chart shows what candidates' skills and knowledge are tested, emphasized, and scored higher on the CPA exam.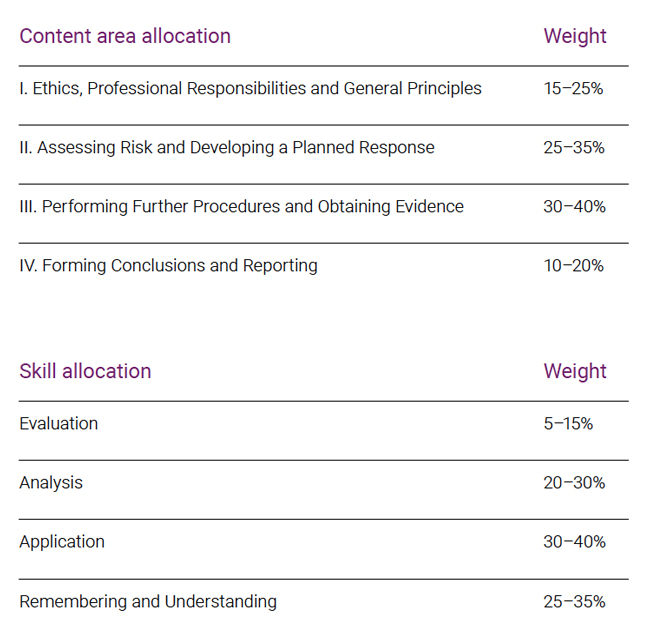 MCQ & Simulation Grading Percentage Distributions
The current CPA exam weights the multiple-choice and task-based simulations equally. Thus, preforming well on MCQs is just as important as performing well on simulations.
Half of your AUD score is based on 72 multiple-choice questions and the other half of your score is from 8 simulations.
CPA Exam Section
Grading Score Distribution
AUD
MCQs: 50%
TBSs: 50%
BEC
MCQs: 50%
TBSs: 35%
WC: 15%
FAR
MCQs: 50%
TBSs: 50%
REG
MCQs: 50%
TBSs: 50%
---
AUD Exam Pass Rates
Below is a graph of the AUD CPA exam pass rates from 2010 to the present: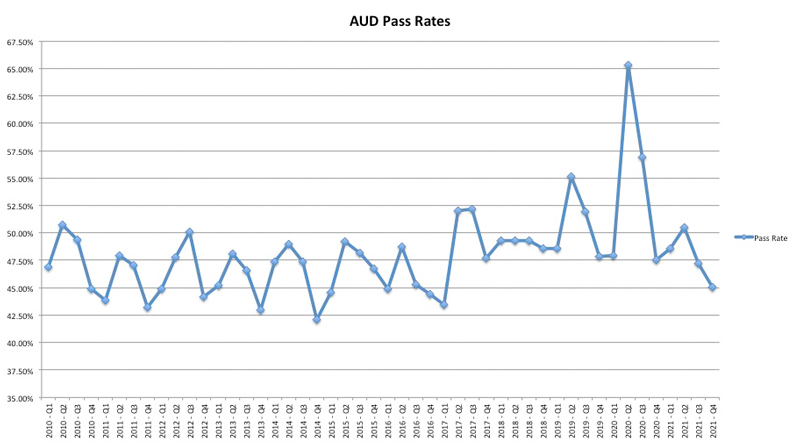 The AUD exam pass rates have dropped significantly in the past year, but they're overall trend has been consistent for the last decade. The 2020 scores were the biggest outlier with a pass rate of over 65% in the Q2 of 2020. Some attribute the rising pass rate during 2020 to an increased number of CPA candidates using a CPA review class while at home. Since this spike, the scores have dropped to a more historically consistent level.
The AICPA expects this modest declining trend to continue in the next few years with the new CPA evolution framework being implemented. The new CPA exam will focus on more marketable skills that prepare CPA candidates for the real world instead of testing their academic knowledge. This change is set to take place in 2024. The AICPA has more information on the exam changes here.
---
Audit (AUD) CPA Exam Study Tips
Client engagements relating to attestations and auditing can appear to be complex if you have not mastered your way around them. AUD CPA is aimed at bringing out the best of these skills to equip the candidate with the requisite skills to execute these roles independently and professionally. To help you pass this section, here are a few tips that always come in handy.
Take AUD Immediately After FAR: FAR and AUD feed into each other as there are some closely related materials in both. You should not be surprised if you come across simulations in AUD that you might have encountered in FAR. Therefore, proceeding with AUD immediately after passing FAR will not only cut your study time but also enhance your chances of passing because the content will still be fresh in your mind.
Know What To Expect: There are some obvious topics that you can never miss in an AUD examination. Top on this list are journal entries and reconciliations, two major auditing roles. You, therefore, should prepare and expect both to answer them critically when you encounter them in the exam.
Practice: How much you prepare for this exam will determine your score. The surest way to do this is by taking several practices to evaluate your knowledge on major topics against the allocated time. Most CPA review courses online have sufficient materials for this purpose.
Your Study Materials Matter: What you read as you prepare for the exam is particularly important. AICPA is constantly changing exam strategies, making them less predictable as possible. What was relevant a few years ago might be of little significance today. Ensure that you have the most recent study materials.
Experience Matters: You might be excited to take AUD immediately after college. However, statistics show that candidates with some real-life work experience score higher than newbies. If you can afford it, work for a few months prior to enrolling. If you must take the exam to qualify for a job, ensure you read extensively.
Even though statistics show a lower pass rate for AUD compared to the CPA's average, candidates who show dedication can easily pass this section on their first attempt. Consider the above tips and join the elite group of auditors and scholars.
---
Should I take the AUD exam first?
AUD is a good first CPA exam section for candidates who either have experience in auditing or did well in their audit courses in college. Some students just click with auditing procedures and internal controls, so it would be a great choice for them to tackle first.
On the other hand, if you struggle with auditing concepts, this might not be the best first exam to take. I'd recommend taking the exam that you feel the most comfortable with as your first exam. If this isn't AUD, then you should wait on it.
---
Should I take the AUD exam last?
AUD is a good last CPA exam section for candidates who struggle with auditing concepts and want to pair the exam with FAR. Many candidates like to take FAR first because it gives them a review of the financial reporting topics that appear on AUD. This is a loose connection, but it does help many candidates.
If you struggle with auditing topics because they are boring, you should think about taking it last. There is no "correct" CPA exam order. It comes down to what you are best at and what you feel most comfortable with. If you are weakest on audit topics, you should probably save this one for last.
---
Who is the AUD exam easiest for?
AUD might have a lower pass rate of 45%, but candidates who ace this exam have a few things in common. The AUD CPA exam is easiest for recent auditing students and accounting professionals who have auditing experience.
The following are likely to pass AUD with ease.
Recent Auditing Students: Those candidates who have recently undertaken an auditing class will easily relate to most of the AUD questions. It is for this reason that most examiners encourage candidates who have just sat and passed the FAR section to proceed with the AUD section immediately.
Experienced Candidates: Do you have some practical auditing experience in an audit consultancy firm or department in an organization? Then you will not have much trouble with this section.
Readers: Candidates who prepare extensively for this exam stand a higher chance of passing than those who do not. This may involve taking practice exams and digging through review course materials.
---
Who is the AUD exam hardest for?
Auditing and attestation can be a hard nut to crack for most. In fact, over the years, AUD has recorded an average of 45% pass rate, which is the second-lowest of the four CPA sections after FAR which stands at 40%.
The AUD test has little to no calculations or business concepts. There is no way to figure out questions by reworking the problems. Instead, auditing is more about memorizing concepts and procedures. That's what makes AUD hard for many candidates.
The AUD CPA exam is hardest for candidates who have little auditing experience and difficulty memorizing large conceptual lists. Here are some examples of CPA candidates who struggle with AUD.
Inexperienced Candidates: Candidates who have limited or no auditing experience are highly likely to fail AUD. This is because some questions may require a practical knowledge of auditing. It is therefore recommended that candidates take up some roles that expose them to different auditing and attestation roles before enrolling for this section.
Poor Preparation: Passing any CPA examination takes a lot of preparation. You must dedicate a lot of time to study extensively and broadly. People who assume that it is just another exam are likely to fail.
I Have A Degree Mindset: Yes, you have a degree in accounting or economics. Congratulations! Unfortunately, that is as far as your undergraduate qualification might go. You might have studied some auditing units at the university, but the AUD CPA section will dig deeper to ensure that you were not sleeping in class. You should therefore drop from the pedestal you have erected for yourself and study for AUD, or it will surprise you.
---
Other CPA Exam Sections
---
What's the best CPA study course for AUD?
The best CPA exam study course for AUD is different for candidates because it depends on your learning style. Some people have learn better by watching lectures, while others prefer to practice test questions. It depends on how you learn best.
That being said, there are several options for each learning style that all have excellent study materials. We've reviewed all of the most popular courses, you can decide which one is right for your study style and will help you pass the exam the fastest.