How to Use ACT English Practice Tests to Boost Your Test Score
Using English ACT practice tests is one of the best ways to prepare for the ACT test and improve your score.  The ACT English test evaluates a student's communications skills including: grammar knowledge, sentence structure comprehension, and writing abilities. The skills tested encompass improving the organization and style of various passages.
There are five passages comprising 75 multiple-choice questions in the ACT English test. The question in the practice test is divided into rhetoric skills, mechanical/usage questions. Notably, the ACT English practice test is in the same format as the test you will take, and it helps you prepare on the questions you expect and the format of the questions.
Since you will be racing against time with only 45 minutes to answer 75 questions, the practice test can help you manage your time on the test date. Let's look at some ACT Practice Tests for English along with tips to answer these questions.
---
ACT English Practice Test
Here is an ACT English Practice Test that was published by the ACT to help students prepare for the test and better understand the English topics covered.
ACT English Practice Questions
ACT English Practice Answers & Explanations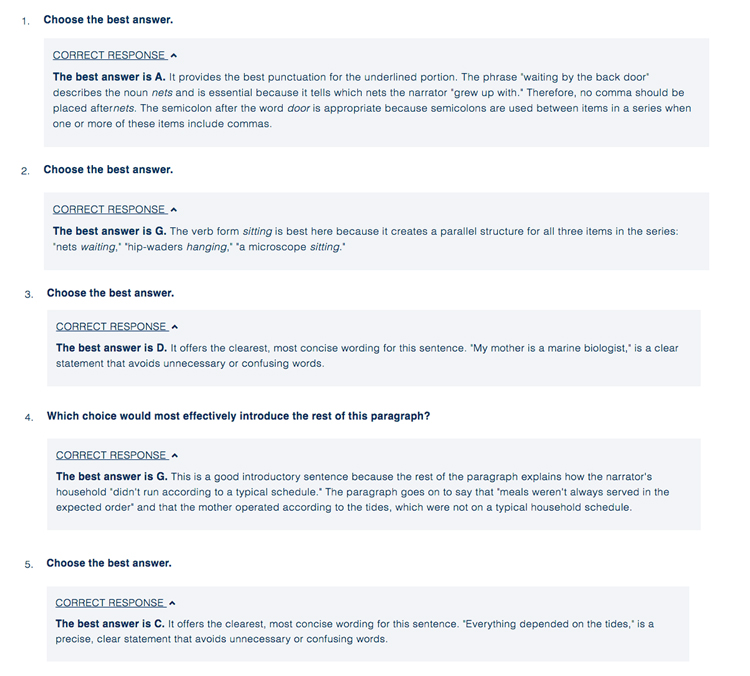 This practice test along with its questions, answers, and explanations is provided by the ACT and is it's copyright.
---
Should You Take ACT English Practice Tests?
Like other practice tests, the ACT English practice test is vital to any preparation level, from those starting to study to those that have already studied for months. Interestingly there are limits in what the practice test can do. The practice test prepares you for the main test by helping you study in various ways. Notably, taking the test will help you in orienting towards the ACT English test.
It is important to note that the practice test is invaluable when handling them because you gain a lot, but also it helps you to reflect after taking the test. You will learn when you are more productive to take the test after taking practice tests and gauging how you performed.
Most importantly, the ACT English practice test is essential in the study process, as it will help you with high accuracy quizzes representing what to expect on the test day. Preparing with practice tests with drastically increase your ACT score.
---
How many ACT English Section Practice Questions Should you Take?
Taking the English practice is the best way to prepare for the test, and proper preparation means acing the test. However, the dilemma for most students is how many practice tests one should take before sitting the ACT.
If you register early, like five weeks before the test date, you will have five weeks of preparation. However, according to experts, taking three to five practice tests over that period can be adequate preparation for the test day.
It is vital to note that taking these tests is not a guarantee that your score will improve, but the most critical aspect is reviewing how you performed after each practice test to take note of areas where you need to improve and spend your time perfecting these areas.
Also, taking many ACT practice tests can be counterproductive as it can leave you burned out by the actual test date. Similarly, taking too many tests without a performance review is futile because you will not know where you need to improve.
---
ACT English Section Question Types, Format, & Topics Covered
The ACT English test covers mechanical/usage skills and rhetoric skills. Mechanics and Usage covers punctuation, sentence structure, usage, and grammar, requiring proper grammar and punctuation skills.
On the other hand, rhetoric skills include organization strategy and style, which require passage comprehension and the test taker's ability to leverage the passage's style and organization.
Mechanics & Usage Skills
Mechanics/usage skills will comprise 40 questions that test your grammar, structure, and punctuation skills to make a passage precise. The punctuation question will make up 10-15% of the tests.
Punctuation usage tested include colons, commas, semicolons, dashes, periods, exclamation marks, question marks, and apostrophes. Grammar and usage tests word modifier agreement, subject/verb agreement, antecedent/pronoun agreement, among other things.
Rhetorical Skills
Rhetorical skills entail considering the whole passage to make its style, organization, and idea clear. There will be 7-11 questions on organization 11-15 on strategy testing your ability to pick precise and appropriate words fitting the passage to make sense.
---
How to get the most out of ACT Practice Tests
When you take time to take the practice test, you should ensure you get the most out of your time. You should first print the test and work it on paper since you will take the ACT on paper. Then, you should strictly time yourself and ensure you complete the practice test in 45 minutes.
After completing the test, you should review your answers for each question to identify mistakes where you should improve. Take at least three tests to five tests so that you make yourself comfortable with the test, and in some cases, you can seek help to pinpoint your weaknesses and areas to improve on.
---
ACT English Practice Tips
Here are some study tips for the English ACT Test.
Should you Read the Whole Sentence?
Reading the whole sentence is important despite most questions asking ways of changing an underlined section of the sentence. However, avoid reading the underlined part only because parts of the sentence not underlined will offer vital information to establish an error in the question.
How to manage time properly
You should ensure that you answer each question within 30 seconds because you will have 45 minutes to attempt 75 questions. Maintaining this pace will give you 8 minutes for each passage, and you will have five minutes remaining to review your answers.
Memorize grammar rules
It would be best if you were keen to memorize grammar rules for the ACT English test. The best way to go about it is by reviewing standard grammar rules examined in the test. Some of the grammar questions you expect will test pronoun agreement, punctuation, conjunctions, verbs and adjectives, subject/verb agreement, and superlatives and comparatives.
Rely on rules and not your ear on how things sound
Rules are essential in checking for clunky and outright errors, but your ear can be reliable in preventing for awkward phrasing. Your ear can verify the answers by identifying and confirming if there are any errors. If something is sounding offer, you should probe it further and be keen on the errors the ear doesn't identify.
Should I guess on the ACT English section?
One of the best ACT tips is you shouldn't leave any question blank without an answer. There's no penalty for guessing. There is a 25% probability of getting the question right if you guess the answer. Always guess the same letter for all the unanswered questions.